I Drank the Menu at the Whistler's Cocktail Challenge
BY: Lisa Ladehoff |
Feb 10, 2014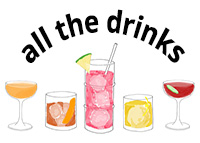 My conception of the archetypal cocktail list was upended when I went to The Whistler (2421 N. Milwaukee Ave.) for an event dedicated to original drinks. Naturally, I had to try them all.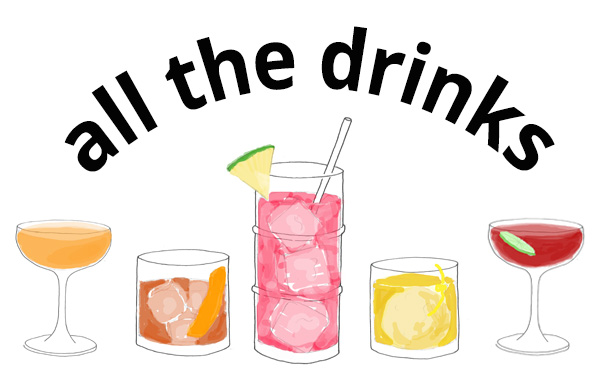 It's hard to say if anything these days is wholly original. All things everywhere are just adjusted emulations of previous successes—an old chapter translated into a new language, as
John Donne noted
. In the saturated arenas of craft cocktails and upscale dining, it's not unlikely that if you're looking for it, a pattern begins to emerge. There are exceptions, of course, because there are
always
exceptions. But just as you'll find steak and chicken prepared in one way or another on the bottom of every dinner menu, many cocktail lists have begun to exhibit certain archetypes. More on that later.

At
The Whistler's friends and family cocktail challenge
, this feeling of archetypal familiarity was not the case. On that night's menu, all 10 cocktails were original creations created by friends or regulars or whomever heard about it and wanted to submit a recipe. Reading the resulting list (curated by The Whistler's bartenders) left me with a feeling of disorientation, as I searched for those familiar stiff and stirred concoctions with an inevitable amaro, a new take on an old sour, or a simple and bright gin drink. It was at that moment I decided to take it upon myself to try all 10. At some of my favorite bars, I often catch myself ordering the same thing again and again—I find something I like, and I stick with it. Branching out seems…risky. And on any given menu, not every drink interests me. There's the unavoidable vodka drink, or something with rum (which I would never want unless I was at a tiki bar). But it intrigued and disturbed me not to be able to feel out each of these cocktails in the way I can usually feel out a cocktail list. Maybe that's why there have been so few innovations when it comes to drinking. Keep it simple, stupid. It's far less of a risk. Either way, I was going to need some help getting through 10 cocktails, and the menu was only going to be available for one night. Luckily, I was with a group of friends, and was able to solicit most of them into ordering drinks I hadn't yet tried. The menu was varied, and I managed to scribble notes for each (in an increasingly deteriorating scrawl).

The challenge put forth by The Whistler staff was this: submit up to two recipes. Each recipe must be wholly original and have an original name. This is far more difficult than it sounds. Unlike the realm of food, bartenders have a
lot
less to work with. A whole lot less. I often wonder how there have been so few innovations in spirits over the last hundred years, and what will be the next new thing, if there ever is one. Of the 10 finalists that made it onto the night's menu, there was one too-boozy cocktail, with rum and single-malt scotch. Even as a person who likes strong, stirred drinks, this combination would put hair on a sasquatch. Another mixed rye whiskey and pineapple juice; please no. One included dill aquavit,
Letherbee
(1815 W. Berteau Ave.) gin and malort, maraschino, and green chartreuse; this I was highly skeptical of. But everyone who tried it agreed it was a standout, and I was pleasantly surprised to discover how much I enjoyed this botanically intense yet well-balanced, refreshing tipple. So not all the drinks were successful—though the bartenders received more than 60 submissions—and some were certainly better than others. The one that seemed most popular was a tiki-inspired cocktail, tall and pink and served in a clear bamboo-shaped glass with a wedge of pineapple. Not unusual at a place like The Whistler, where tiki nights are frequently held, long after the departure of Paul McGee—the city's new Tiki King—to
Three Dots and a Dash
(435 N. Clark St.).

One of the offerings on the menu was created by a Whistler regular, Van Nguyen. When I opened the list, I found—to my utter delight—there was a cocktail that had a text emoji in the name. If you don't know what that is, I'll just show you right now. (っ◕‿◕)っ ♥ from URL to IRL This was the name of Van's drink. Inspired by a
Ryan Hemsworth
song that has a similarly visual title, Nguyen began his experimentation in creating an original cocktail by purchasing a series of bitter, herbal liqueurs. Hoping to create an equal-parts drink, he examined what he liked about other equal-parts cocktails, specifically the Negroni and the Last Word. "The Negroni was the starting point with a substitution [of] Suze for Campari," Nguyen later told me. "The other half of the inspiration was from two related cocktails called the Bitter Giuseppe from Stephen Cole of
Barrelhouse Flat
(2624 N. Lincoln Ave.), and The Search for Delicious from Kirk Estopinal of
Cure
[in New Orleans]." More closely related to classic bitters than most amaros, Suze is an old French liqueur whose primary ingredient is the yellow gentian root—also the primary ingredient in bitters. Nguyen professed a certain fondness for bitter liqueurs, calling himself a "huge fan of bitters, herbal liqueurs, fernets and amari." Nguyen's recipe is as follows:
(っ◕‿◕)っ ♥ from URL to IRL
by Van Nguyen 1 oz City of London dry gin 1 oz Suze 1 oz Punt e Mes .25 oz lemon Build all ingredients in a mixing glass, stir, and strain into a rocks glass over a large ice cube with a lemon twist.

Nguyen's recipe is (arguably) just a white negroni, wherein the Suze is substituted for Campari, but the addition of lemon juice is most certainly
not
a characteristic feature of that drink. Ever. He admits the drink is an adaptation: "I wouldn't say it was totally original, and it definitely takes inspiration from other cocktails." Yet, for all intents and purposes, the cocktail was featured as an original. Certainly there
are
original cocktails—they must exist, right? Nguyen mentioned a bar in San Francisco (
Trick Dog
) that recently did a menu inspired by Pantone swatches, and is now featuring cocktails inspired by astrological signs. In Chicago, places like the
Aviary
(955 W. Fulton Market),
Violet Hour
(1520 N. Damen Ave.), and
Billy Sunday
(3143 W. Logan Blvd.) consistently offer a variety of unusual and provocative cocktails. But next time you drink something and think, "Wow. I've never had anything like this," just ask the bartender where he got the idea. Then just wait for him to utter the word, "inspiration."
Illustrations by Lisa Ladehoff, Groupon
BY: Lisa Ladehoff
Guide Staff Writer
A native of the city of big shoulders, Lisa is a small-shouldered books and booze enthusiast living on Chicago's Northwest side with a large cat, a tiny bar, and a medium-sized library.