Making Room for a Mesob
BY: EMILY DONELAN | 8.7.2014 |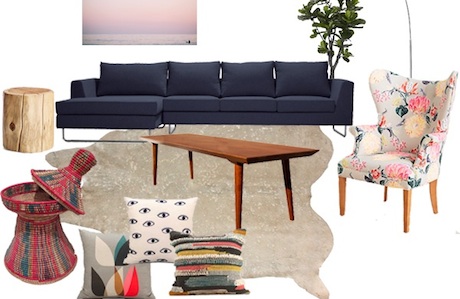 I fell in love at Ethiopian Diamond Restaurant (7537 N. Clark St.), but not with a date, or even a dish. The object of my affection was a traditional straw-basket table called a mesob. Mesobs consist of two pieces: a tall, inward-sloping base, and a lid you lift when you want to serve food on top or store something inside. They're also wonderfully decorative, as they often come in colorful patterns.
Mesobs are hard to come by, but if you can get your hands on one, it can become the centerpiece of a whole room. Here's one way to pull that off:
First, set a neutral stage with a streamlined navy sofa, an elegant arched lamp, and a straightforward midcentury modern wooden coffee table. Then add some texture with an off-white cowhide rug, a faux fiddle-leaf tree, and a knotty tree-stump side table.
Next, create some friction with a chair covered in a yellow, pink, and blue floral fabric. Though this pattern contrasts with the mesob, its classic wingback shape prevents it from taking over the space.
For a finishing touch, throw a trio of accent pillows on the couch, and above it, hang a large-scale print by photographer Max Wanger. These accessories reinforce the room's color scheme, and bring your eyes back to that beautiful mesob.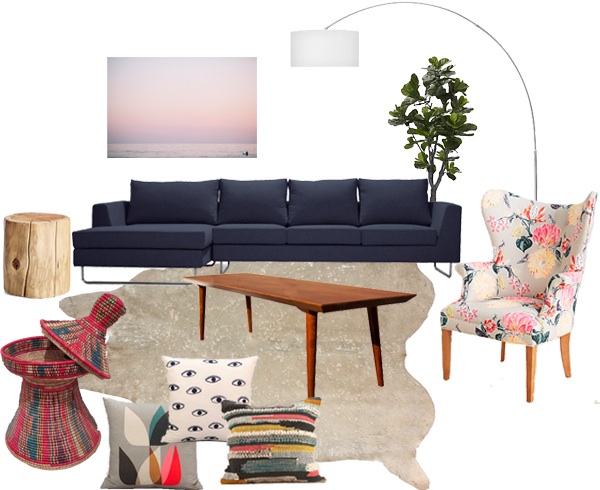 Asher sofa with left chaise; Interior Define ($1,700)
Arched lamp; LumiSource; Buy on Wayfair ($160)
Mid Century Modern coffee table; GoModRetro ($400+)
Serendipity Devour cowhide white rug; Rugs USA ($1,150)
Fiddle-leaf tree; Z Gallerie ($249.95)
Natural tree-stump side table; West Elm ($249)
Lotus Blossom wingback chair; Anthropologie ($1,398)
solitude (16"x24"); Print Shop by Max Wanger ($125)
Hooked stripe pillow; Urban Outfitters ($69)
Inaluxe Blossom pillow; Urban Outfitters ($39)
Magical Thinking embroidered eye pillow; Urban Outfitters ($34)