I Was Terrified to Try Pink Hair
BY: Amelia Buzzell |
Apr 24, 2014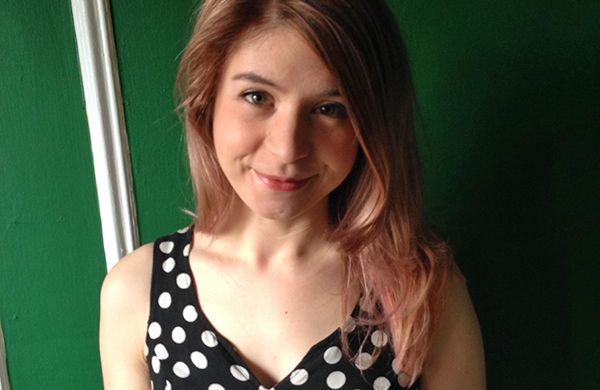 So I consulted a bartender, my mother, and a bus.
Frankie Avalon's Teen Angel must be quietly sobbing in his malt shop in the sky. Because pink hair is no longer the domain of
beauty school dropouts
—it's a full-blown trend. It seemed like the world was just getting used to
gray hair on young women
, but now Pantone's pastel hues have begun infiltrating hairdos. It started innocently enough with candy-colored streaks of hair chalk, but now it's not unusual to spot someone with a full head of pastel strands. Lately, I've seen lilac- and rose-tinted ladies everywhere I look, especially on Instagram, where I follow my salon, 
Mops Beauty Shop
(2500 N. California Ave.), as well as hip lasses like
ban.do
founder
Jen Gotch
, who recently went pink. Yet I'd never seen a pastel hairdo in real life. I wondered: could I pull it off? To find out, I decided to take pink hair for a test run and gauge public opinion.
Test One: The Stylist
"Would this color make me look like a baby and/or a unicorn?" I asked my stylist, Krista, as I showed her
this pin
. I've been able to pull off boy-short hair and asymmetrical bangs in the past (not at the same time), but for something as unusual as rosy-pink strands, I wanted a professional's opinion. Her take: I could rock it. My take: Let's do this before I chicken out. Krista picked a toner that would make my hair pink enough to try the trend, but was careful not to use more than a few shampoos could undo. At one point, as I squinted at my reflection in the mirror, I saw her hands come out of the wash basin covered with electric-pink suds—without my glasses on, it looked as if she was murdering me. (She wasn't.) Vivid as the toner may have looked, by the time my hair was trimmed and dried, I resembled neither a baby, nor a unicorn, nor a baby unicorn. In fact, the pink actually played off the brown and blond streaks in my hair and looked about as natural as pink locks can.
Test Two: The CTA/Myself
I left the salon feeling hopeful—until I hopped on the bus and caught my reflection in the windows. The harsh lighting made me look like I was reviving my eighth-grade role of Anne of Green Gables all over again. Back then, a botched dye job left my hair a deep magenta for a week, instead of Anne's signature carrot-orange. When I got off the bus, I took a quick selfie on the sidewalk to be certain: nope, my hair was still pastel, and I was still a middle-school graduate. Regression averted.
Test Three: My Mom
I texted my mom to tell her what I'd done. I usually call her before making even tiny decisions, like gauging a vegetable's freshness in my crisper or impulse-buying housewares from Anthropologie, but she took this bigger news in stride: "My own little Kelly Osbourne," she replied. "You should wear [a] Peeps necklace on Easter [to match]." Pink hair: Instagram tested, Mother approved.
Test Four: A Bartender
Now that I'd sufficiently impressed myself and my mother, I had one crucial demographic left to test: bartenders. I have a very young-looking face, and while someday I'm sure I'll be grateful for all the collagen I'm packing, I'm currently carded really, really hard
all the time
. This night's bartender gave my out-of-state license a cursory look and skipped the "are you secretly a minor?" stare-down I usually get. A novelty hair color makes me look less like a teenager? I was amazed.
The Verdict
Success. After the second wash, the color has already started to fade, but I plan to book another appointment with Krista soon to recommit to the hue for the rest of spring and summer. Not only will it look rad, but deepening the color a little will hopefully help me avoid semi-compliments like this one, which I got from a well-meaning male coworker the other day: "I like your hair. Is it …
a color
?"
Photo: Amelia Buzzell, Groupon
BY: Amelia Buzzell
Guide Staff Writer
Amelia is a Senior Writer who owns about 600 houses' worth of housewares. She daydreams about throwing parties and amassing more housewares.