GROUPON GUIDE TO WASHINGTON-DC
Ice Skating's (Kind Of) Easy Once You Learn to Fall Down
BY: undefined undefined |
Dec 26, 2013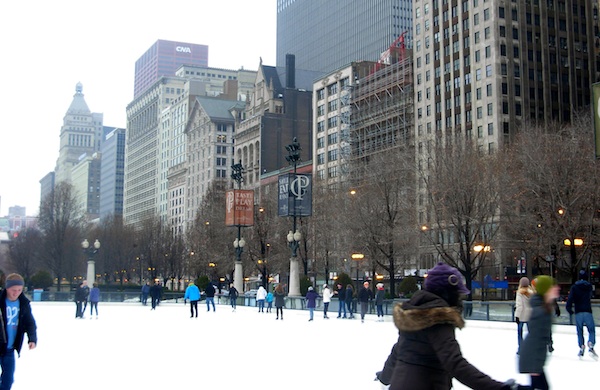 I grew up in the South, in a place where icicles were about as common as unicorns. When I moved to Chicago, my first encounter with ice left me on my back in the middle of the sidewalk, the wind knocked right out of me. As I lay on the ground, scores of winter boots tramped past my head and I was quickly overcome with shame by my totally inadequate sneakers. From that moment on, I learned to treat ice with a respectful fear, and so few sports have ever seemed as daredevil-ish to me as ice skating. In the spirit of the season, though, I thought I'd give it a try.
So I went to Millennium Park's iconic rink in downtown Chicago, where the non-profit organization Ice Reach offers free lessons Friday–Sunday mornings. Despite my initial trepidation, I found it was a very friendly, casual affair.
First, they split us into two groups.
Anne Marie Shipstad—Ice Reach's executive director and my enthusiastic teacher—wisely divided the rink in half, dedicating one portion to absolute novices like me, and the other to people with enough skill to not fall down upon blinking. She then focused on getting the true beginners comfortable, while a fellow instructor taught more advanced figure-skating techniques across the way.

Then, it was time to let go of the wall.
Anne Marie was a font of positivity. She first coaxed us to move along the railing until we felt sturdy on our skates, then took each person's hand to gently lead them away from the wall and out into the rink. Once we were a few feet out onto the ice, she had us stop and practice the first essential skill: falling. Slowly, we graduated to more and more advanced movements. Before long, I could confidently make my way across the rink without wiping out, much to my own surprise.
Somehow, I even learned a few tricks.
The group, who wore a mix of figure and hockey skates, progressed at different paces. So Anne Marie began to seek out students by ones and twos to show them new tricks, as she thought they became ready to attempt something different. For my part, she taught me swizzles—gliding forward while continuously moving your skates farther apart and then closer together—and a technique called the snow plow, which allows you to stop abruptly by pushing down and out on your skates. The motion created a satisfying grinding sound and a small spray of crushed ice.
The lesson flew by; as it ended, the rink immediately started to fill with more visitors, so I thought it best to spare them my still-awkward movements. I can't say I left feeling graceful, but Anne Marie seemed to think there was a hockey skater hiding inside me somewhere, so I am intrigued to return.
Try it if: Ice skating is new to you or you're out of practice.

Beware of: The rink's corners—the ice is a little uneven.

Invite a friend who: Likes a stunning city view and some exercise.

Come prepared with: Four quarters for the lockers inside.

Wear: Something warm and comfortable.

Intensity level: Very low. Good for the whole family.

Photo by Zach Bosteel, Groupon