GROUPON GUIDE TO NEW ORLEANS
In Search of the Perfect Étoufée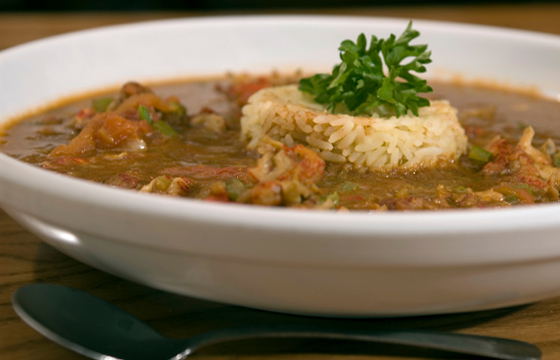 If you ask a local which New Orleans restaurant serves the best étoufée, many are likely to boast that their own homemade version is best. But the truth is, there are many delicious variations on this time-honored classic, many documented in the city's
Southern Food and Beverage Museum
. Like jambalaya and gumbo, most varieties start with the
"holy trinity"
—onion, bell pepper, and celery—but from there, recipes diverge wildly. For many, the
Zagat-rated
Bon Ton Café
sets the standard.
Fodor
's
calls it the "first…significant Cajun restaurant in New Orleans," and its consistently light, flavorful étoufée has earned it a long list of devoted fans. Bon Ton offers both crawfish and shrimp versions, both butter-based. Be forewarned: the chandelier-lit dining room is open Monday–Friday only. On the opposite end of the spectrum, there's the
Gumbo Shop
, where the étoufée—like the award-winning andouille gumbo—always starts with a thick, peanut-butter-colored roux in classic Creole style. A couple blocks from the Gumbo Shop,
K-Paul's Louisiana Kitchen
also bases its version on a deep-brown roux, in this case made with seafood stock for extra-intense flavor. The less-expensive
Ralph and Kacoo's
, now a chain, tops its kicky étoufée with fried crawfish tails.
Oceana Grill
's version of the dish is thick and spicy, while
Jacques-Imo's
lighter shrimp version might be served by the owner himself. A more recent contender is
Olivier's Creole Restaurant
on Decatur Street, where the chefs have already proven themselves with a long list of
press nods
. The crawfish étoufée at Olivier's compromises a light-blond roux with just a dash of tomato, which adds thickness without overpowering the seafood. Finally, just down the street, you'll find
Coop's Place
which proves that a dive can still serve a solid étoufée;
Zagat
calls it "where the not-so-elite come to eat."