GROUPON GUIDE TO WASHINGTON-DC
A Day in the Life of a Thanksgiving Parade Balloon Handler
BY: Tyler Clark |
Nov 21, 2013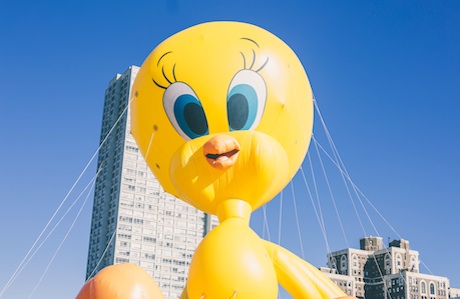 Instead of accepting a diploma, graduates of Parade School are handed a thick coil of rope—which may or may not be attached to a 20-foot inflatable Tweety Bird. In anticipation of Thanksgiving Day parades across the country, read about our writer's experiences at least year's Parade School.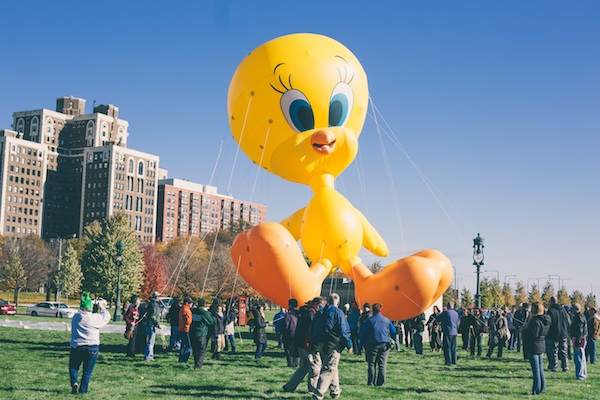 I'm heading south on Chicago's Lake Shore Drive on the morning of November 9, 2013. It's one of those perfect Saturdays that crops up once or twice every football season—chilly but not cold, the orange leaves twisting curlicues around my car. As I approach the
Museum of Science and Industry
, I'm struck by the deep blue of the sky, a shade normally reserved for postcards. With all this scenery spread out before me, I almost manage to miss Tweety Bird. Almost. There, just inches above the lawn of the city's most illustrious cultural institution, floats an enormous cartoon bird. Around the 20-foot balloon bustles a crew of bundled-up volunteers securing ropes to hold the great beast down. But this isn't some avant-garde museum installation. It's merely a sign that Parade School is about to begin.
Conquering State Street Since 1934
Since its first incarnation as the State Street Christmas Caravan in 1934, the
McDonald's Thanksgiving Parade
has become one of Chicago's most cherished holiday traditions. Although the parade has crossed a number of routes and gone by a variety of names, a few things have remained constant. No matter what, attendees can count on marching bands, giant balloons, a cameo appearance by parade mascot Teddy Turkey, and volunteers.
Lots
of volunteers. There are hundreds here today, buzzing about the museum as they move from one training session to the next. On the day of the parade, these volunteers are responsible for countless duties, from keeping the parade on schedule to providing hospitality assistance to performers and VIPs. The most visible of these volunteers—the ones I'm here to meet—will spend their day wrangling with the dozen giant character balloons that give the parade its signature look. When tasked with holding down a massive inflatable object, I'll soon learn, an autumn breeze can seem a whole lot more sinister.
30 Volunteers Vs. One Giant Bird
Don't wrap the rope around your hands. Stand directly underneath your anchor. Don't drag your feet. 
The man from the balloon company is full of advice. He brandishes a megaphone as 30 fresh volunteers ("carriers" in parade lingo) take their turns at the ropes. They're in high spirits, laughing and joking through the cold, but the instructor is quick to remind them that parades are serious business. "Less talking," he says, his voice amplified. "We've got a $10,000 balloon here. We want you to get it up the street safely." As the carriers listen to their instructor, balloon chairman John Hipolito whirls around them, a blur in a red windbreaker and aviators. Tweety isn't the only beloved character under his watch—Hipolito's teams will also shepherd icons such as Garfield, the Nutcracker, and Pac-Man on their march down State Street. Since today's all about preparation, Hipolito is thankful for the windy weather. "You have to be ready for those big gusts," he explains during a brief break in the action. "Sometimes, it can seem really still, and it'll come out of nowhere. If you're not ready, it can be ugly." There's no ugliness here today. Once the 30 carriers get into position, they untie the balloon from its sandbag and send it aloft. For a precarious moment Tweety reels, his pontoon-sized feet splaying out and his head tilting toward Lake Michigan. But the breeze passes and soon the carriers are taking the big yellow bird on his first lap around the museum lawn. As they make their round, I catch up with parade executive director Phil Purevich, who's watching the volunteers with a mixture of pride and attentiveness that's usually reserved for a dad at a peewee football game. A veteran of 17 parades himself, Purevich is heartened by all the familiar faces. "We've got a lot of seasoned veterans out there," he says. During his tenure, Purevich has implemented a number of successful tweaks, from expanding the parade to a three-hour format to spotlighting Chicago's diversity through programs with the city's cultural groups. However, he believes that the parade's staying power rests in its old-fashioned dedication to spectacle. "We're a very traditional parade," he explains. "We care as much about the parade on the street as we do about the parade on TV."

Making New Traditions, One Year at a Time
So, how was Tweety's inaugural flight? According to first-time carrier Jason Davis: challenging. "It's much harder than I expected it to be," Davis admits. "It was amazingly shifty. It really wanted to pull you away." Since they can't head home to Texas for the holiday, Davis and his wife, Candace, will be at the parade instead. Thanks to WGN America's national broadcast, it's a way for them to connect with their family through the screen. "We thought, 'Hey, why sit around and stare at each other? We can be in the parade and they can watch us,'" Candace says. Starting or maintaining traditions seems to be a motivating factor for many of the volunteers. From 20-somethings marooned away from home to multigenerational families who've been helping out for years, the parade gives them a rallying point during a season that can get lonely otherwise. For 15-year veteran John Hampilos, the carriers' combination of festiveness and teamwork epitomizes the parade's pull toward something greater. Now a block marshal, his eyes get wide when describing his earlier experiences beneath the balloon. "The most important thing is, when you're going down Van Buren Street, there's the railroad tracks," he says. "You have to get that balloon under those tracks. Once you cross Van Buren Street and you see that balloon rise, it's a great feeling. It's the most critical point in the parade. It can make or break the parade."
See the carriers in action at the McDonald's Thanksgiving Parade, which marches down State Street from 8 a.m. to 11 a.m. on Thursday, November 27. 

Photos: Stephanie Bassos, Groupon