Inside the Bedazzled Mind of Gem-Sweater Maven Leslie Hall
BY: Tyler Clark |
Feb 5, 2014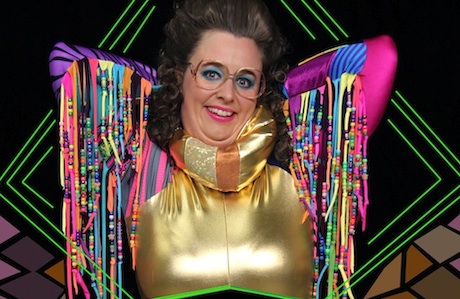 On the eve of her show at the Empty Bottle, internet superstar Leslie Hall talks about the rap game, the perks of online fame, and how to rock a rude gem sweater.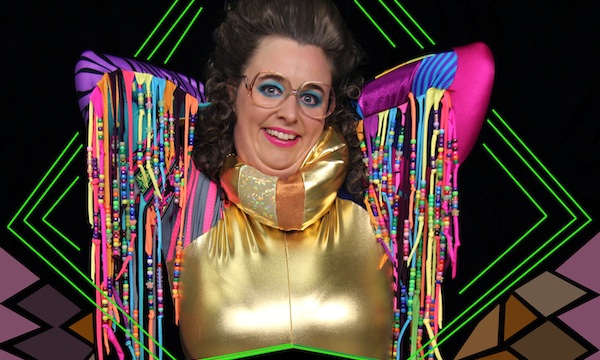 For most people, singlehandedly elevating the
gem sweater
from bargain-bin anonymity to worldwide notoriety would be enough for one lifetime. For Leslie Hall, it was just the tip of the jewel-encrusted iceberg. After conquering the internet with gemsweater.com nearly a decade ago, the self-described "Midwest Lady Cyclone" turned her energies to the world of music. The result? Six albums and a touring stage show filled with gold lamé, gnarly dance moves, and enough clever raps to set a thesaurus on fire. Earlier this week, we caught up with Leslie as she and her band prepared for their Friday-night stop at the
Empty Bottle
(9:30 p.m.; doors open at 9 p.m. 21+, $10; buy tickets here)
.
GROUPON: I can't stop listening to your latest album (2013's Songs In The Key Of Gold). It's got some serious bangers. What made you decide to do a remix album?
LESLIE HALL: All of these songs were written on GarageBand, with no music knowledge, and I always thought they lacked that oomph. I'm always trying to sound like the classics, like Britney and Rihanna, and they never had that. I'm like, "How do you
do
that?" I needed to meet somebody who could do it. This is how I always wanted them to sound, so it's really exciting. I'm so proud of them.
G: How did the collaboration with Titus Jones come about?
LH: I put request for remixes out, and he did a mashup of one of my songs with Rihanna and Britney, and after trying to make out with him, I said "Would you please remix my album?" I love him. What's he's doing with my voice is just amazing. I don't know how he does it. I don't know what music program he uses. I don't know what he eats when he's working. I just know that he makes great stuff.
G: Even though they make you move your butt, your songs don't skimp on the lyrics. Do you have any personal favorites?
LH: Yes! One's in "Neon Blood." Let me think.
(a voice from the background shouts "Puffy ankles!")
Yes. "I've got puffy ankles / I need some masculine hands." That's one of my favorite lines. I don't know where that's coming from, other than like, I'm looking down at my ankles, and I'm like "You know what? People can relaaa-ate." I'm just saying what I'm feeling and other people are feeling it. It's just connecting the world, I guess. Like Coca-Cola.
G: Now, I'll be going to my first Leslie Hall show on Friday night. What should my fellow first-timers and I expect?
LH: You're going to see a lot of people dressed up, first of all. It's like a
Harry Potter
premiere party when it comes to costumes and gala. A lot of people make their own outfits, a lot of people wear those tiny little tighty tops that you buy and then you get chubby and then you never wear again. Tonight's the night. We're going to try to entertain you the whole time. There's just six of us. We're sweating up there. Everything you're looking at onstage has been handmade, from the costumes to the backdrops to the bedazzled microphone. We're coming from all angles.
G: You often credit your mother for making your costumes. Is that really how you get them?
LH: Yes, that's true. She makes a lot of the costumes. She used to sew in the '70s, so her outfits are very detail-oriented. She takes her time and does beadwork and stuff. If you see a costume that's unraveling or shredding at the armpits, or just has brown stains, I probably made it while eating chili. I just want to make it quick. When she makes an outfit, it lasts, and it's a little more glamorous. It's almost like she's performing too. She's like my Vera Wang. She takes a lot of pride in the pageantry of it all.
G: gemsweater.com got huge just as the concept of "internet celebrity" was starting to take shape. What's the best thing that came out of that increased attention?
LH: What I'm able to do now is accomplished because of the internet fame. There's an advantage to being recognized. People are like "Hey, I remember her. I wonder what she's up to? Let's get drunk and go see her." As long as I entertain and have as much enthusiasm as the original time, they'll re-fall in love. I just want to maintain a quality product in the live show. My website skills are not getting any better, and I refuse to use a template. I miss and I love the old look of a homemade website.
G: That's almost becoming an aesthetic of its own.
LH: Yes! You know, Reddit is sticking to it. Reddit is a basic website, and you appreciate the nostalgia and the simplicity. Ai-yi-yi!
G: Speaking of gem sweaters, I've got to ask: how're they doing these days?
LH: I am ready for any kind of a museum opportunity, or restaurant that wants to decorate. I'm ready, but they are currently in a storage unit. I'm not giving up. If people want to bring them to the live shows, I'll take them for the museum. I'll get you a little plaque that says your name.
G: What's your most powerful article of clothing at the moment?
LH: I'll tell you what, I'm putting pony beads on
everything
. From head to toe. You know, those big plastic beads that they give to toddlers? Those suckers. I love it. They sell them in bulk, so you get a ton of them in different colors. I found a use for them, and I am ninja-chop dance-movin' like you've never seen.
G: That must add a nice percussive element to the music.
LH: I'll do that for the Chicago show! I'll put the microphone on my beadwork and just jiggle. You will
squeal
with delight.
G: That's a guarantee that I can make. Now, your song "#1 Cat In America" makes some pretty bold claims. I mean, there are a lot of good cats out there.
LH: OK, obviously, I do have a cat, a cat-child, and I was referencing it in my heart. However, I don't use his name, so I was hoping that when you listen to that, maybe you would think of your own child-cat. That is supposed to be for everyone. That is my gift to the world.
G: The Everycat, fair enough. Do you have any other American cats that you're particularly fond of?
LH: So, I've been hearing about
Lil Bub
. I still think
Grumpy Cat
's on top. But let me tell you something.
Maru
is still King Kong to me. Is he in Asia somewhere?
G: Japan, I believe.
LH: Well, get that cat a green card, because that is
entertainment
.
Photo provided by Leslie Hall
BY: Tyler Clark
Tyler is a writer, storyteller, and musician from Chicago. His stories have appeared on stage at shows including Mortified, Story Club, and Lethal Poetry.