Inside the New Chicago Distilling Company
BY: Will Landon |
Jan 28, 2014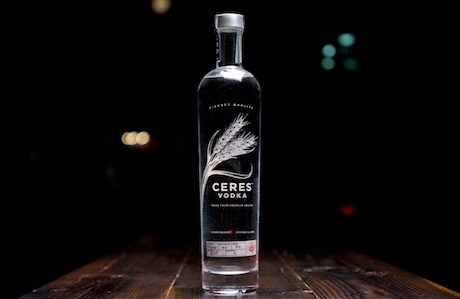 Before
Chicago Distilling Company
 moved in, the building at 2359 N. Milwaukee Ave. was just an abandoned, boarded-up print shop. But like many of its neighbors along this strip of Milwaukee—where recent openings include
The Radler
(2375 N. Milwaukee Ave.) and
Gaslight Coffee Roasters
(2385 N. Milwaukee Ave.)—this forlorn address has recently been brought back to life. When we visited, bartender Shannon Marie Bandur greeted us with a cocktail dubbed the
Spiced Lady
. The drink starts with the distillery's
Ceres vodka
(
pictured below
), which takes its name from the Roman goddess of grain, whose statue atop the Chicago Board of Trade watches over the city.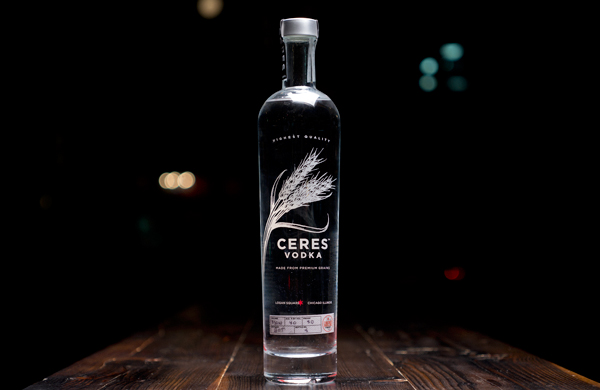 Like many of the distillery's unaged, housemade spirits, it had been infused with other ingredients to give it extra flavor—in this case, cloves. (More on those infusions later.) Add a squeeze of fresh orange, some frothy egg white, and some masala-chai demerara syrup for spice, and you've got a comforting drink that resembles citrusy, milky tea. "It's just so terrible outside, so you know, clove and masala chai are just really invigorating," Bandur said. "They're warming spices." Her description was spot-on: the drink seemed even better suited for sipping inside a blanket fort than for drinking in a bar.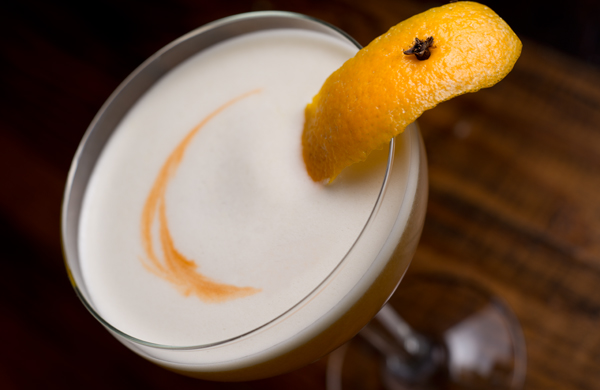 As I sipped, I chatted with Bandur, co-owners Jay and Noelle DiPrizio, and head distiller Victor DiPrizio about their plans to make bitters and gin, their budding friendships with their neighbors, and their still's retro nickname.
On Getting Creative with Cocktials
Shannon Marie Bandur:
Currently, we don't have a tavern license, or a temporary liquor license that allows us to bring outside spirits in. [But] that gives us the opportunity, as bartenders, to start doing infusions…We were only able to offer classic [cocktails] initially. Now we have a lot more on our plate, so we're going to start making our own bitters.
On Infusing Vodkas and Waiting for Gin
Shannon:
What we did was just take every botanical that we ordered and infused one bottle of vodka. So we have lemon, clove, we have juniper, of course…and all of these are botanicals that we will eventually use for our gin. When we decide what we like, we're gonna take those, macerate them, and then we'll run [the spirits] through the still to make gin.
Victor DiPrizio:
We macerate [about 15 botanicals] in our vodka. Our next step is combining. With four or five people trying to [have] input, it's been a long process; we all have different tastes in what we like. We're hoping that within the next couple of months we'll be in-production with our gin. Chicago's a tough town to put a gin out—there [are] people who are only making gin. So we're excited to be in that game.
On Why They Serve Vodka and White Whiskey
Shannon:
We want to be a whiskey bar, but you have to start somewhere: white whiskey is the beginning, before it sees the barrel. We have some resting, along with the rye, but that takes awhile. [We also want to] show what our whiskey tastes like in its purest form.
On How They're Aging Their Whiskey
Victor:
We'll proof [our whiskey] down to about 125-proof, and then add it to 10-gallon barrels. We're hoping to age [our whiskey] at least a year, hopefully two, which again is another reason why we're doing the clear spirits, because whiskey is really our passion. Eventually we'll, if we can, try to hold onto a barrel for 10, 20 years hidden somewhere, and just see what happens.
On Why They Love Their Space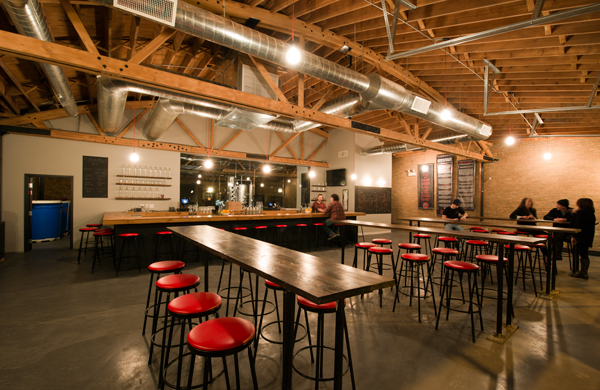 Noelle DiPrizio:
We knew we wanted to be in Logan Square. We knew we wanted the bow-truss look to the building, something that felt a little more industrial. [We] wanted it to feel almost like a garage. A place where you felt like things were being made, or fixed. The space was left pretty raw to keep it that way, and make the focus more about the bar and the stone background.
On Making Friends with the Neighbors
Shannon:
Since we don't have a kitchen, for a toddy that I made last week, [the guys from
The Radler
(2375 N. Milwaukee Ave.)] let me come over and boil my pears and purée them there. We hope to do things with
Revolution [Brewing]
(2323 N. Milwaukee Ave.) when we start aging things [in barrels.] And
Gaslight [Coffee Roasters]
(2385 N. Milwaukee Ave.): the guys, when we were here the first night, brought us coffee. We're also hoping to use our spent grain [from mashing] and give it to [Nathan Sears, of The Radler] and see if he can do granola or something for brunch. It's a borrow-a-cup-of-sugar sort of thing. A neighbor relationship.
On Why They Keep The Stills So Visible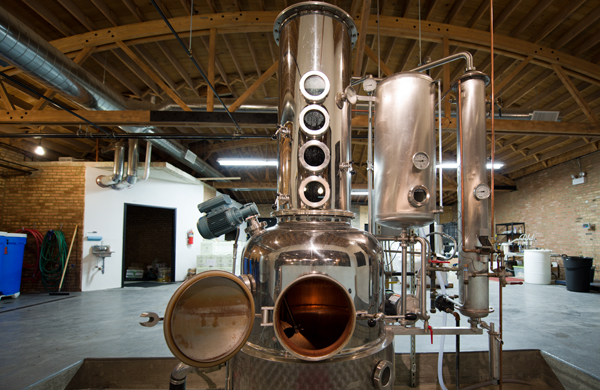 Noelle:
We wanted to be an open book, so everyone could see what we do in production, almost seven days a week. So when people are in here, we'll most likely be running the still, or making a mash, milling grains.
Shannon:
We just got our mill in. It's very loud, but it's nice to be able to do that onsite. And we have tours; we've been doing [them] on Saturday and Sunday. This is a very long process, and a lot of love goes into it, and now you can see it.
On the Origins of Their Still
Victor:
It's a Kothe still that we got from the guys over at
Koval [Distillery]
(5121 N. Ravenswood Ave.). This was their old still, they upgraded, and we were just in the right time, right place. It's funny, [with] distillers in the area, almost everyone has worked on this still during one of Robert [Birnecker]'s workshops. We've made a couple enhancements with separating our heat exchanger, so it's not all done on the storage tank. We've got a separate pipeline into the top heat exchanger. But other than that, the thing is solid and seems to be working for us. It's stainless steel outside, everything's copper on the inside. And the plates [indicating the windows on the front of the column], [are] essentially like a bubble with a filter. The alcohol comes up through the bubble, and condenses down, and keeps going until it gets to the top heat exchange and transfers over.
On the Still's Nickname
Victor:
[They] named it "Robot," like in
Lost In Space
.
On How This All Got Started
Victor:
[Noelle's] family is from northern Wisconsin, and they had an ethanol fuel plant back in the day. They'd always mess around with moonshine, dandelion wine, etc., doing little distillations. Jay, my brother, would go up and visit Noelle as they were dating, and he got interested. Actually, our Shorty's white whiskey is an ode to Noelle's grandpa. He got us involved in distilling. When the laws changed in Illinois, and we could actually manufacture and distribute in-house, we said this could be something that could work. We got some of our recipes from Noelle's family, tweaked them up a little bit. And the rest is history.
Photos by Andrew Nawrocki, Groupon
BY: Will Landon
Will Landon is a Chicago-based writer who sings punk rock songs with the Blue Ribbon Glee Club and occasionally works for free as an assistant stage director.