Inside the World's Largest Corn Maze at Richardson Adventure Farm
BY: Patrick Wisniewski |
Oct 17, 2013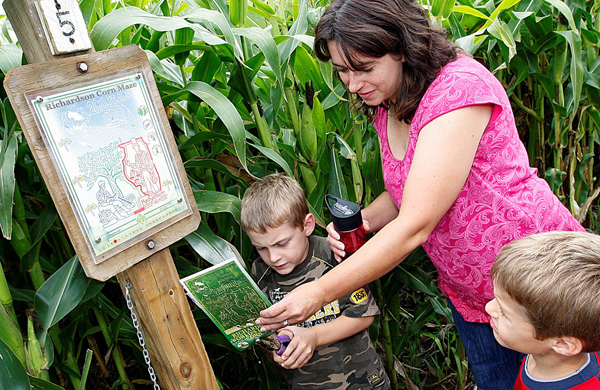 Any music fan would love to spend some time in Paul McCartney's head, and at
Richardson Adventure Farm
(9405 Richardson Rd., Spring Grove, Illinois), they can do just that: all four of The Beatles' faces are carved into this year's corn. A celebration of the band's 50th anniversary, the Fab Four help form the "world's largest corn maze"—if not strictly by area, then by sheer magnitude of the trails themselves: 11 miles of intricate paths winding through 33 acres. Owner George Richardson, a self-described fan "of [The Beatles'] early stuff," has constructed mazes using nothing more than GPS and a tiller for the past 13 years. The farm originally produced corn, hogs, and cattle, but after the hog-processing equipment wore out one year, George decided to "do something different." A side crop of Christmas trees brought George and his brother, with whom he ran the farm, face-to-face with the community. As he puts it: "We decided we like talking to people more than we like talking to pigs."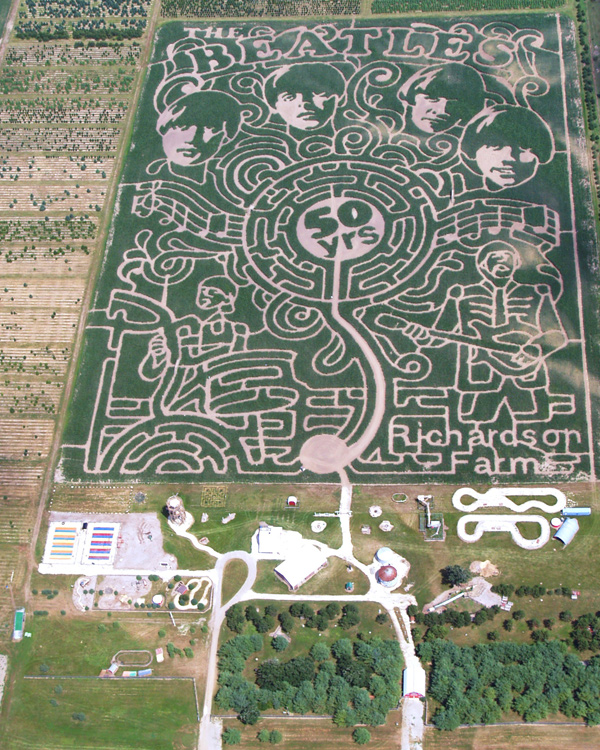 Inspired by the attractions at the Wisconsin sesquicentennial, the family carved their first maze in 2001. Since then, they have used the attraction to pay homage to everything from the Girl Scouts to the Chicago Bears. But no matter how intricate George's designs get, he always makes sure people find their way out. "We have a 50-foot-high observation deck [near the start] that makes it easy to orient yourself," he says. "You can see it from everywhere in the maze." There are also three 8-foot-tall wooden bridges scattered throughout the corn, an aerial map for orienteering, and 20–24 staff members wandering the maze in case anyone needs help. It's a more efficient system than the maze's early years, when people would have to just barrel through the corn when they'd had enough. Today's maze—actually four separate yet connected pathways—takes about an hour to complete. In the daytime, with the observation tower and bridges anchoring your sense of direction, the real challenge lies in finding all 24 hidden checkpoints. The longest George has seen someone in that pursuit was "about two and a half hours." For children, there are a couple of simpler, age-appropriate mazes: "one that's all right-hand turns, and one that's all left-hand turns." And since the farm is open until 11 p.m. every Friday and Saturday, you can wander any of them in the dark. (George recommends bringing a flashlight or glow sticks to help read the map. When asked if anyone gets scared in the dark, he says, "No. … People might hide Jason masks in their bag and scare other people, but our guys out there keep that stuff to a minimum.") The farm's staff also keeps campfires burning by the barn until the grounds close, so visitors can fuel up with hot dogs or s'mores—or, on one occasion, some lamb chops—before or after their trek through the maze. If you're 21 or older, you can even bring beer, as long as you're responsible about it. George puts it in blunter terms: "Don't have too many before going into [the maze]." One time, George was in the old grain bin that's been converted into a store that sells fudge, hot chocolate, and gifts. A man came in, set a tallboy down on the counter—"he'd already had a few"—and noticed the 30-odd glow sticks hanging on the wall behind the cashier. "The guy asked, 'How much for all of 'em?' I looked, started counting, and said 50 dollars." The customer slapped a 50 down on the counter and proceeded to drape all of the glow sticks around his neck and his shoulders. "My friends are going to be so impressed!" he exclaimed, then walked out. But that hardly ever happens.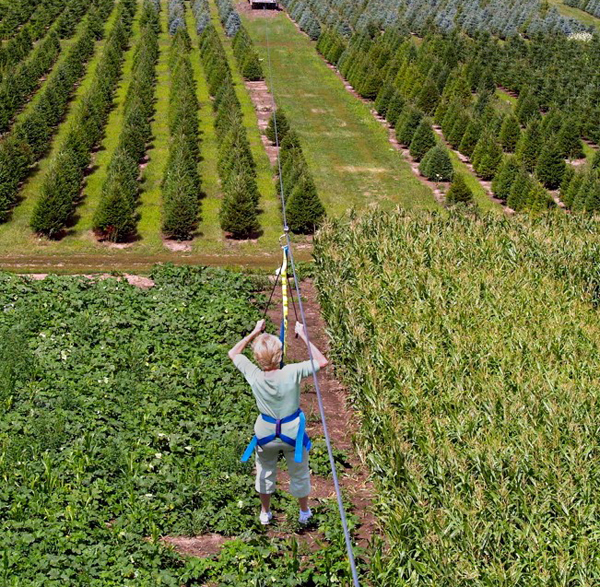 Away from the corn, you can ride the zipline, race your date on a pedal cart, or head over to the pig races to see if a hog named Lady Madonna wins out against one named Yesterday. Each animal gets its own musical introduction. "Nothing from
Sgt. Pepper
, though," George says. "That got crazy for a bit." Next year, the tunes might be a bit more patriotic. "If all goes according to plan, we're going to celebrate the 200th anniversary of 'The Star-Spangled Banner,'" George says. The corn tableau will depict a different kind of British invasion with approaching warships, bombs bursting in the air, a battle-wrecked Fort McHenry, and a tattered American flag—its stalks waving in the wind.
Richardson Adventure Farm is open until Sunday, October 27, when it will close for the season at 10 p.m.
Photos courtesy of Richardson Farm
BY: Patrick Wisniewski
Patrick Wisniewski was born in Michigan, traveled to Baltimore and Belize, and now lives with his fiancée in Chicago. He once touched lava on an active volcano with a stick.