Instagram's New Unofficial Delivery Service
BY: Emily Donelan |
Mar 20, 2014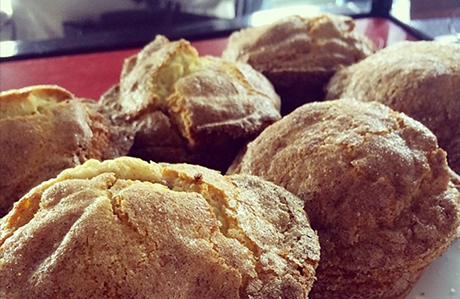 We use precise scientific methods to determine whether you can use Instagram to convince your special someone to bring you food.
Introduction and Purpose:
Late last year,
a study out of Brigham Young University
found that looking at food photos on Instagram gives people a sated feeling, but we've found the opposite to be true. In fact, we think that showing someone a photo of delicious food will jump-start their appetite. And taking it one step further, this comment will spur them into bringing that food to you, thereby turning Instagram into a sort of free-food delivery service. For example, one morning I made an innocuous comment on a
Bang Bang Pie Shop
Instagram of
a sausage biscuit with sharp cheddar and grape jelly
. Three hours later, my husband presented it to me on bended knee.
Hypothesis:
If you comment your special someone's name on a food photo, they will buy that something and give it to you. And then you will eat it.
Materials and Methods:
We asked four staffers—two men and two women—to comment on a food photo, wait 24 hours, and then report their findings. The only restrictions were that the food be undeniably appetizing and reasonably easy to get. Here's what they wanted:
Grilled wild-octopus skewer
at
Wasabi
(2115 N. Milwaukee Ave.)
Snickerdoodle muffins
at
Reno
(2607 N. Milwaukee Ave.)
Desserts Skittles
at an undisclosed location
Frosted cookies
at
Lickity Split Frozen Custard & Sweets
(6056 N. Broadway)
Data and Results:
No one bought anyone anything. In other words, a big goose-egg—not unlike the author's seventh-grade science experiment. Pro tip: Plants won't grow in your parent's basement, no matter what kind of music you play for them.
Conclusion:
Although this experiment was an unequivocal bust, the author stands by her hypothesis because true love—love for food and love between special someones—conquers all, even facts and the reality that nothing supports her hypothesis.