Interview with Executive Chef of FIX, David Welch
BY: Kimberly Moore |
Sep 30, 2012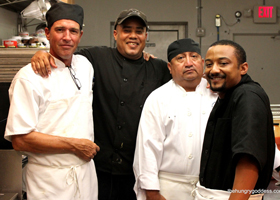 FIX
is one of South Beach's newest restaurants and is nestled in the beautifully remodeled Blue Moon Hotel.  The restaurant has a rustic feel and flows from the outdoor patio that overlooks Collins Avenue through the modern bar to comfortable dining rooms and a stellar poolside dining area. The dining areas are beautiful but the stars of the show at FIX are the menu and the food, overseen by Miami native and Executive Chef, David Welch.  Breakfast, all the time, scores high in my book but great food scores even higher and this is what Chef David and FIX deliver: great food, fresh ingredients and twists on classical favorites. Visiting FIX and Chef David Welch meant that we got to munch on the signature (and addictive) Rice Krispie-Crusted French Toast with bourbon-caramel sauce, mascarpone zabaglione, and fresh strawberries and the Kurobota Pork Belly Benedict, plus ask Chef David a few questions. Chef David is a Miami Native who studied culinary arts at the Art Institute of Philadelphia in 1999, and gained the title of Certified Executive Chef by the American Culinary Federation after teaching culinary arts at Le Cordon Bleu. He has many culinary certifications in nutrition, sanitation and wines and spirits. His experience includes time spent in some of the most sought after luxury hotels and restaurants from Philadelphia to Miami including the Loews Miami Beach Hotel, Smith & Wollensky, Tantra and Acqualina.
HG:  Why did you become a Chef?
Chef David: 
The position chose me. I have always worked in the kitchen since my first job. Once I realized I was good at it, I stuck with it.
HG:  What is your Food Philosophy? 
Chef David:
  Food doesn't have to be fancy to be great.  Simple techniques applied correctly can provide excellent results.
HG:  What is the best part and/or challenging part of cooking in South Florida?
Chef David: 
The best part of cooking in South Florida is the ability to use techniques and ingredients from many different ethnic backgrounds.  And adding a refined touch to rustic and cultural cuisine.
HG:  How does FIX reflect you as a Chef? 
Chef David:
  FIX reflects my playful culinary side. A lot of times we are forced into a box of what's classical and there is no room for much creativity.  I have a lot of room for creativity here at FIX.
HG:  How do you run your kitchen? 
Chef David: 
I run my kitchen like the classical brigade. Neat, clean and organized.
HG:  Who are the Chefs that you admire? 
Chef David: 
Charlie Trotter, Marcus Samuelsson, Ferran Adria
HG:  What do you consider your signature dish? 
Chef David: 
The signature dish at FIX is the Rice Krispie French Toast
HG:  Your favorite dish to prepare at home is… 
Chef David:
  BBQ, anything BBQ.
HG:  The ingredient that can make all the difference in a dish is … 
Chef David: 
Salt
HG:  The person you would love to cook for is…
Chef David:
  Anyone who appreciates good food
HG:  What excites you about being at FIX?
Chef David:
  It's back in my hometown so lots of people who know me can stop in, try it out and tell me what they really think.
HG:  What can we look forward to at FIX in the next 6 months? year? 
Chef David: 
Great food Chef David Welch is extremely competent, runs a smooth and organized kitchen, and also has a great time with the food he is creating.  He definitely has the recipe for success and we look forward to visiting again.  and again.  and again.
BY: Kimberly Moore
I am Hungry.  I am a passionate person and I translate that passion into life … and food … and experiences … and travel!  I will always take the road less traveled and since I am always hungry, I always stop to eat. Food is a central experience in my life – I love to eat it, tweet it, write about it, experience it and discover new foods or recipes.  I have several Food sites – Foodies Unite and The Hungry Goddessand Fennel Friday.  I am the Co-Founder of the #HGEATS twitter chat (every Wednesday at 12noon eastern) and I am the Creator ofFennel Friday (#FennelFriday) which is a joint project with Pollen Ranch and Foodies Unite.