GROUPON GUIDE TO WASHINGTON-DC
Boba Tea Is the Next Frozen Yogurt
BY: Nathalie Lagerfeld |
Aug 26, 2014
Honey-tinged tapioca balls. Sweet red beans. Flavored lychee jelly. The eclectic topping options at Wicker Park's first boba-tea shop would be familiar to any aficionado of the trendy Taiwanese beverage.
Sucked up through an extra-wide straw, the small, chewy chunks add textural interest to the sweet, milky tea they usually bob in. It's this pleasant contrast that's made boba—aka bubble tea—a staple at Asian eateries for decades.
But Bee & Tea is no Chinatown mom-and-pop.
The café announces its aesthetic allegiance to its upscale Chicago 'hood with an interior that's all sleek, light wood, like a huge, weirdly cool sauna. Beaming young staffers stand ready to guide boba newbies through the menu—with options such as tea type, flavor, and mix-ins all customizable, there are literally hundreds of possible boba-tea variations to choose from.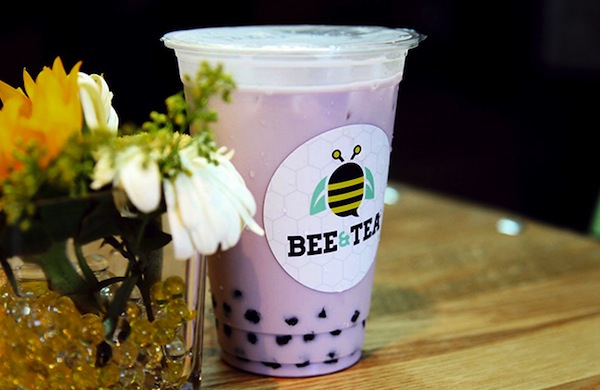 One of the many possible drinks at Bee & Tea: taro milk with traditional honey boba.
This won't be the only Bee & Tea for long. Seven more locations are set to open in the coming months—some in hip urban neighborhoods like this one but others in suburban downtowns. They're part of a growing trend that has boba shops moving onto Main Street, borrowing ideas from coffee shops as they go. (Case in point: Boba Guys, which opened last year in San Francisco's trendy Mission District, serves its tea in mason jars with a side of artisanal toast.)
More than 20 years after it arrived on US shores, boba is finally stepping into the spotlight. But why now?
Bee & Tea is the brainchild of Mandy Calara, the man behind successful frozen-yogurt franchise Forever Yogurt. (How successful? Bee & Tea opened in a space formerly occupied by a different fro-yo shop demolished by competition from a nearby Forever Yogurt store.) In backing Bee & Tea, he's banking on boba having a fro-yo moment—an explosion that will bring his and other shops to street corners across America. His cause will be helped by the fact that each new Bee & Tea will cost only $100,000 to build, about a quarter of the cost of a new Forever Yogurt.
The new wave of boba shops might have fro-yo to thank for broadening Americans' palates. Over the past 10 years, the lip-puckering "eurotart" flavor pioneered by shops like Pinkberry has gone from extreme to mainstream. No less an authority than Katherine Alford, a Food Network vice president, named sour foods one of the top trends of 2013.
It's possible that similar developments have opened customers' eyes—and tastebuds—to more exotic tastes and textures in general. Some fro-yo shops even incorporate boba-like ingredients, like taro-flavored yogurt or agar-jelly toppings.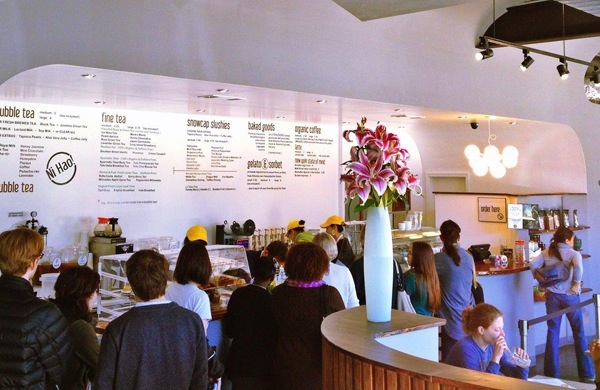 Honey Bubble Tea's sleek space in Atlanta's Virginia Highland.
Atlanta is another city where the boba wave is breaking. Last year, Doug Hines and his wife opened Honey Bubble Tea in the trendy Virginia Highland neighborhood of Atlanta. An interior designer who's been featured on HGTV, Hines made Honey Bubble Tea's space sleek and white, so it has an almost futuristic feel. (It was even used in a Syfy channel film shoot last spring.) There are chalkboard walls, vintage 1960s sofas, and eco-friendly LED light fixtures.
Hines said he doesn't quite feel that he's part of a broader boba trend so much as out in front of it. "I think we're pioneering it to some degree. We've noticed some of the other shop owners—they think we don't notice them—come in and look around and point at things and take pictures."
With that level of interest, it should be no surprise that his ideas are catching on—one of Honey Bubble Tea's competitors is opening a second location later this year in the same neighborhood.
Check Groupon for deals on coffee and treats like boba tea and fro-yo in your area.
BY: Nathalie Lagerfeld
Guide Staff Writer
Nathalie is a writer and editor on the Guide's food team. Originally from Virginia, she now lives in Chicago, where she regularly indulges her love of tortas, bibimbap, and Cheez-Its. Follow her on Twitter @maviswillsaveus.