Is Jim O'Heir from "Parks and Recreation" As Nice As He Seems? (Yes)
BY: Will Landon |
Mar 21, 2014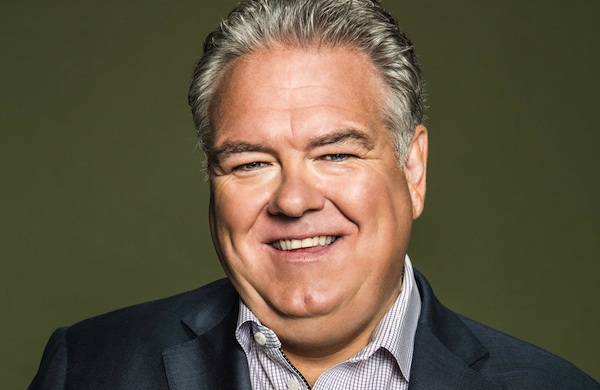 Fans of the NBC sitcom
Parks and Recreation
know Jim O'Heir as the bumbling but affable Jerry Gergich (or, if you follow one of the show's finest running jokes, "Larry Gengurch"). In 1990, Chicago knew him as the stage actor who played with mutated puppets.
A native of Lansing, Illinois, O'Heir moved to the city to hone his comedic chops at Second City. There, he found some like-minded people, five of whom joined him to create White Noise—a controversial black-comedy group. O'Heir credits this team with launching his career: one of their shows, written by teammate Pat Cannon, traveled to LA and put him on the radar of several agents. That show was
Stumpy's Gang
. "It was a 90-minute one-act, and it was lunacy," he says. "By the end I'm laying in a pool of blood. There was video, there were special effects. There were puppets spewing blood [and] singing opera." Despite the stomach-churning content, O'Heir's performance was praised for being both funny and heartbreaking. Being the amiable person he is, O'Heir even remembers the angriest reviews with fondness. As he recalls, one of the worst said: "Though Jim O'Heir seems like a nice enough fellow, he should be embarrassed to do what he's doing in the privacy of his own home, let alone onstage." And then there was
Chicago Reader's Mary Shen Barnidge
who, after seeing the show, headed to a nearby bar to discuss it until 1 a.m. "That's a good review, because whether you like a play or hate a play," O'Heir says, "the fact that hours later it was still the topic of discussion meant we did something."
The Evolution of a Gengurch
More than two decades later, the longtime stage and television actor is still inspiring conversation, bringing a teddy bear's warmth and a dodo's competence to his role on NBC's Thursday-night comedy anchor. Though
Parks and Recreation
is true-blue comedy, O'Heir's varied experience—and real love for the work—brings Jerry/Larry to life week after week. "I put time into figuring out what's going on with Jerry/Gerry/Larry, whoever the hell I am every day." Larry wasn't always loveable. When
Parks
began, no one knew what direction the show or its characters would take. Amy Poehler thought Jerry, who was consistently the butt of workplace jokes, could be a tyrant outside the office. However, showrunners Mike Schur and Greg Daniels knew that for audiences to care, Jerry had to be sweet. They also paired him with a stunning wife and three devoted daughters. "The reason you can sustain a character like this," O'Heir says, "is because…he [has] the most amazing home-life. The price he pays is [that he's] the guy who is crapped on here and there." Despite the crapping, O'Heir—like Jerry—prefers to look on the bright side, pointing out that Pawnee's civil servants really care about his character. They have, after all, resisted his leaving. "What I love," he adds, "[is] he's all-forgiving. He fumbles, he goofs up, but he's been there a lot of years and loves these people."
In the spirit of Larry, Jim offers one nice quote about his castmates:
Amy Poehler:
"Super simple: nicest woman in the world. Super talented."
Rashida Jones:
"She's gone, but I would just say…sweet and lovely."
Nick Offerman:
"An inspiration. Super talented."
Aziz Ansari:
"Young and brilliant!"
Aubrey Plaza:
"Once you get to know her, there's nobody sweeter, even though…she's got that exterior about her. Heart of gold."
Chris Pratt:
"Literally the biggest heart in show business. The kindest man alive."
Retta:
"She's my girl! One of the funniest people I've ever known."
Rob Lowe:
"We're visually twins. Sweet, wonderful man, with amazing Hollywood stories."
Adam Scott:
"I'd feel terrible if I forgot everybody. Let's see…Oh! Adam Scott! [He] is an [all-around] great guy, [and] such a great family man."

Photo by Cullen Tobin (Ignition Studios)
BY: Will Landon
Will Landon is a Chicago-based writer who sings punk rock songs with the Blue Ribbon Glee Club and occasionally works for free as an assistant stage director.