It Doesn't Take Much to Make Over Your Desk
BY: Amelia Buzzell |
Jun 9, 2014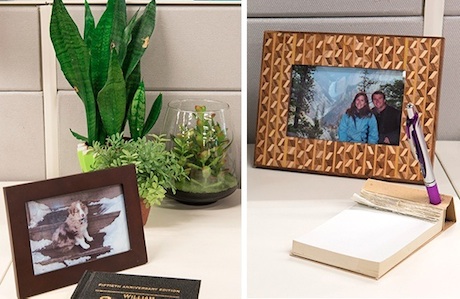 Chances are you do more at your desk than just work—it's probably also where you lunch, binge on Pinterest, and try to guess when 5 o'clock is coming. But if the place where you're spending 40 hours a week is "decorated" only with a tape dispenser and some lidless pens, you're missing out on making your home away from home a bit more homey. As it turns out, with a little help from things you already own (and maybe a few paper crafts), it's easy to design a space that's functional, themed, and personal. Last week, my coworker Jorie and I staged our own desk makeovers.
Jorie's Desk: Feng Shui Forest
Before: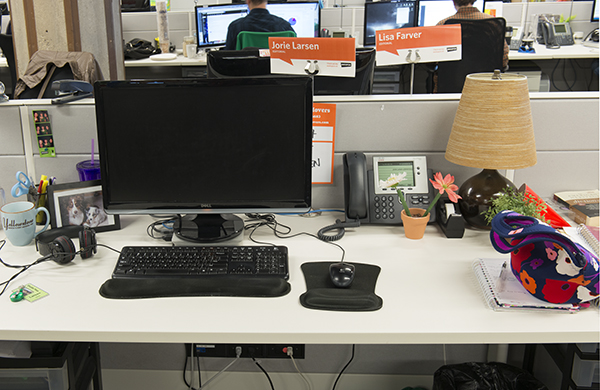 What's on your desk:
Too much clutter: random photos tacked up, a tape dispenser floating in the middle of nowhere, more pens than I know what to do with. It feels like the inside of my seventh-grade locker.
Your desk's worst quality:
It's unforgivably dusty. I swear I keep a clean home, but I've let my desk go.
Its reputation around the office:
Like a wallflower at the prom, it has gone largely unnoticed … which only makes its
She's All That
–style transformation even sweeter.
After: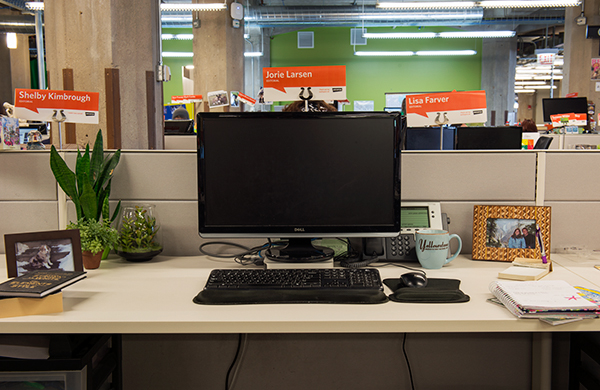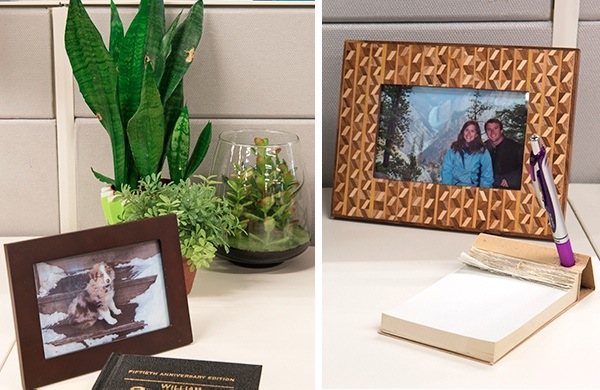 Why you picked this theme:
I've been attracted to the philosophy of feng shui ever since I was young. As a grownup, I figured I should bring some of that good juju to my workspace.
Changes you've made:
I applied the feng shui principle of dividing a space into nine equal "boxes"—each one corresponding to a facet of your life and represented by a different color: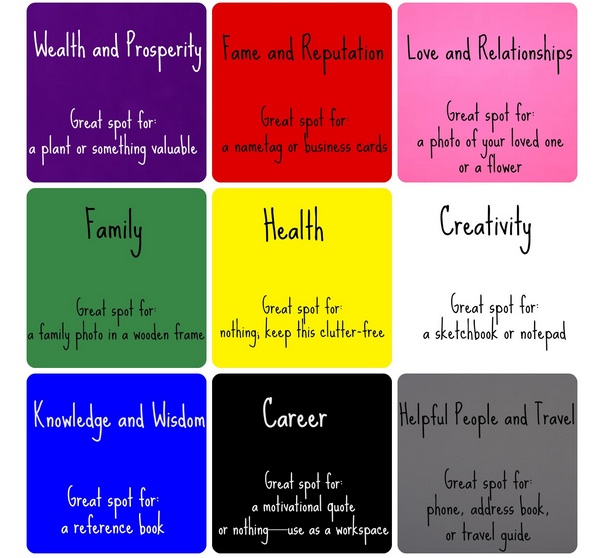 I had to bid adieu to a few items that just didn't jibe with the principles of feng shui, but I did get to add some great stuff: * A faux terrarium (my desk doesn't get enough sun to nurture a real one) * A picture of my fiancé and I hiking in Wyoming and a photo of our dog, Winnie *
The Elements of Style
, an important reference book for my job as a writer * An issue of
National Geographic
for travel inspiration
Do you like the new space?
I feel calmer and lighter. You could chalk it up to the decluttering process, but I like to think my chi feels safe and happy in this workspace now.
Do your neighbors like it?
Soon after I finished redecorating, I had several coworkers oohing and ahhing at my bountiful garden and adorable puppy pic. Freddie Prinze Jr. would totally take this new desk to the prom.
My Desk: Wes Anderson Nap Pod
Before: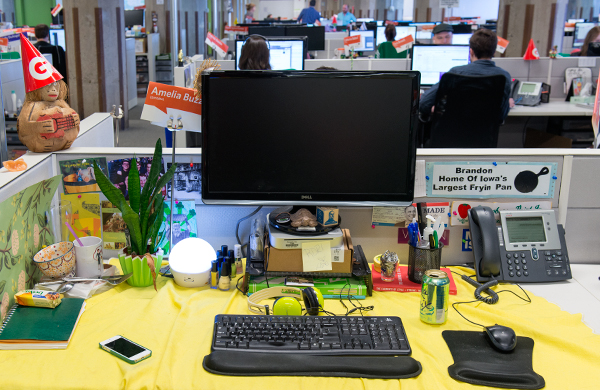 What's on my desk:
A lot of paper ephemera and bumper stickers that I can't bear to part with, a wax ear I got as a gag gift and display to scare passersby, and a lot of pop tabs that I keep meaning to put in our office's donation box for the Ronald McDonald House.
My desk's worst quality:
The crumbs of a thousand lunches. If I'm going to eat at my desk, you bet I'm going to act pathetic and slovenly to match the occasion.
Its reputation around the office:
I keep the dismantled parts of my long-retired standing desk beneath my current desk. It's very crowded, and my neighbors have asked me if I have a junkyard dog living under there.
After: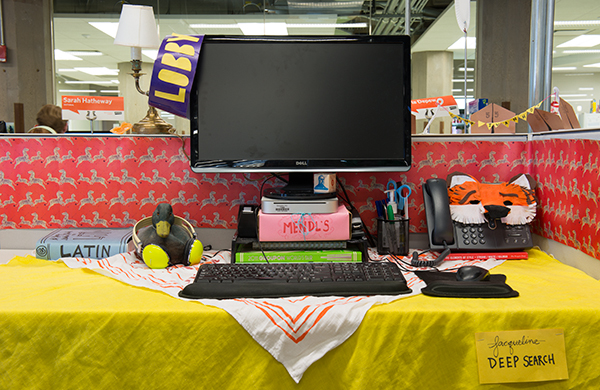 Why I picked this theme:
I'm envious of Google's nap pods, but I figured a
George Costanza–style nap situation
was more attainable. As for Wes Anderson, I've always loved the Scalamandre wallpaper print (
as seen in The Royal Tenenbaums
) and knew the theme would be a great excuse to make little paper crafts, too. What changes I made: * The wallpaper (which was painstaking to line up) * A "Lobby Boy" hat and Mendl's box like those in
The Grand Budapest Hotel
* A Latin book cover as a nod to
Rushmore
* A
Fantastic Mr. Fox
mask * A miniature Camp Ivanhoe from
Moonrise Kingdom
* Turned my yellow tablecloth into Steve Zissou's
Jacqueline
Deep Search
submarine, which now conceals me when I dive down to take a nap * A lamp and decoy duck from home. They felt appropriate, even if they don't have any Andersonian meaning.
What I think of the new space:
I worried this project was a little on the twee side, but I'm pleased with it. It's clean, it's cohesive, and it saved Latin—what did your desk ever do? I haven't taken my first nap yet, but just knowing I have the option makes me feel peppy already.
What my neighbors think of it:
Several of them have already worn the Lobby Boy hat, and others have stopped to ask about my wallpaper or high-five me for my Mendl's box. Nobody has complained about the missing junkyard dog.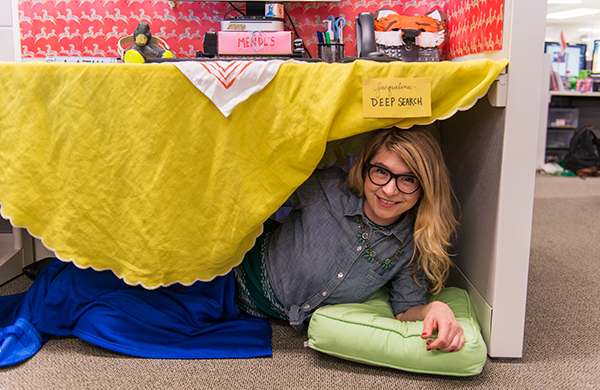 Photos: Andrew Nawrocki, Groupon. Illustration: Jorie Larsen, Groupon.