It's Winter, Time to Go Surfing With Your Clothes On
BY: Michelle Algeo |
Jan 9, 2014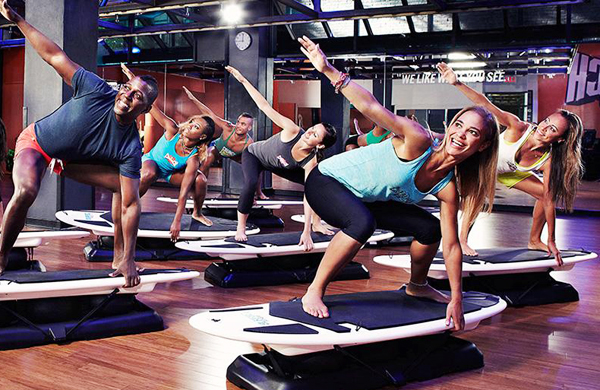 I've never been much of a water bug. I opted out of swimming lessons as soon as I got to a level of proficiency I refer to as Can-Keep-From-Drowning. But I've always wanted to surf. Considering that water and surfing go hand in hand, I never thought I'd get my chance—until I stumbled upon Moirai Surfset Chicago, an outpost for the Shark Tank-featured Surfset Fitness.
Though I'd done a bit of research on the indoor, waterless exercise and its stationary surfboard, I wasn't exactly sure what to expect when I showed up for a Surfset Blend class. After a warm welcome from instructor Kim and my fellow classmate, Peggy, I got my first look at the standard-size boards. They were secured atop a row of what looked like playground balls, which, to my dismay, were much more wobbly than I'd expected.
First, I had to find my balance.
It took me a minute to steady myself on the board—Peggy assured me I was way ahead of the curve—and then we launched into a series of 30-second cardio exercises. Perhaps because it appealed to my dramatic side, my favorite was hot sand: while imagining the boards surrounded by sun-scorched beach, we planted our hands on our boards, and hopped from side to side over them. We went through two sets of the cardio moves, and then took a breather as we revved up for strength training.

Then, we tested our strength.
I liked the strength training best because it reminded me of one of my favorite activities: Pilates. Kim incorporated weights, but my favorite exercise was actually a stationary move with a kettlebell: we simply leaned forward, letting the kettlebell hang, and then straightened into a great back stretch. The lunges, however, were much more challenging. With one foot back and the other squared at the front of the board, all I had to do was bend my back knee. And yet, I found my back leg shaking and my balance wavering—and that was without even using the hand weights Peggy was holding.
Finally, we "surfed".
But it was all worth it when, after some core work (Google "starfish crunch"), we got to actual surfing moves. We started with high knees—necessary for running through small waves and out into the open water—and then played around with the dolphin dive, which surfers use to duck under oncoming waves too big to catch. We practiced paddling, pop-ups to get upright, and even rode a few "waves" (which consisted of us rocking back and forth on our boards). By the end, Peggy and I were both ready to catch real waves—though she'll probably beat me to it.
Try it if: You're getting ready for your first surfing vacation or just jonesing to catch a wave in the landlocked Midwest
Don't go if: You're a self-conscious exerciser—looking silly and wobbly at first is a given
Beware of: White socks—the black surface on the top of the board will rub off, so wear dark socks or go barefoot
Invite a friend who: Isn't too cool to "hang ten" during the surfing sequence
Come prepared with: A water bottle and a towel
Wear: Breathable clothing that you can move in easily, like a loose-fitting top and yoga pants
Intensity level: Go for a jog while you still can, because you'll wake up sore tomorrow