GROUPON GUIDE TO NEW YORK
Jazz and a Fish Fry Inside a Historical Bed-Stuy Brownstone
BY: Jonathon Schaff |
Apr 15, 2013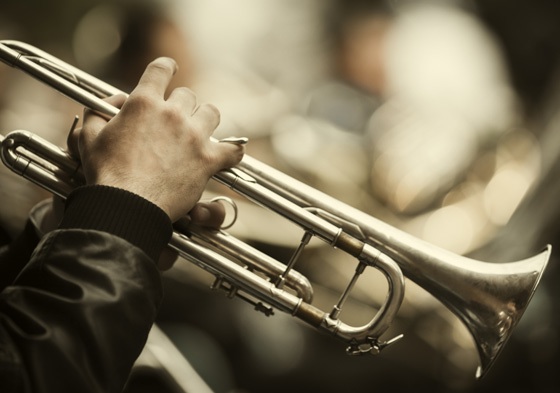 Kurt Vonnegut once defined jazz as "safe sex of the highest order." If that quote doesn't make sense now, just wait until you're under the spell of the romantic, historical Sankofa Aban Bed and Breakfast's
Brownstone Jazz
night. Serenaded in a centuries-old brownstone by live bass, piano, and drum, you'll get the drift right away. Every Friday and Saturday night, in the heart of Brooklyn's Bedford-Stuyvesant neighborhood, the B & B throws a jazz party that looks and sounds straight out of the '60s. That's when Brooklyn was an epicenter for jazz music, swelling with clubs that sprung up on practically every corner. Those days, on any given night, you could stumble into a jazz parlor and find musicians such as Max Roach, Hank Mobley, and Miles Davis blowing away. Today, Brownstone Jazz holds a candle for that lost place in time. Standing outside 107 Macon Street on the night of a show, the scene looks much like it would have in the mid-20th century. A bass player—Brownstone Jazz co-founder Eric Lemon—stands silhouetted in the bay windows, plucking his vintage standup. Inside, Lemon is joined by a rotating cast of musicians and friends, some of whom stop by with their instruments in tow to join in for a song or two. Accomplished jazz singer Boncella Lewis is often on hand to lend her formidable talents to the concert, alternatively wowing the crowd with soulful standards and delivering self-deprecating one-liners about her life as a New York stage performer. Boncella is a favorite of Debbie McClain, the building's owner and a Brownstone Jazz co-owner. Says McClain, "The song I insist she sing all the time is 'Here's to Life.' It gives me chills up and down my spine." During a typical show, the intimate audience sits on folding chairs in the parlor, where it's easy to sit back and soak up the music and the ambiance. Here in Bed-Stuy, the setting is as authentic as the jazz; the Victorian-style brownstone dates back to the 1880s, and original details and period pieces have turned the restored townhouse into a veritable time machine. The parlor piano, for instance, has parts in it that were made in 1860. "The piano has not just a history, but a soul," says McClain, whose family has owned the building for six generations. The show at Sankofa Aban starts up around 9 p.m. and breaks only when Debbie descends the basement stairs with a basket of fried fish around 10:30 p.m.—the fish fry is included in the event's $20 admission. Why a fish fry? "Fish is a common denominator all around the world," McClain says. The food links the Brooklyn of today with the Brooklyn of yesteryear, when friends found time to gather, eat, and celebrate. "A lot of people can't afford to see a show, have dinner, and a drink," McClain explains. "So let's do it. Let's do what we used to do." After a quick, delicious reprieve, the music picks back up and carries on well into the evening.
Sankofa Aban Bed and Breakfast | 107 Macon Street, Brooklyn, NY | Two blocks from the Nostrand Avenue subway station | Wine and beer are available for sale.
Quick Bites in Bed-Stuy:
Dough
Stop by before the show for a freshly fried blood-orange donut and a cup of hibiscus iced tea.
David's Brisket House
This quintessential New York deli rivals anything you'll find in Manhattan: its namesake brisket comes piled high, just the way we like it.
Saraghina
Leave the Jazz Age behind and return to modernity at this sleek pizza joint, which offers trendy pies such as the signature prosciutto and funghi.
BY: Jonathon Schaff
Guide Staff Writer
Jonathon is a Chicago-based writer and dancer. Follow him @jonschaff.
Concerts Deals in New York