GROUPON GUIDE TO SAN FRANCISCO
Kara of Kara's Cupcakes Isn't Afraid to Think Bigger
BY: Andi Fisher |
Jun 24, 2014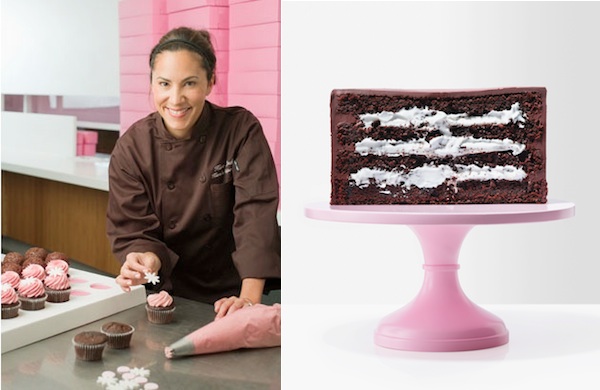 The daughter of a dentist, Kara Haspel Lind took a drastically different path in 2006 when she opened her first cupcake shop in the Marina. Now with multiple stores and a mobile cupcake van,
Kara's Cupcakes
is a sweet San Francisco institution. That doesn't mean that Kara is set in her ways, however. Recently, she expanded her offerings to include something a little bigger: 6- and 9-inch
cakes
. The cakes are available in all of the signature cupcake flavors, as well as two cake-only variants. We spoke with Kara about exploring new edible territory, plus her favorite places to eat before dessert.
GROUPON: So what made you decide to venture into the cake space? And can you tell us a little more about the cakes themselves?
KARA HASPEL LIND: Cupcakes are a mini celebration (even if you're just celebrating that you finished lunch!), and we wanted to offer guests options for the larger celebratory moments in their life. We're keeping it special by having two cake-only flavors: Paradise and Chocolate Eclipse. The Paradise cake is made with organic bananas and passionfruit-curd filling. It's covered in cream-cheese frosting, then sprinkled with fresh toasted coconut. The Chocolate Eclipse cake is a chocolate cake filled with Italian meringue marshmallow, covered in rich chocolate ganache frosting. All of the new cakes are ready-made daily and by custom order, which requires 24 hours notice.
G: Sounds delicious! You have a well-established brand when it comes to cupcakes in San Francisco. Besides the new cakes, what else differentiates Kara's from other bakeries?
KHL: Our sweet treats are baked daily (sometimes hourly!) in small batches, so guests are enjoying their cupcakes a few hours, if not a few minutes, out of the oven. Community is also an important focal point for our cupcakes. We like to use local ingredients that are sustainable and organic.
G: What sorts of local ingredients?
KHL: Take our seasonal strawberry cupcake, for example. We use
Yerena Farms
organic strawberries in that. Poli Yerena, a Bay Area small farmer, created his own business with his family and his strawberries are to die for. They make a delicious strawberry cream. Our salt comes right from the bay—from the red salt ponds you see when flying to and from SFO. [We also use] Giusto's flour, Petaluma farm-fresh pullet eggs … These are all conscious decisions to make a difference in our community, which is extremely important to us.
G: Speaking of the community, can you tell us some of your favorite places to go when you aren't eating dessert?
KHL: For coffee, the new
Peet's
on Chestnut Street. For breakfast,
Gott's
egg sandwich. And for lunch or dinner,
Padrecito
in Cole Valley … delish and fresh!
This interview has been condensed and edited.
Photos courtesy of Kara's Cupcakes.