Chanel Makes Headphones Now. Here's a Playlist to Celebrate.
BY: Mae Rice |
Jul 16, 2014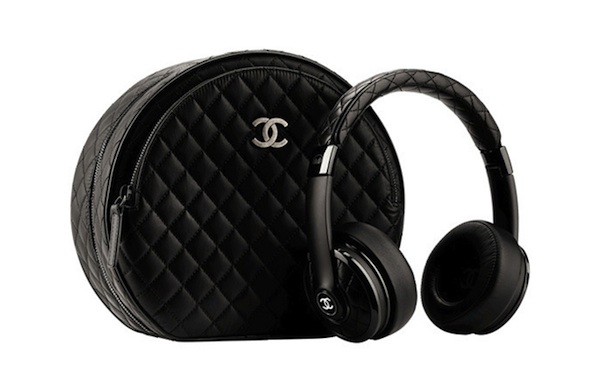 At Paris Fashion Week in March, Chanel creative director Karl Lagerfeld continued his campaign for Most Eccentric Fashion Genius by forgoing a traditional runway. Instead, his models shopped a
couture grocery store
, stocked with Coco Flakes (get it?) and shelves draped with the label's signature chains. Amid the spectacle, it was easy to miss one of the more curious elements of the show: model Ming Xi wore
Chanel headphones
, a collaboration between the design house and A/V brand Monster. Lagerfeld was also spotted wearing them that day, lending even more intrigue to the mystery accessory. Of course, Lagerfeld has always been one of fashion's most intriguing personalities. He fearlessly says what he thinks and does what he likes, making him one of the most quotable people on earth. ("Sweatpants are a sign of defeat," he has said. "You lost control of your life, so you bought some sweatpants.") Since there's no official release date for the headphones just yet (though fall 2014 has been rumored), we created a playlist that, in the meantime, will help any cans feel like Chanel ones. These songs also pay homage to Karl's singular mystique—and for the most part, they make a great workout playlist, too.
"Flawless," Beyonce
As Lagerfeld once told
Harper's Bazaar
, "It's such a pleasure to go to bed in the evening in a beautiful bed with beautiful sheets and beautiful pillows, everything flawless, in a freshly pressed, long white smock." The smock? A full-length design he commissioned specially, based on a 17th-century nightshirt he saw at the Victoria and Albert Museum. Your move, Bey.
"So Fresh, So Clean," Outkast
"My hair is not really white; it's kind of grayish, and I don't like the color. So I make it totally white with Klorane dry shampoo," Lagerfeld also told
Bazaar
. "That is the best thing to do because my hair is always clean."
Always
.
"Face to Face," Daft Punk
Lagerfeld, explaining a pair of jeans he's wearing to
New York
magazine: "They are dark gray with my face, my profile, printed in black on them, but you really have to look at it to see it." So, when he looks at his pants, he's face to face…with himself.
"Mickey," Toni Basil
According to the
New Yorker
, Lagerfeld calls Mick Jagger "Micky." He's also called his cat Choupette (the face of Shu Uemura's fall campaign) "a refined object," according to
Harper's Bazaar
.
"I Love It," Icona Pop feat. Charli XCX
"I throw everything away!" he told the
New Yorker
. "The most important piece of furniture in a house is the garbage can! I keep no archives of my own, no sketches, no photos, no clothes—nothing! I am supposed to do, I'm not supposed to remember!" If he crashed his car into a ditch, he would probably say "I don't care, I love it!" But in a German accent.
"No Day But Today," Idina Menzel
Clearly, Lagerfeld lives in the present. Real hard. It's why his designs never feel passé, his friends say. It also might explain why, as he told
New York
magazine, he doesn't care for funerals. "I do not want anyone to come to mine…Do what you want with the ashes. Send them down the garbage chute."
"Diamonds," Rihanna
The
New Yorker
reports that Lagerfeld once wore an outfit that involved a diamond-encrusted belt buckle—as well as fingerless black Chanel gloves, and "a chunky Chrome Hearts ring [that] adorned the pinkie finger, over the glove."
"Telephone Line," ELO
"I used to fax a lot, but people don't have faxes anymore," Lagerfeld told
Bazaar
. Probably mournfully.
"I Wish You Were Gone," Joakim
In case you ever wondered what kind of music Lagerfeld listens to, it's this. This insanely danceable track comes from
a two-disc compilation CD
he curated for
Vogue
, "Les Musiques que J'aime: My Favorite Songs."
Listen to the entire playlist here.