Keeping Clean the Vegan Way with Soaphappy
BY: Katie Cortese |
Oct 10, 2013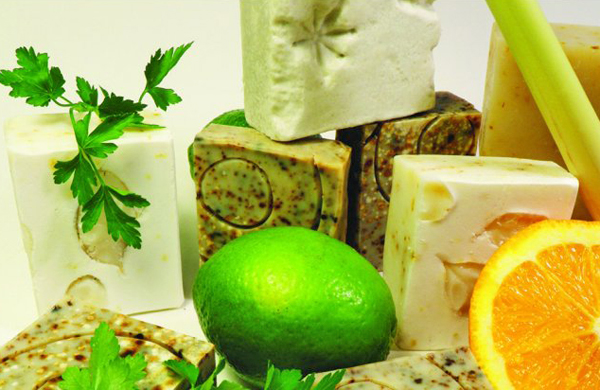 Browsing through the soap aisle left Hanah Diab's mind boggled. "I was getting frustrated going to the store and reading labels that were 20 or 30 ingredients long and filled with chemicals," lamented Diab, a local artist. Then, one night, while venting her frustrations to coworker and friend Nellie Seigel, the two women happened upon a happy coincidence: they both had grandmothers who were soap makers. Not only that, but both grandmothers made soaps that were free of chemicals and animal products—exactly the type of soap Diab had such difficulty finding. Diab and Seigel decided that if their grandmothers could do it, then they could, too. The first order of business was a trip to the library for some books on soap making. "We tried out recipes and finally came up with one we like," Diab said. Their first two successful soaps were Divine Fall—infused with clove and orange oils—and In Your Face, which uses peppermint essential oils and ground peppercorn. The duo gave out their vegan bars as holiday presents for family and friends that year, and the positive response was overwhelming. "A good number of people came back to us and said they had never used soap so good," Diab said. So the pair kept on making soap, turning their hobby into a full-blown business they dubbed
Soaphappy!
Each Soaphappy! bar is handmade from vegan ingredients, then hand-decorated with designs such as swirled carvings or stamped leaves. Organic and sustainable ingredients are used when possible, and Diab also grows some of her own herbs to use in the bars. Even the packaging comes from a sustainable source: "plant fibers gathered from elephant poop from the company
PooPooPaper
," Diab said. Today, customers can buy 14 different soaps and a vegan lip balm, though Diab and Seigel have also been busy experimenting with lotion and a bug repellent. Besides being sold on
Etsy
, Soaphappy!'s products can be found in local haunts including
One Strange Bird
in Wicker Park,
Sacred Art
in Lincoln Square, and
Dovetail
in Noble Square. For those interested in home soap making, Diab concedes the process can be laborious. Making laundry soap, however, is a simple and easy process by comparison. Plus, it can be a great way to use up bits of leftover bar soaps when they get down to the scraps. Here, Diab shares a fresh-smelling fall laundry-soap recipe that can be recreated at home.
What You Need:
1/2 cup baking soda 1/2 cup borax 1/2 cup washing soda 2 cups soap shavings Few drops clove essential oil Few drops orange essential oil
What You Do:
Combine all ingredients and pulse in a food processor. The batch makes enough for 14 loads in a top-loading washing machine.
Photo: Courtesy of Soaphappy!