The Billboard Song of the Summer, as Chosen by Children (Not Billboard)
BY: Editors |
Aug 6, 2014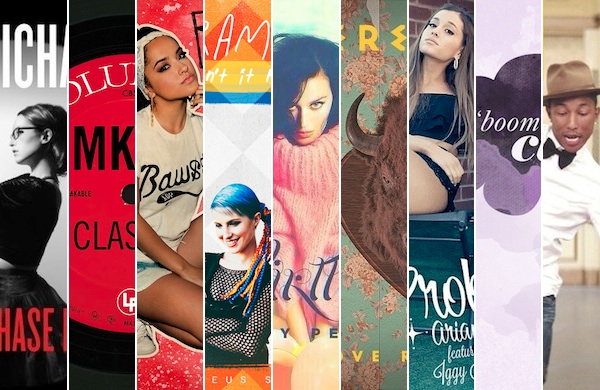 We played the summer's top (G-rated) pop hits for the students of tutoring center 826CHI and asked them to write brief reviews of each. Some are sweet, some are scathing, and all qualify these kids to answer the months-old question: what is the song of summer 2014?
Adrian Tam, Grade 3
"Love Runs Out" has fast and slow parts, so it's a good dance song. It makes you feel good. The tempo makes it feel like you're in a hot place, and you get to go to the swimming pool with a lot of water slides and hot tubs. You can see the sun set down. The beating sound of the drums goes "boom, boom." It sounds like a rock band. There is a lot of loud and soft singing, so it sounds dramatic.
Matthew Barrett, Grade 3
It's a little too long for my taste. Things were just going on and on and on and I don't want to hear people chanting very much. A song of the summer shouldn't be chanting over and over again. I like "Thrift Shop." I don't see why people would like "Boom Clap."
I liked that it wasn't so long. But it was chanting over and over again. They sang the chorus too much. If you like this song, you should hear "Thrift Shop" and compare them. Another song that I don't like that chants over and over again is "Baby" by Justin Bieber. There was this little kid who likes Justin Bieber, but I don't think his song is very good because most people hate it. In Diary of a Wimpy Kid: Dog Days, [the character] Rodrick makes fun of Justin Bieber.
Mila Wolf, Grade 4
I think "Problem" by Ariana Grande and Iggy Azalea should be the song of the summer. It's awesome because it has both women's and men's voices; that is cool because not a lot of songs have men's and women's voices. Instruments such as drums, piano, and horns are in the background throughout the song. "Problem" is a pretty complicated song because it has a lot of words, which requires talent. The lyrics include words about power and standing up for yourself, and that matches the music's strong beats.
Cassie Kayser, Grade 7
This song is pretty loud and is a happy song with a lot of excitement. The beat helped it feel like a party because of the clapping. This song is kind of wild and makes me want to dance, but that's not what my summers are like. Since "Happy" feels like a party, it feels more like a Friday night instead of summer.
There's a beat and excitement, but it's not as strong and loud as in "Happy," so it didn't make me feel like dancing even though it still made me happy. It's more like the feeling of summer because it sounds like the people singing the song are free, like when I'm free from school. "Girls Chase Boys" should be the song of summer because I would listen to this song at a block party when everyone's running around and wet from a slip 'n' slide.
Daniel Dardon, Grade 8
"Ain't It Fun" may not be the song of the summer, but it's definitely a summer song. It's about a feeling of independence. In the summer you're independent; your teachers aren't forcing you to do homework. It sounds like a song you would listen to in the summer because during the school year you're on a stricter schedule, whereas in the summer you have more time. It's also about how independence changes your character and forces you to be more self-disciplined. You don't have to listen to someone else's rules, which is fun, but no one is telling you what to do, which can be challenging.
Joseph Jones, Grade 9
"Birthday" sounds like a party song. Also, "Birthday" sounds super similar to the other songs that Katy Perry has made. I think people would choose this as the song of summer only because they're Katy Perry fans. I think she made a song called "Birthday" because maybe she, or someone else she knew, was having a birthday.
This is a song for teenage girls, because most pop music is sung by and aimed at girls. A song like "Shower" is more about partying, unlike Pharrell's music that is targeted to everyone. I think Becky G chose this song to be her hit because it's most similar to popular pop songs on the radio.
Their Official Song of the Summer
When confronted with the task of choosing the official song of summer, our student critics were pretty evenly divided between OneRepublic's "Love Runs Out" and Ingrid Michaelson's "Girls Chase Boys."
But Iggy Azalea's "Fancy"—which didn't make our playlist because of curse words—and Pharrell Williams's "Happy" also scored high with both age groups. Student critic Joseph Jones explained his reasoning: "[These songs] are catchier and easy to remember." But Jones also made a plea for less mainstream summer hits, adding, "I think the music industry should promote music that is less popular because there are a lot of good songs that no one knows about simply because they're not about partying."
So were the kids able to ultimately settle on the No. 1 single from their summer-vacation soundtrack? Not exactly. But they did teach us that a memorable summer song can be about almost anything—as long as it's not about homework.
Listen to the entire playlist. Shop for back to school supplies, tech, and apparel on Goods.
BY: Editors
The Guide: we cover the coolest food, beauty, and entertainment trends happening nationwide.