Killing Time by Slaying Dragons: Hobbying in Chicago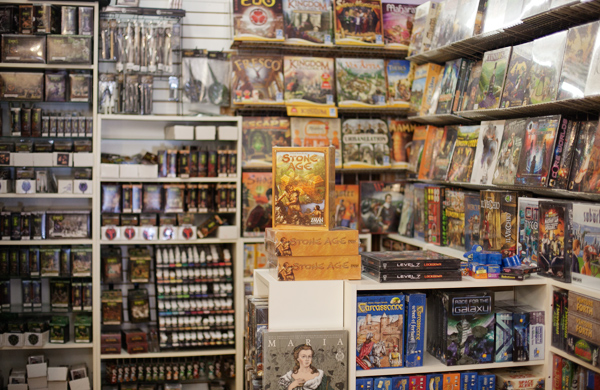 Chicago is known for its wealth of entertainment options. On any given day, you can catch a theatrical show, dine at Michelin-starred restaurant, attend a concert, or have a speciality cocktail at a legendary bar. But there's even more to discover in and around the city that goes beyond restaurants and theaters—if you're willing to explore a dungeon or two, that is. At hobby stores in Chicagoland, you can discover worlds of magic, sword fights, racing, and robots, thanks to a variety of games. You might even sling fireballs by using cards or explore a miniature war-torn battlefield. If you're looking to start up a new hobby, find a new home for your game nights, or even just spend a day trying something different, the following three shops provide a great places to start.
Board Games and Miniatures Tabletop Games
Dice Dojo
| 5550 N. Broadway, Chicago, Illinois When it comes to playing games, Dice Dojo is to gaming what public libraries are to books. Almost every inch of shelf space inside the Edgewater shop is filled with games and gaming accessories for card games, tabletop games, and more. If you're unaccustomed to tabletop gaming, it's a category of games that involves using miniatures to represent characters and units and that are played by moving pieces with rulers and determining actions with dice. The games often mix in objective cards, tiles, and timers. You win when you fulfill the most objectives or eliminate your opponents' miniature models. Sure, some people think these games are only played by young men in dark basements, but that's not true. "It's a really acceptable hobby nowadays," says Alex Dunning, a staff member at Dice Dojo. "CEOs get off from work and log into Xbox, then pack up their models and come down for a game. And it's not just boys. We have a big group of female players, as well as families. It's a big community." Miniatures for tabletop games such as Warhammer 40,000, Warmachine, and Flames of War take up a sizeable portion of the left side of the shop. The entire right wall, along with a number of stands and cases, is covered with unopened board games, great for picking up a new title for an upcoming game night. Head over to the shop's game library—one of the largest in the Midwest—and you'll find yourself within reach of more than 450 board games and demo games. If there's a game you want to play but have no idea how to start, the staff will happily sit down and play a round, though the place is typically packed with players looking to teach others their favorite games. There's also a gaming event on almost every day of the week, including the shop's well-known Board Game Night on Wednesdays, which can be found on its
events calendar
.
Fantasy Card Games
Gaming Goat
| 440 S. Ridgeland Ave., Oak Park, Illinois Cards are the classic medium for fantasy gaming. The premise is easy enough: players build a deck of cards from a selection representing spells, monsters, pieces of technology, or actions. If you can throw down the right cards and meet the game's objective (for example, by causing a certain amount of damage or building a city quicker than anyone else), you're declared the winner. Games usually only take a half-hour to play at max but can quickly turn into all-night events with enough players gathered. Such is the case at Gaming Goat, a new edition to the hobby scene in Oak Park. Accessible via the CTA's Green Line, Gaming Goat is a shop filled with card games, staffed by enthusiastic hobbyists, and populated by customers whose social calendars revolve around gaming. "Magic: The Gathering and Yu-Gi-Oh! are our two most popular games," says Ross Hamann, a co-owner of the store. "Magic is played four days a week in a couple of different formats, and Yu-Gi-Oh! games take place on Sunday." Magic: The Gathering is likely so popular because it's simple enough to learn quickly but also complex enough to challenge veteran players. With a beginner deck, you can learn the basics of the game's resource and combat system, whereas card packs enable you to customize your deck with additional spells. Yu-Gi-Oh!—based on the anime series by the same name—largely appeals to younger players but offers a lot of chances for planning and strategy, making it a learning tool as well. While the shop does sell beginner and intermediate decks, it also has a few self-built decks to teach the ins and outs of each game.
Slot-Car Racing
Mid-America Raceway & Hobbies
| 2035 63rd St., Downers Grove, Illinois Since Chicago streets don't allow drivers to travel more than 50 mph, Mid-America Raceway & Hobbies feeds the need for speed. Slot-car racing—which pits drivers against one another in fast-paced, miniature races—became popular in the early 20th century. After placing cars with electric engines onto an electrified track with rails, players manipulate them with a trigger-style controller. Just like real racing, you have to cautiously take turns to avoid a wreck yet still outpace the other racers. It's a hobby well known to Roger Schmitt, the owner of Mid-America Raceway. He built and raced cars with his son for six years, teaching both himself and his boy how to master the miniature cars. Four years ago, he turned his hobby into a career when he opened the shop, and since that time, it has been the site of numerous races and events—including the Slot Car World Championship, where 122 racers from 22 countries competed for the top prize. "Slot-car racing is just like real racing," Roger says. "Drivers have to work on the stickiness of the tires and the speed of the engines." Although the hobby can be pretty meticulous on the professional scale, joining the ranks of drivers is a quick transition. Roger rents out cars and controllers to anyone who wants to give racing a try, and several tracks inside the shop test driving abilities. The figure-eight tracks are probably the best place to start if you've never raced before, and you should feel free to bring along friends or go it alone. Roger adds that slot car racing is popular with boys up to age 16 and adults aged 22 or older, making it pretty appealing for both families and individuals.