KLUTCHclub Owners Name Their Top Five Favorite Health and Beauty Products
BY: Sara Tremblay |
May 8, 2013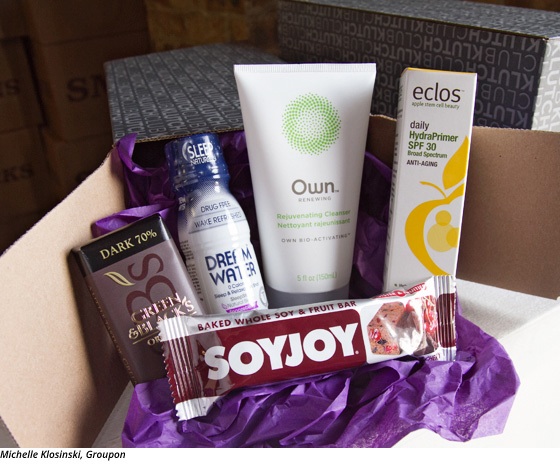 With their rows of vitamins and labels crowded with technical terms, health stores can be intimidating, if not downright overwhelming. That's exactly what Julie Bashkin found herself feeling when she tried to lose the 30 pounds she gained after college. "I couldn't make sense of the products on the market. I didn't know what was good for me and what wasn't good for me … I didn't have time to understand what [these terms and products were] so I needed a source I could go to," Julie recalls. Years later, that source would turn out to be her. While working as a strategy consultant, she "noticed that all the innovation was happening with products … on the small brand side." Inspired by her insider knowledge and personal weight-loss journey, Julie joined forces with Lisa Bartolucci to establish
KLUTCHclub
. The company takes the guesswork out of shopping for health and wellness goods by shipping a monthly themed box of products geared toward women, men, or moms. Each box starts at $16, but always contains a $50+ retail value of handpicked products—think Kind bars, Luminosity gift cards, and exercise DVDs. When I visited KLUTCHclub's Lincoln Park warehouse, Julie and Lisa were hard at work researching the latest trends and planning future themes that address their clients' needs and requests. But even with KLUTCHclub boxes piled up nearly to the ceiling, the duo found it easy to pick their five go-to products from their carefully curated selection.
1. GREEN & BLACK'S ORGANIC CHOCOLATE BARS
JULIE: For the last 20 years of my life or more [I] have started every single day with a square of dark chocolate … I think in terms of health and wellness, you should not deprive yourself, but you should snack and treat yourself wisely. And
Green & Black's
has actually been one that I have personally been consuming for five years prior to KLUTCHclub. My favorite flavor … is hazelnut and black currant.
2. DREAM WATER SLEEP AID AND NATURAL RELAXER
JULIE: I just started using [
Dream Water
] when I started working at KLUTCHclub and discovered it. I use it very often … almost nightly, [because] I have a hard time sleeping and this one is the only natural, non-addictive, over-the-counter sleep aid that I have found.
3. SOYJOY BARS
LISA: We put a [food] bar in every single box, and some of the bars we have are phenomenal for you, but they don't necessarily taste like something I would want to eat.
SoyJoy
is the exception. I am now a fan for life.
4. OWN REJUVENATING CLEANSER
LISA: This [
Own Rejuvenating
] facial cleanser [was something] we had in our first mom's box. I'm not a mom, but I'm glad I don't have to be one to use this facial cleanser! I think it's great for moms because it's just super gentle on your face.
5. ECLOS DAILY HYDRAPRIMER SPF 30 FOR ALL SKIN TYPES
JULIE: I, in particular, have recently started using anti-aging products [because] skincare is what actually makes people look younger than they really are. And of course, [
Eclos Daily HydraPrimer's
] SPF protection is always helpful.