Landlocked: Where to Run in Chicago When You Don't Live by the Lake
BY: Ashley Hamer |
May 10, 2013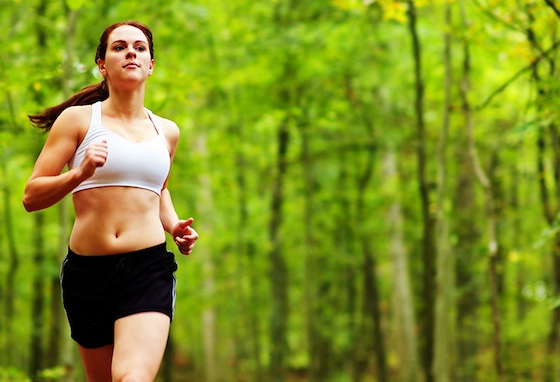 With 18 miles of paved, car-free terrain that edges the lake and grants majestic views of the skyline, the Lakefront Trail is a no-brainer route for runners in Chicago. But for inland residents who can't get there without running an extra 10K in the process, there's hope: public parks, forest preserves, and even abandoned railroads offer westward athletes scenic routes away from the traffic. Here are four trails that make their homes far from the shore.
North Branch Trail | Devon and Caldwell to the Chicago Botanic Garden
This 20-mile trail may have everything you'd want in a running route: shade-giving trees, moderate hills, and the modern niceties of mile markers, water fountains, and public restrooms. As its name suggests, the route runs by the North Branch of the Chicago River, so runners and riders can still enjoy the sparkle of the water this far west. It even comes with a built-in reward: run all the way north, and you'll finish in the lush, peaceful atmosphere of the Chicago Botanic Garden.
Bloomingdale Trail | Ridgeway to Ashland along Bloomingdale
Bloomingdale Trail runs on a 100-year-old rail line that was decommissioned in the early '90s. It's gritty, it's elevated, and it's never congested since it's actually not open to the public. But that doesn't stop many residents of Bucktown and Humboldt Park, who squeeze through a fence hole at the Ashland Avenue "entrance," or scramble up the grassy embankment where the trail passes over Milwaukee Avenue. An extra hit of adrenaline spurs them along the 4-mile trail that's flanked by overgrown foliage and meanders by a handful of public parks. A
renovation project
to make the trail fit for public use is set to finish in late 2014. In the meantime, be careful of broken glass and avoid the path during nighttime hours.
Horner Park/Riverbank Neighbors Trail | California between Montrose and Irving Park
Fifty-five-acre Horner Park has it all: baseball fields, soccer fields, basketball courts, tennis courts, a playground, picnic tables, and a path that measures about a mile around. Not surprisingly, the place can get packed in nice weather and isn't the safest at night, which is why savvy runners go across the river to Riverbank Neighbors Trail. The residential path exchanges throngs of people and plumes of barbecue smoke for the tranquility of trees, ducks, and a trail lined with wood chips. It only spans a half mile, but the picturesque scenery is worth a few extra laps.
North Shore Channel Trail | Lawrence and Francisco to Ladd Arboretum in Evanston
A successful run requires lots of distractions—music, scenery, anything to keep your mind off of your blistering feet and throbbing muscles. The North Shore Channel Trail may have the mother of all distractions: it runs right through the Skokie Northshore Sculpture Park, granting surprising encounters with bronze statues, steel horses, and colorful abstract figures around every bend. The 6.5-mile riverside trail, which was named the Best Alternative to the Lakefront Path by the
Chicago Reader
, is fully paved and dodges many street crossings with convenient underpasses. Finish your trek with a cooldown in the verdant surroundings of the 23-acre Ladd Arboretum.
BY: Ashley Hamer
Guide Staff Writer
Ashley Hamer is a musician, marathon runner, and science lover. She writes about science for Mad Art Lab.