GROUPON GUIDE TO SAN FRANCISCO
Landmark Dishes From San Francisco Legends
BY: Andi Fisher |
Nov 11, 2013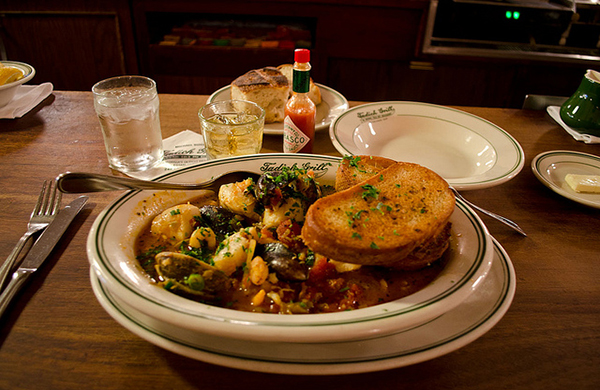 As the air in San Francisco gets a little crisper, the fog starts rolling in a bit thicker and the lights of the Embarcadero buildings begin to twinkle as evening approaches, you know the holidays are on their way. And there is nothing like the approach of the holiday season to make one nostalgic. It is the perfect time to get retro with some of the city's time-honored classics, after all, these dishes are classics for a reason. If you are constantly on the look out for the latest and greatest but are beginning to have FOMO (fear of missing out) fatigue, check out some of San Francisco's tried and true culinary delights which have all stood the test of time.
(Find even more restaurants in San Francisco.)
Cioppino at Tadich Grill
A classic dish at a classic restaurant. Tadich Grill, located in the Financial District, is the oldest continuously running restaurant in San Francisco and they have been serving cioppino since the restaurant opened in 1849. The dish itself was created in the 1800's by a North Beach Italian who used the leftovers from the fishing boats with a few Dungeness crabs thrown in. The signature dish at Tadich includes clams, prawns, scallops, bay shrimp, mussels and fresh white fish along with crab in a tomato-based broth. You will eat every bite of the fresh seafood and sop up any remaining broth with garlic toast that is provided.  If you save room for one more dish or can convince someone to share, don't miss ordering the sand dabs as well, they are another local specialty.  You'll be served San Franciscan classically prepared dishes by white-jacketed waiters  in a gorgeous art deco environment in the same way it has been for more than 160 years.  Tip: Plan ahead as the restaurant does not take reservations.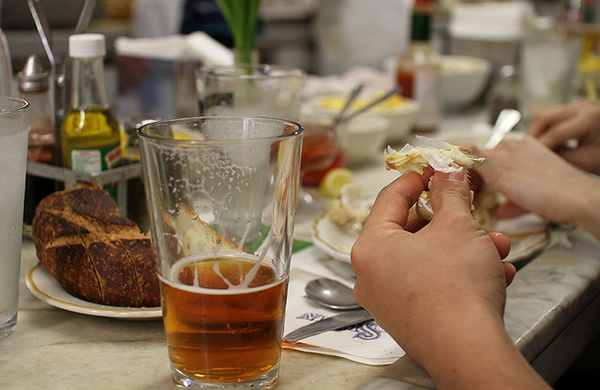 Clam Chowder (and oysters) at Swan Oyster Depot
If you can hack the long line to grab one of the 20 bar stools in this legendary spot on Polk Street then you will be warmly greeted and made to feel like family.  Serving seafood classics since 1912, Swan Oyster Depot has a limited menu that includes fresh Dungeness crab, shrimp, oysters, clam cocktails, a few types of smoked fish (get the salmon!), and clam chowder.  Most regulars grab a bowl of chowder, a few oysters and a beer and then dash out; they are cognizant of the hoards of people trying to get in.  The best times to go are 11 (they open the stools at 10:30) or after 4:30.  Tip: Bring a coat, it can get cold, especially if you are sitting near the door.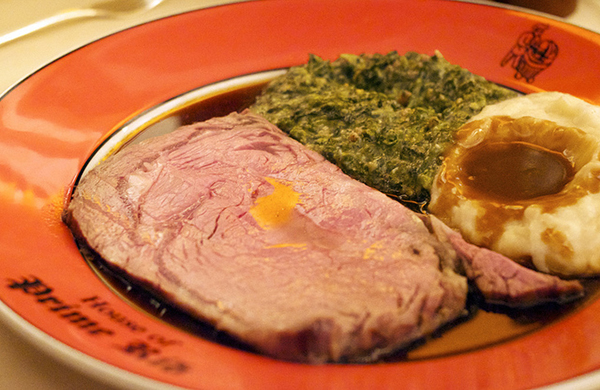 Prime Rib at House of Prime Rib
If you are a red meat kind of person then look no further than House of Prime Rib, or HOPR for short.   It is the quintessential beef restaurant. There is no other spot in the city that measures up when it comes to ambiance, service or food. Your only decision is how big do you want your slice of heaven.  The beef is so tender you can cut it with a fork and it does melt in your mouth.  Tip: Skip the salad and save room for the creamed spinach and mashed potatoes.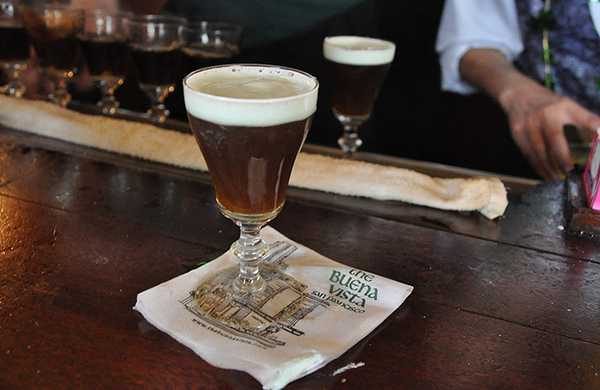 Irish Coffee at Buena Vista Cafe
This is a date night classic.  Or likely your parents or grandparents date night classic. Doesn't matter, there is something distinctly cool in a retro kind of way about getting an Irish coffee here.  It took awhile for the owner of the Buena Vista Cafe to get the recipe for this signature elixir right, but with the help of various partners in crime, the Buena Vista Irish coffee was born in 1952 and the recipe which includes Irish whiskey and coffee with frothed cream aged for 48 hours remains unchanged.  The restaurant originally served as a meeting place for fishermen and handlers who worked for the nearby Sardine Cannery and has always been a spot of friends and strangers alike to get to know each other over a warm drink. Tip: Just go for the drink, don't eat there. So there you have it. Four San Francisco classics to check out. Whether it is alone or with friends you'll quickly see why these spots have been fan favorites for decades.  While these locations are great all year round if you have family in town for the holidays you'll earn brownie points with all the generations if you take them to any one of these.
Photos by: Leslie Wong, Shalbs, Jun Seita, and Julie Blaustein respectively. 
BY: Andi Fisher
Andi Fisher is a full-time corporate gal and travel blogger. She works in social media and lives in the San Francisco Bay Area where she loves to play tourist. She grew up living all over the world and continues to be a gypsy as often as possible. A true foodie, most of her travel focuses on the local food and restaurant scene and how much of it she can get in her mouth!