Let "Her" Design Your Oscars Party
BY: Amelia Buzzell |
Feb 26, 2014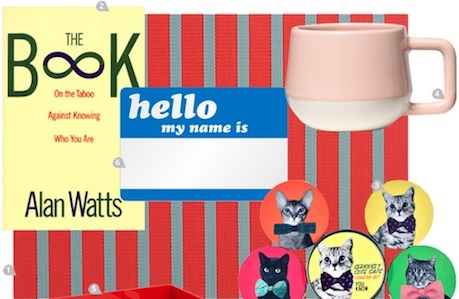 Mimic the style of Spike Jonze's Best Production Design nominee with these orange acrylic trays and cat coasters. Just try not to fall in love with your table.
The story of a man who falls in love with his operating system, Spike Jonze's
Her
is nominated for four Academy Awards this year, including Best Picture and Best Production Design. Thanks to the film's futuristic vision of Los Angeles, full of lucite accents and midcentury modern flourishes, the latter category could just as well be called Best Scenery to Constantly Daydream About Living In. But instead of simply dreaming, why not plan an Oscars viewing party that channels the film's saturated colors, soft lines, and enduring fondness for cats? As guests arrive, hand them name tags pre-labeled "Samantha"—no matter what their real names actually are. Pour them drinks in color-blocked mugs that feel as though they were borrowed from Amy's (Theodore's neighbor) apartment and hand them a cat coaster (a nod to Theodore's cyber one-night stand SexyKitten). If the awards broadcast proves less than riveting, read from a book by philosopher Alan Watts—whose "uploaded consciousness" has a cameo in the film—and use it to spark a thought-provoking conversation, or 8,316 concurrent conversations, depending on who RSVPs.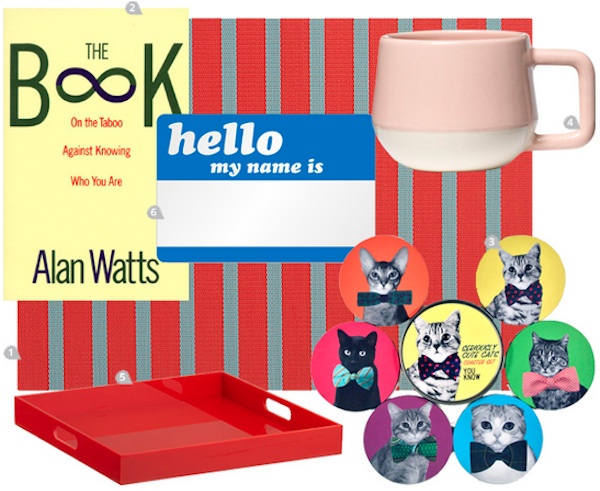 1.
Bright Stripes placemat
; CB2 ($2.95) 2.
Seriously Cute Cats coasters by Common Rebel
; available on Modcloth ($19.99) 3.
The Book: On the Taboo Against Knowing Who You Are by Alan Watts
; Unabridged Bookstore (3251 N. Broadway) ($14) 4.
Glazed mug
; Kate Spade Saturday ($10) 5.
Format orange tray
; CB2 ($39.95) 6.
Hello, My Name Is badges
; MyNameBadges.com ($7.75 for 250)
BY: Amelia Buzzell
Guide Staff Writer
Amelia is a Senior Writer who owns about 600 houses' worth of housewares. She daydreams about throwing parties and amassing more housewares.