Lincoln Park's AIR Turns Exercise Upside-Down
BY: MICHELLE ALGEO | 9.10.2015 |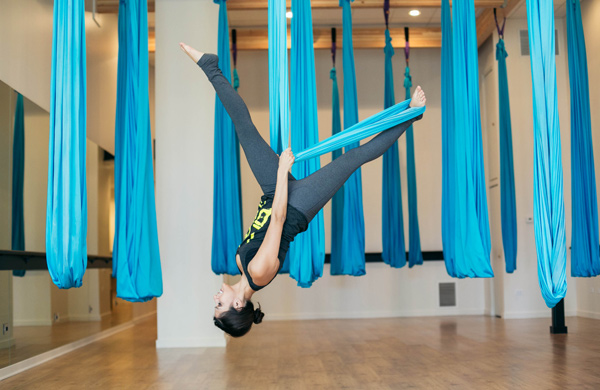 October 23, 2013—the first time I ever did a set of crunches while hanging upside down. The woman responsible for getting me in such a precarious position? Nicole, an instructor at Lincoln Park's AIR. The newly opened aerial fitness studio was founded by Shama Patel, a former Chicago corporate attorney who debuted her first AIR location in Charlotte in 2011.
But before I found myself in that unexpected inversion, I met with Shama, who showed me some moves before my beginner AIR Foundations class. In the studio, long loops of blue silk (the same used by Cirque du Soleil, according to Shama) hung from sturdy wooden beams on the ceiling. I stepped up into one and we launched into a few inversions, some stretches, and my favorite position: lying down. Shama taught me how to spread out the silk hammock and stretch out inside of it as if in a cocoon.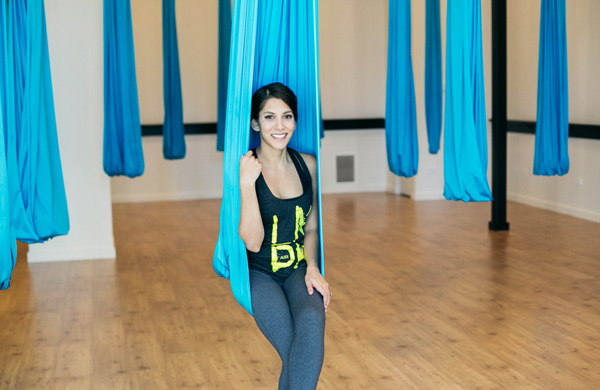 But as Shama explained, AIR doesn't offer your typical aerial yoga classes. The workouts also incorporate Pilates, cardio, and some strength work on the ballet barre. When Shama handed me over to instructor Nicole for AIR Foundations, I learned firsthand just how grueling (and fun) their airborne workout can be.
Nicole pumped up the music. We started out simple, with a few stretches and warmups like I'd expected, but it wasn't long before Nicole surprised me with some trickier moves. One of my favorites: 10 jumping jacks on the floor, then taking a fistful of silk in either hand and pulling myself straight upwards into a hybrid pull-up/jump.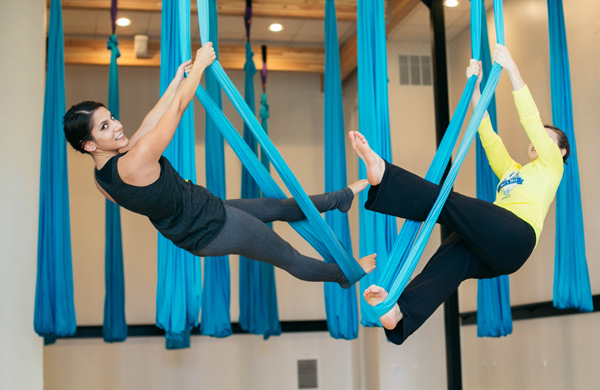 And then it happened. The inverted crunches. Once Nicole helped me wrap the loop around my back for ample support, I leaned back and pushed my feet over my head, wrapping my legs around the hanging silks. I then did two sets of crunches, curling my head and chest toward the ceiling. Oddly enough, this move came more naturally to me than the others—perhaps because I spent my childhood hanging from monkey bars and tree branches.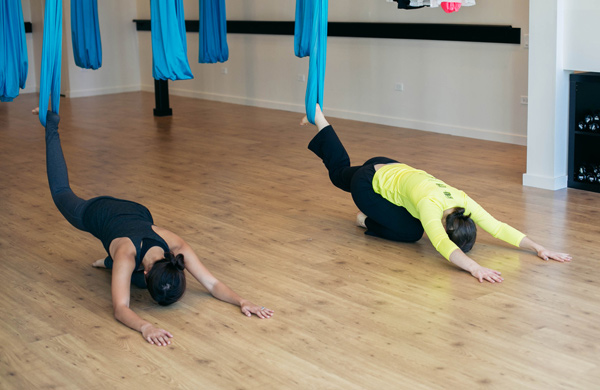 By the time we made it over to the ballet barre, I was sweating and shaky from exertion; I barely made it through a few sets of yoga-inspired squats. But things quickly eased up, as we wound down with a few bridge-like pelvic lifts and a soothing back stretch. Lastly, a familiar cooldown: I laid flat on my back, palms up, while Nicole massaged some delightfully tingly eucalyptus oil into my temples. When I walked out of the studio, I felt a mixture of exhaustion and elation flowing through my veins—and a swell of pride over those crunches that has yet to dissipate.
Try it if:

You want an extra kick of cardio and strength in your yoga or Pilates routine

Don't go if:

You're looking for a workout where you can phone it in—this class is tougher than it looks

Beware of:

Claiming a silk loop that's too high for you; it should hit you right around the hips

Invite a friend who:

Will join you for

Pequod's Pizza

after class, since it's right next door

Come prepared with:

Just yourself—the studio provides all necessary equipment

Wear:

Long, form-fitting workout pants or leggings and a form-fitting top that will stay put no matter how you move, plus bare feet

Intensity level:

Give it a few days before you go back for a full-blown AIR class—your sore muscles will thank you
Photo: © Stephanie Bassos, Groupon
BY: Michelle Algeo
Guide Staff Writer
Michelle studied English at Penn State. She has run two half-marathons (very slowly) and plans to someday run/walk/crawl the Chicago Marathon.