Logan Square is a Destination, Which I am Coming to Terms With
BY: Lisa Ladehoff |
Jan 6, 2014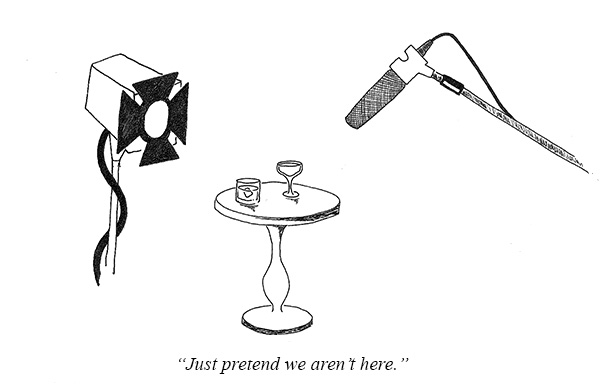 In September,
Bon Appétit
called Logan Square "Chicago's new restaurant row." And just since Christmas, the
New York Times
has published not one, but two pieces that prominently feature Logan Square. During the last few years, the Northwest Side neighborhood has seemingly become a national destination, particularly for the food-and-drink crowd. The Guide's resident cocktail writer (and Logan Square resident) was recently invited to be an extra on a Travel Channel show shot at a Logan Square bar. The experience—and this extended national coverage—has given her some thoughts about just what it means to live in a destination.
I have been to Scofflaw (3201 W. Armitage Ave.) plenty of times
, but I've never had to quadruple-sign a release form to get in. I've also—at least as far as I know—never been on TV. Despite my combined fears of being immortalized on a TV show and my neighborhood turning into Wicker Park 2.0, I signed up to be part of Scofflaw's almost-too-beautiful insider crowd for a taping of a new show on the Travel Channel. And so, at 12:30 p.m. on a Wednesday, while hovering over a table in Scofflaw's loungey second room, my boyfriend and I sign the double-sided form. Then we each hold the papers, scrawled with identifying codes like "E28," up beneath our faces so that a guy with a walkie talkie on his hip can take our picture. At that moment, I suddenly worry about actually being on television. Then I worry what I can or cannot write about the hopefully bizarre experience I'm about to have (hi, lawyers!). Maybe I should've read the form more closely. Or at all.
I have watched a lot of food-and-drink themed travel shows
with what I'd liken to morbid curiosity, mostly because I find watching other people eat (especially chefs) to be disgusting. People who love food tend to be the most disgusting eaters. (Picture watching Guy Fieri eating a juicy cheeseburger while standing in a fluorescent-lit kitchen somewhere, then subsequently listening to all the adjectives he uses to describe the burger). Apparently this, here, today is something else. The PR people (one of whom I recognize to be the wife of local celebrity/bartender Paul McGee) scan the room, looking simultaneously proud and judgmental of all the improbably beautiful people who have
happened
to all gather in one place. My boyfriend and I are two of some 10–20 people who have not personally been invited by the staff or the PR firm or whoever orchestrated this whole thing, because make no mistake: this entire scene is orchestrated. All the women have definitely done their hair, and most of them seem to be wearing lipstick. I feel out of place. Most of the bar's other room is still empty, and we hover on the fringes wondering what to do next. Up until this point, we've been directed by various behind-the-scenes orchestrators. But will they tell us where to sit? Do we order drinks, or will they bring us something?
Is everything really comped?
I eye the fireplace, and elbow my boyfriend into checking if we can sit there. He disappears briefly and returns with a nod. So we flop down onto the long ivory sofa behind a low table that faces the fireplace. Just to my right sits a trio: a girl in a red dress, her friend, and her mother (which I learn after some eavesdropping). Various producers approach their table again and again. I overhear someone say, "Just don't look into the camera, whatever you do." Their table is cleared before fresh drinks arrive. The trio stands up and are rearranged into different seating positions. Three plates are carried out from the kitchen with paté and other snacks before finally the Host comes walking over with camera, producers, and boom microphone hovering behind him. We quickly finish our food for fear of being seen on television wolfing down food. Then we huddle over the crossword we've been doing. Are we supposed to be quiet? If I speak too loud will the microphone pick it up? We had no coaching from any of the producers, but the boom mic guy is about to bash the back of my head with his technological fanny pack. Someone asks me if I can lean forward. I feel confident I'm out of the shot now, so I turn to watch. The woman in the red dress (because of course) seems to be the center of attention, and (of course) it is so perfect that she's there with her
mother
! They chat, laugh gaily, and the Host smiles and says, "Cheers, ladies!" as they bluntly clink their crostinis together in a toast. Which they then have to repeat, after one of the producers steps forward, saying, "Can you just do that toast one more time?" They chat, laugh gaily, and the Host smiles and says, "Cheers, ladies!" as they bluntly clink their crostinis together in a toast. Again. Just as naturally as the first time. And I think, "
That is so incredibly weird
."
When you see things on TV
, of course you never think about how
incredibly weird that is
because those walkie-talkie-and-clipboard-toting producers have managed to edit everything so flawlessly. It's as if you're me sitting on the couch right next to the girl in the red dress, but everything unfolds naturally, the way it should—and would—but didn't. And maybe you're even better at eavesdropping than I am. When you see your own
neighborhood
on TV, it's sort of like seeing your house in the background behind the local newscaster. Except in all likelihood, the newscaster isn't going to say something that will draw throngs of interlopers to your front door, clamoring for a taste of whatever's inside. On the one hand, we all want our beloved bars and restaurants to continue raking in the cash, trying new things, and keeping their doors open forever. With the influx of visitors to the neighborhood, the number of artisanal restaurants and bars has only continued to grow. (I am totally ecstatic there is an Intelligentsia around the corner from where I live). Logan Square is having its moment in the indie spotlight, and it's transformed ten-fold from the "but there's nothing to
do
in Logan Square" it was when I moved in just over four years ago. In a way, I'm grateful my apartment is within one block of seven restaurants that I can stumble to for brunch on a Sunday morning or a thoughtful cocktail on a Tuesday night. But then again…
Illustration by Lisa Ladehoff, Groupon
BY: Lisa Ladehoff
Guide Staff Writer
A native of the city of big shoulders, Lisa is a small-shouldered books and booze enthusiast living on Chicago's Northwest side with a large cat, a tiny bar, and a medium-sized library.