GROUPON GUIDE TO NEW YORK CITY
An Art-Packed Bike Trip to Long Island City
BY: Kasia Mychajlowycz |
Aug 26, 2014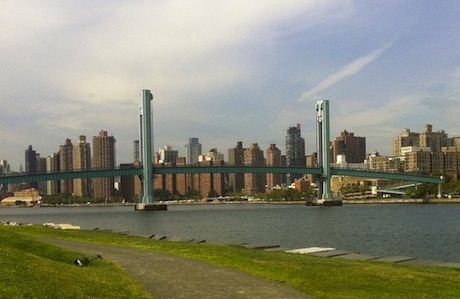 Biking is a great and safe way to see New York City—no, seriously! In the past decade, the city has seen
a surge in the number of cyclists
rolling through its streets. Dedicated bike lanes now connect many parts of the city, making it possible to ride without having to do battle with Manhattan traffic. The leisure ride described below—or any part of it, depending on what you're up for—takes riders along both sides of the East River, and can easily be done in one weekend afternoon: the whole route takes about 50 minutes. It's all on bike paths or lanes, and best of all, it takes you right to some of Long Island City's cultural gems, all without having to wait on a single subterranean subway platform while the sun shines without you.
Hug the shoreline on your way to Wards Island
This ride starts from the quiet and scenic neighborhood of Yorkville—that northeast slice of the Upper East Side that prides itself on not being the Upper East Side. You'll be zipping along the riverside promenade for pedestrians and cyclists that extends all along the east side of Manhattan. Starting on the stretch of promenade that goes through Carl Schurz Park, ride north past Gracie Mansion until you get to the
Wards Island Bridge
at 103rd Street. Twice along this route, you'll have to lug your sweet ride up or down a flight of stairs—but luckily, they've installed these
neat bicycle rails
so you can just push your bicycle up without having to carry it. Once you cross over to Wards Island, you'll ride pretty on wide asphalt paths surrounded by lots of gardens and greenery. Savor the scenery as you proceed on your way to the next and last bridge.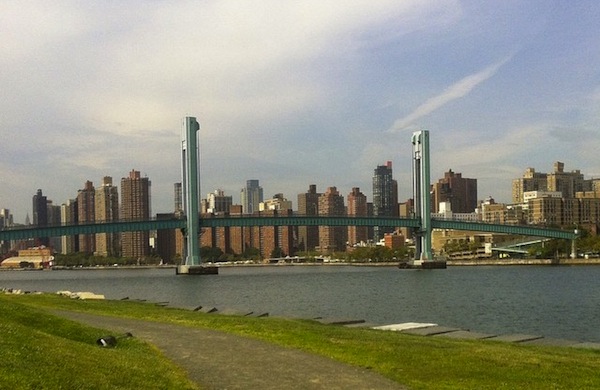 Wards Island Bridge as seen from Wards Island.
Huff and puff your way up the Robert F. Kennedy Bridge
The Robert F. Kennedy Bridge is admittedly unscenic when compared to the now-defunct
Hell Gate Bridge
right beside it. It is also the most challenging part of the trip. The ramp up to the bridge is a good five-minute uphill ride (enough to induce red-faced panting from me), and it's a bit noisy, though the path is safe and separated from all car traffic. Technically, you are required to walk your bike on all parts of the bridge, though this seems to be a widely disregarded rule. But your struggle will be rewarded—after the uphill climb, it's a leisurely stroll or roll down on the other side.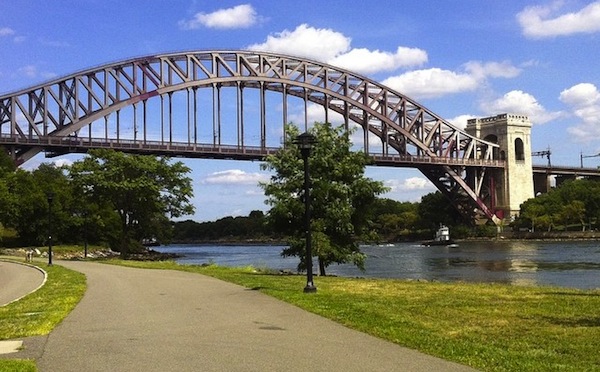 Hell Gate Bridge.
Absorb some art at Socrates Sculpture Park
Your first stop in Long Island City, Queens, is
Socrates Sculpture Park
, open every day from 10 a.m. to sunset. The sculptural works on view change regularly, there's free yoga and tai chi every weekend, and it offers a beautiful view of Manhattan. If you want a break from the sun, skip this park and head to the
Noguchi Museum
just across the road (admission is $10). You'll find a sculpture collection inside, as well as a sculpture garden in the courtyard and a cute café.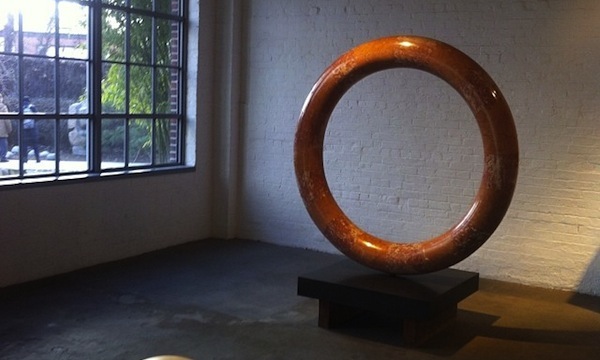 A sculpture at the Noguchi museum.
Treat yourself to street food at the LIC Flea
You've probably worked up an appetite by now with all this physical activity and appreciation of culture, so cruise down the Vernon Boulevard bike path to the food tents at the Long Island City Flea. Vendors there offer the cross-cultural foods that are the hallmark of so many Brooklyn outdoor events, such as burgers, dumplings, empanadas, salads, and lemonades. If you're in the mood to shop, there's also antiques, artwork, clothing, and knickknacks aplenty on sale, with what seems to me like better prices than flea markets you'll find in the "hipper" borough to the south.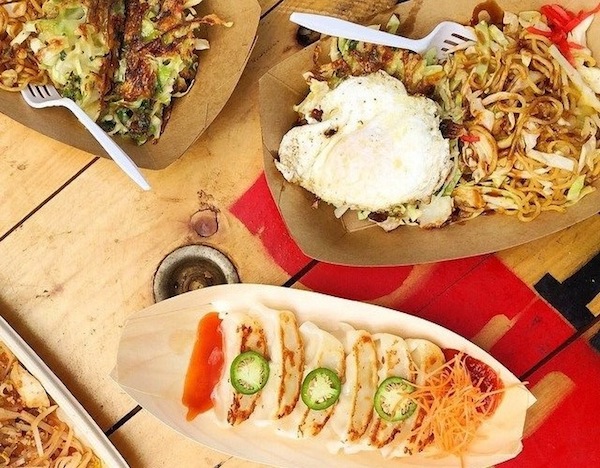 Eclectic food options at the Long Island City Flea. Photo courtesy of the Long Island City Flea.
Relax with scenic views in Hunter's Point South Park
After the LIC Flea, head south along the water or bike paths to one of the city's newest parks, an industrial site turned landscaping beauty called
Hunter's Point South Park
. Built last year, the park is one of the upshots of the gentrification of Long Island City, with sleek landscaping, weirdly fancy public bathrooms, and a beautiful view of the city (as the
stunning photos
on the architects' website show). A wide, smooth path leads across the park's sprawling lawns toward piers packed with park benches from the future, perfectly designed for an intrepid cyclist to take a well-deserved break.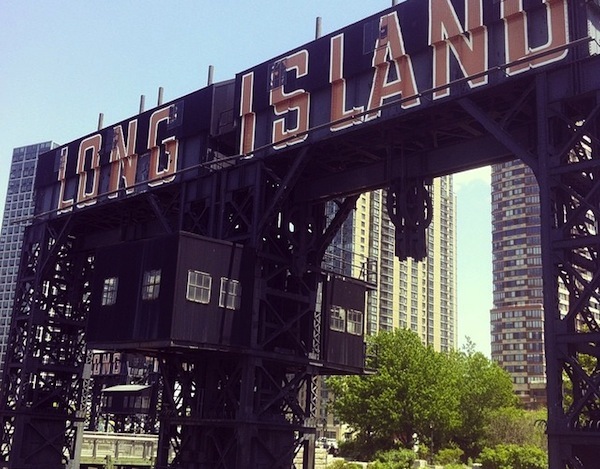 A view of Long Island City from Hunter's Point South Park.
Choose your own bike adventure
From here, you have a few options to finish out your day:
If you haven't had enough culture, head to MoMA PS1, a few minutes' ride northeast. It's a must-see, $5-admission museum housing MoMA's contemporary collection. (Note, though, that on Saturdays until September 6, the museum closes its galleries and instead hosts concerts in its courtyard that cost $20.)
Ride over the Pulaski Bridge to Williamsburg's many restaurants and bars (don't drink and ride—remember bikes are allowed on the MTA).
Head home, knowing you've made the most of one of our last summer days this year.
Check Groupon for more great things to do in New York City.
Photos by Kasia Mychajlowycz unless otherwise noted.
BY: Kasia Mychajlowycz
Kasia Mychajlowycz
Kasia Mychajlowycz is a freelance writer living in New York City, where she moved after finishing her master's degree in 2012 in her hometown, Toronto. Kasia writes about tiny apartments, ballerinas on Instagram, the black market for gas after Hurricane Sandy and everything in between. You can find her loud mouth on Twitter and read other work at her website.