Major-Label Rejects Eleventh Dream Day Take Up Residence at The Hideout. We Shouldn't Be So Lucky.
BY: Roy Ivy |
Mar 21, 2014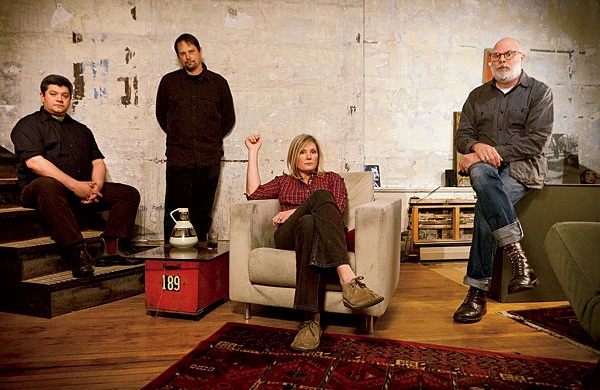 Once hosed by a major label, Eleventh Dream Day now belongs to the outer regions of the alternative-rock universe. But their April residency at The Hideout shows how truly special they are.
In this age where seemingly every alternative-rock act of the '90s gets to bank on nostalgia-fueled reunion tours and midday Pitchfork Music Festival slots, a question must be asked: Why the hell are Eleventh Dream Day playing at
The Hideout
every Sunday in April? Because we're lucky. But we shouldn't be so lucky. To Chicago music fans who came up in the '90s, Eleventh Dream Day are the poster children for local bands majorly hosed by major labels. Poised for the big time following their full-length debut,
Prairie School Freakout
, they chose Atlantic Records from a field of many suitors. It should have been a lock, but fate had other plans. The label squandered a string of albums that should be staples of your CD collection—records that rise to the same heights as
Goo
,
Doolittle
, and other masterpieces of the era. Sadly, this wasn't just a short-term screw over. First it got worse, and then it got flat-out weird. Imagine a label stopping you from selling your records at your own show. That never happened to The Lemonheads. What happened to Eleventh Dream Day would have destroyed a lesser band. They had every right to piss and moan about the hand that was dealt to them, but they didn't. Even though they deserve to be on the syllabus of indie cred 101, that wasn't their goal in the first place. Eleventh Dream Day didn't (and still don't) make albums for money. They do it because they have these rampaging sounds in their bodies that just have to be unleashed. These days, at least, the band is in better hands. Thrill Jockey treated 2011's
Riot Now
with the respect it deserved, and the Comedy Minus One label is damned proud to have recently reissued
New Moodio
on vinyl. That's the record they recorded with Brad Wood on their own dime in 1991, when Atlantic had briefly dropped them. So why are Eleventh Dream Day playing a residency at The Hideout? Because they love to play, the place loves them, and—drumroll, please—they're debuting songs from an upcoming album. You have four chances to catch this special series. We recommend you take all four of them.
Eleventh Dream Day will be at The Hideout on April 6, 13, 20, and 27. Dump (the alter ego of Yo La Tengo's James McNew) opens the show on the 13th. See The Hideout's calendar to purchase tickets.