Make the Most of Making Out with this NYE Playlist from Chrissy Murderbot
BY: Courtney Ryan |
Dec 27, 2013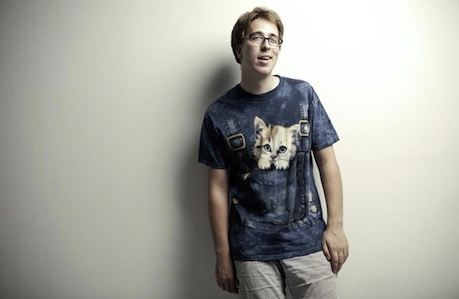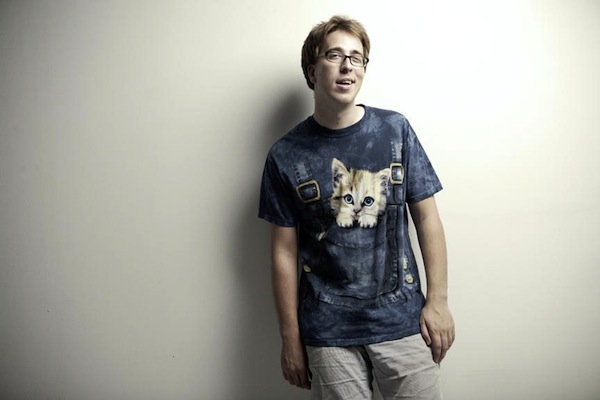 To Chris Shively and his alter ego,
Chrissy Murderbot
, New Year's Eve is all about the distractions. "Who are all these people? Why are they all making out? Why am I working tonight,
again
?" As one of Chicago's preeminent dance-music ambassadors, Shively cycles through this same string of questions once a year, no matter which country he finds himself in. As the clock ticks closer to midnight, he surveys the debauched crowd and can't help but wonder what kinds of people must be dancing—or sucking face—to his set. Though he's sometimes mystified by his audience, Shively is no stranger to party jams. On his acclaimed
My Year of Mixtapes
blog, he produced a new mixtape every week for one year, finding the common language between genres as diverse as Italo disco, Latin freestyle, and new jack swing. We came to the prolific DJ with a simple question: "What are the best songs to smooch to during a New Year's Eve party?" Given his mix-making prowess and general fascination with the magic of New Year's Eve, it comes as no surprise that he had a few ideas up his sleeve.
Mighty Sparrow – "Drunk & Disorderly"
"This one is for 11:30 p.m., when everybody is still in that 'OMG, THIS IS SO MUCH FUN' phase before they black out," Shively says of this upbeat number from the Calypso King of the World. It's the perfect song to play when you're ready to "get weird with it." After all, Shively promises, "nobody will remember any of what you play after this."
Will Smith (Feat. K-Ci) – "Will 2K"
Maybe he's banking on the fact that no one will remember what he's playing, or that getting "weird with it" is just another way of "getting jiggy with it." Either way, Shively throws a curveball with this turn-of-the-century jam from Will Smith. Asked to explain the inclusion, he responds with his own question. "Remember Y2K? And your weird uncle who spent all of December 1999 buying water bottles and canned beans in case the computers took over in January?" We're not sure what he's getting at, but we cede the point.
Snowy Red – "Euroshima (Wardance)"
"If you didn't remember Y2K, you
definitely
won't remember back when every holiday—every day, really—felt like maybe you were gonna get nuked out of the blue." Shively enlists this minimal electro-pop aria from Belgium's Snowy Red to make Cold War paranoia sexy again. "It was kinda fun in retrospect. But then again, I was like 7, so maybe the gravity of it was lost on me."
Javier Estrada – "Somos Mayas"
"Speaking of apocalypses, Happy B'ak'tun Thirteen, guys!"
Somos Mayas
(translation: "We are Mayan") is more than just a rallying cry for the Mesoamerican Renaissance. Mexican DJ Javier Estrada fuses pre-Hispanic sounds with modern dance and electronic music to create a bass-heavy song that reflects the urgency of getting that kiss in before midnight.
Leon Ware – "What's Your Name"
"What's your name? Does it really matter?" asks Leon Ware in this nostalgic track, which practically drips with the influence of Detroit R & B. "A lot of people feel like this on New Year's Eve," Shively explains. They also feel like dancing, which means Ware managed to hit two birds with one smooth, polished stone.
Erasure – "Perfect Stranger"
Some movies would have you believe that a sappy slow jam is the best way to bring two honeys together on the dance floor. We all know that's not true—British synthpop does the heaviest lifting. "This list was supposed to be about making out, and I'm ruining it by being a total downer," Shively realizes. By way of apology, "I'ma get you laid now with these next few."
Sun Ra – "We Must Not Say No To Ourselves"
Now that you've finally made it on the dance floor, you might start second-guessing yourself. Are you really brave enough to kiss this person? Take a minute (and 20 seconds) to reflect. "When this comes on, everybody is like 'Oh, I get it,'" Shively explains. "It's time to make out with somebody."
Sylvester – "Take Me To Heaven"
"This is another hit-you-over-the-top-of-the-head song," Shiveley admits, "but it's actually pretty restrained in comparison to some of his other songs." He's referring to a discography that doesn't leave much to the imagination with such direct hits as "
Do You Wanna Funk
" and "
Sex
."
Lime – "The Party's Over"
It's easy to imagine husband-and-wife duo Lime doin' it to their own music back when they were still together, and "The Party's Over" is no exception. Shively explains the ideal time to unleash this tune on a crowd of unsuspecting partygoers: "when all the strangers who were previously making out start getting their coats and going home with each other." He pauses. "It's actually totally gross unless you're one of them."
Stevie Wonder – "Don't Drive Drunk"
Shively finishes his playlist with a song that would be pretty painful to listen to while snogging. Of all the wonderful Stevie Wonder songs out there, the one with a chorus that repeats "Mothers Against Drunk Driving are mad" isn't the obvious call. "This song is awful," Shively admits, "but Stevie has a point. Please don't kill me with your big dumb car, you big dumb drunk jerk."
Photo courtesy of Chris Shively.