Make This Coal Plush Ornament for the Naughty People on Your Gift List
BY: Shannon Grilli |
Dec 19, 2013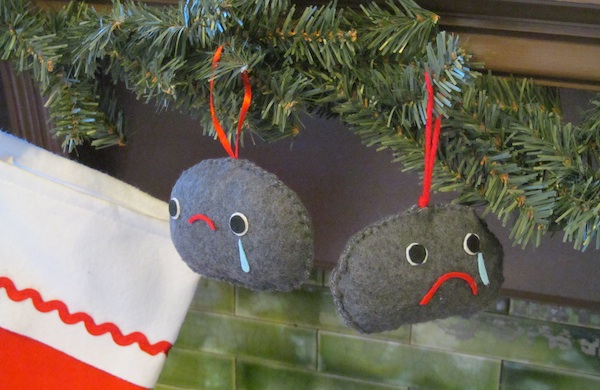 Everybody knows somebody who deserves coal for Christmas. Which is good news for Chicago artist Steff Bomb, who designed this piece-of-coal plush ornament as the perfect snarky-sweet holiday gift. Fat, frowning, and with a single tear dripping down his cheek, the squishy little guy is, in Steff's words, "the nicest way to tell someone you hate them."
The coal is a departure from her other handmade toys, most of which are modeled after foods—she's made huggable pizza slices, smiling burgers, and even fearsome asparagus spears. Her explanation? "I'm hungry all the time!"
Aside from her appetite, though, Steff draws inspiration from a childhood filled with cartoons: "I want to live in a cartoon and make all these inanimate objects have personalities." And her pieces do just that, lending character to items as otherwise ordinary as a milk carton.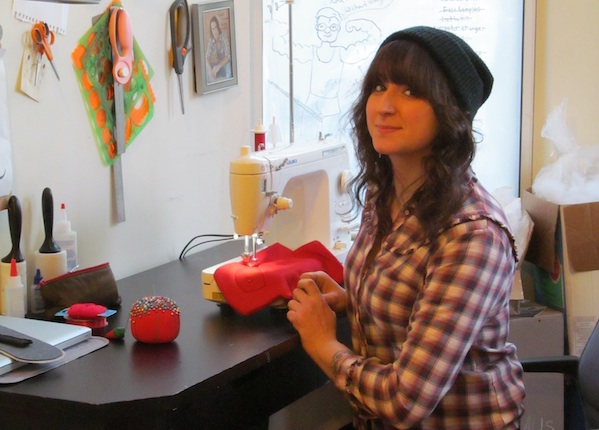 In the decade or so since she first took up the hobby, her toys have attracted the attention of Martha Stewart, American Craft Magazine, and many other media outlets. They even landed her on the first season of TLC's Craft Wars, where she took home the $10,000 winning prize. These feats are all the more impressive given that Steff is a self-taught sewer, who admits that she can barely follow a pattern.
Thankfully, many of her projects don't require complicated pattern reading, and the coal ornament is no exception. The tutorial she shared below requires no sewing machine, no fancy supplies, and close to no time (seriously!). Steff made the process easier still by providing this handy little template, ideal for those who prefer not to freestyle when cutting their fabric.
(And though a coal ornament may be the best way to "spread some holiday un-cheer," it's still soft and cuddly enough to make a great gift for the people you really do like, too.)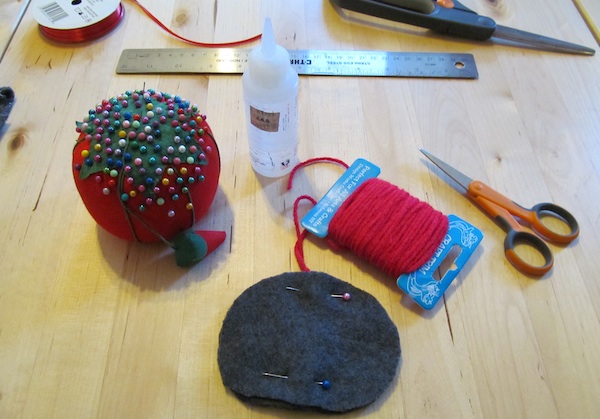 What You Need:
Gray fabric (Steff used fleece but noted that any gray fabric should work fine)




Fabric glue




Ruler or tape measure




Gray thread




Sewing needle




8 inches of ribbon or yarn (we used red, but any color will do)




Straight pins




Scissors




Poly-Fil (or some other sort of stuffing material)




White, black, red, and light-blue craft felt



What You Do:
1. Cut out the large circle in the provided template and pin it to your gray fabric. Cut around the circle, un-pin, and voilà—you've already got one half of your coal's body finished. Re-pin and cut another circle. (If you like, you can even double up the fabric to cut both your circles at once.)
2. Take your 8-inch piece of yarn or ribbon and knot the ends together to make a loop. Glue the loop to the top of one of your gray circles so that, when the second gray circle is placed over it, the knot will be sandwiched inside, while the the loop sticks out for easy hanging. Once you've glued the knot in place, place the second gray circle over the first and pin them together.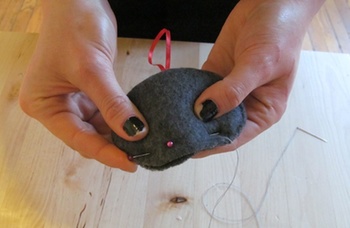 3. Thread a sewing needle with the gray thread. Starting at the lower left-hand corner (see Steff's mark on the template), sew the circles together, stitching all the way around the sides, until you reach the lower right-hand corner. If you run out of thread, no sweat. Just knot the end, cut a new piece, and start again where you left off. Once you reach the right-hand corner, stop stitching, but don't cut your thread just yet—you'll need it to sew the bottom of your ornament closed after you stuff it.
4. Stuff your ornament with Poly-Fil until it's as fat as you want it. Then, pick your needle back up and stitch the bottom closed.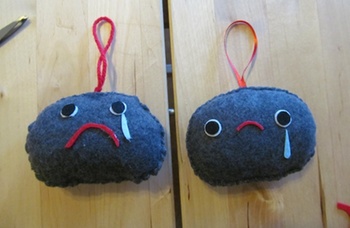 5. Make your face! Using the craft felt, cut out white circles for the eyes, smaller black circles for the pupils, a mouth, and a tear. Steff was nice enough to include templates for all of these—but don't fret if your features don't turn out as perfect as hers (my coal's face was rather lumpy). Once you've got your features cut out, glue them into place.
6. You're done! Stand back and admire your squeezable hunk of coal, then figure out who on your gift list is the most (least?) deserving of your masterpiece. And don't forget to include a tag ...