Making It on Etsy: Tips from Chicago Sellers
BY: Rachel Matuch |
May 3, 2013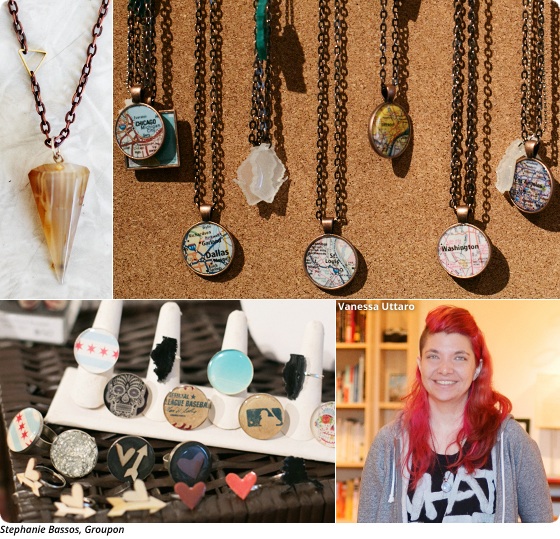 Three years in, Kevin Lucius's Etsy shop,
Lucius Art
, is thriving—but it almost didn't exist. Kevin only put his quirky, handmade wood block prints up for sale because his wife, Christy (who has her own successful
jewelry shop
) told him he should try it. Today, his shop has more than 200 pieces for sale. Kevin's retro print designs—a typewriter with legs, a rabbit in a suit—have been featured by Crate & Barrel, Apartment Therapy, and HGTV's "Design on a Dime." He still enjoys his full-time job as a creative director, but calls his Etsy side gig a "fun hobby"—and one with financial benefits. Vanessa Uttaro also never expected her Etsy shop to thrive; she was "surprised and delighted" when her jewelry started selling. Eventually, she quit her job at Wrigley Field working for a contractor for the Cubs. (The job wasn't as fun as it sounds.) Today, she creates art from materials such as old maps, vintage photos, and baseballs caught by her boyfriend, a Wrigley Field "ballhawk" who stalks Waveland Avenue hoping to snag home-run balls. Based out of a studio in Wicker Park's Flat Iron Arts Building, her shop,
The Big City Bumpkin
, attracts followers from around the world. Though they're Etsy success stories today, Kevin, Christy, and Vanessa all admit they ran into bumps along the road. They each gave me tips to help aspiring Etsy artists get started—including a few they wish they'd known before setting up shop.
GET HELP
"What's really cool about Etsy is there's a lot of community," Vanessa says. "I learned so much about listing from other sellers." Vanessa used Etsy's forums and Teams (groups of sellers with common interests) to find that help. The community has continued to inspire her. "I actually developed my own Team, and we have a Facebook page now, too," she says. Those online relationships have also led to in-person connections. "I've met two other people from Etsy in person thanks to the Team and Facebook page, and hopefully we'll be able to do some kind of gathering and meet-up in the future," she says.
HAVE ENOUGH STUFF
"I think people are more likely to notice you and take you seriously if you have at least a page of stuff," Christy says. Vanessa says that while a common recommendation is 100 items, she did well starting with 50. She says some people try and open a shop with five items, thinking they'll sell something—but they're usually mistaken.
FLATTER YOUR WORK
"As far as getting noticed, good product photos [are] important," Kevin says. Christy agrees, adding that when she first started, she crammed too much "stuff" into her photos. "You just need to have whatever your piece is," she says. "That's the center point."
Some sellers hire professional photographers to take photos of each of their items, but Christy says that can be impractical if you're adding new pieces frequently. "A camera might be a better investment than hiring somebody every time…Some people do that, though, and I'm sure their photos are a little better than mine," she says with a grin.
TREAT IT LIKE A BUSINESS
Once their shops started taking off, Kevin and Christy found themselves "thrown into the wonderful world of accounting." Kevin says that bookkeeping was something they, like many other small-business owners, didn't think about at first, but they were "forced to learn the basics." Today, they use QuickBooks online and have a certified public accountant help them out with taxes at the end of the year.
Vanessa uses an OpenOffice spreadsheet to organize her income and spending. "I was really general with it the first year, but after I did my taxes, I learned what expenses needed to be separated out," she says. "So next time I do my taxes it will be a breeze (hopefully)."
FIND THE RIGHT PRICE
Vanessa notes that artists can be "embarrassed or shy" to talk about financial details. But as she puts it, "I don't do it for fun; it's my job. Take yourself seriously, understand that it's your job, and price yourself accordingly."
Figuring out those business skills can take some work. Though she initially viewed pricing as a "race to the bottom," Vanessa now realizes that charging a more realistic amount allows her to invest more time and love in each piece. "There was definitely trial and error with my pricing…I had to figure not only the material value of my items, but also the value to my customers—so if I make something, and someone else makes a similar item, but I know that mine is of a better quality, I have to be comfortable with charging more than the other person charges," she says.
Kevin agrees that pricing can be tricky. "Obviously you have to figure in your cost of materials, but I think sometimes small shops forget to factor in the time spent on making their products," he says.
MINE SOCIAL NETWORKS
"I actually didn't start using Pinterest until well after I had an Etsy account," Vanessa says, adding that she still finds it hard to balance self-promotional posts with more personal content. "I have had people who came to my Etsy page through Pinterest, though, so it must work to get me some amount of attention!"
Kevin and Christy both use Facebook, and Kevin calls it "a great way to release new designs." Even though he doesn't have a Pinterest account specifically for business, he thinks it's a great idea—and his designs have been pinned by plenty of others. "A good amount of my traffic to my Etsy shop is from Pinterest these days."
BE READY FOR THE HOLIDAYS
For Kevin and Christy, the holidays bring the craziest times for their business. They usually run a flash sale on Fab.com during the season, then prepare themselves for the rush of orders that flood in. "It gets really insane, in a good way," Kevin says.
"I wasn't prepared at all last year for the holiday season, so I definitely should have had more pieces ready!" Vanessa says. "Next year I'll make sure to get way ahead of myself, especially because I want to be able to participate in some of the local holiday markets, too."
TAKE ADVANTAGE OF ARTS AND CRAFT FAIRS
During the summer, Chicago is home to a booming schedule of artisanal fairs. To get involved, Kevin says prospective sellers must normally fill out an online application with basic information and photos of their items. Payment comes up-front, but applicants are refunded if they're not accepted. "One thing to keep in mind is that the application deadline is usually way earlier than you would expect it to be," he says. "For example, the deadline for a lot of summer festivals is in January and February."
But be careful not to over-commit yourself. For Kevin, fair season is especially crazy: he works full-time during the week, puts in two days at a fair, and then starts all over again. "You're pretty much whipped by Sunday night, and you gotta turn around and go back to work the next day," he says. "But at the same time, it's a lot of fun."
BE PATIENT
"It is tough. There's so much stuff out there," Christy says. "I wouldn't get discouraged if it's been months…It takes time to draw people to your site."
That doesn't mean it can't happen quickly: "I didn't think I'd sell anything," Kevin says. "But the very first weekend, I sold one or two prints." But that's the exception, not the rule—and Kevin estimates it still took "a good year" before business really picked up.