Making Mofongo at Nellie's in Chicago
BY: Nathalie Lagerfeld |
Jun 14, 2016
Cindy Espinosa has cooked almost every dish on the menu at Nellie's (2458 W. Division St.), the Humboldt Park luncheonette she co-owns with her husband, Pablo. Yet she's never attempted mofongo, a dish of mashed fried plantains that's a Puerto Rican tradition.
"I see it being made," she said. "I know how it's made, but I've never tried it."
It's easy to see why. The cooking process, which I watched unfold in Nellie's kitchen, is pretty involved, with a lot of hand-mashing and frying. "It's more of a Friday-night dinner type of thing," Pablo said. "You might eat it once a month at home."
Yet the final result—a dome of fried plantain that diners can moisten with a dip into housemade chicken broth—is worth the work. Here's how Cindy and Pablo's cook, Carmen, makes it.
The Process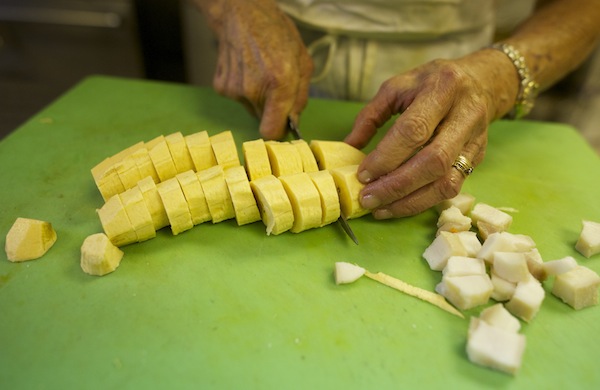 Carmen first peels and chops green plantains, the same fruits used in the restaurant's jibaritos and tostones. According to Pablo, the restaurant goes through a crate of about 50 green plantains every week.
Then Carmen tosses them into a deep-fryer with some chopped tocino, or pork lard. When the lard has cooked down to a salty, crispy crunch, she dumps it and the plantains into a type of mortar and pestle called a pilon. "Every Puerto Rican household should have one," Cindy said. The pilon's concave bottom is what gives a serving of mofongo its distinctive dome-like shape.
In Puerto Rico, you see "all types of sizes" of pilon, Pablo said. That includes some as large as a butter churn, which sit on the floor. Nellie's is a tabletop model, about 6 inches tall, wooden, and covered in carvings. It makes only one portion of mofongo at a time, which can make things hectic for Carmen on a busy weekend day. (All that mashing "takes an arm," Cindy said.)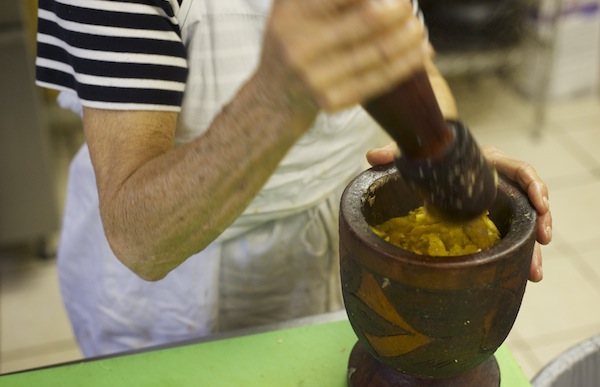 The Dish
Making mofongo to order gives the staff flexibility to tailor each serving. For instance, Carmen can leave out the tocino to make a vegetarian version of the dish. (Both Espinozas have been vegetarian for a year and a half.) Other versions on the menu include iterations with shrimp in place of tocino or with a mound of chicken, shrimp, or steak nestled inside the dome. Mofongo can also be a side order to fried chicken (chicharron de pollo) or fried pork.
I get to sample the classic, main-course version.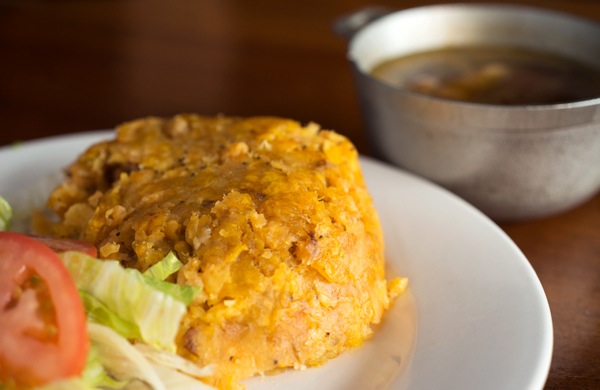 The mofongo dome appears next to a small silver tureen filled with housemade chicken broth for dipping. There is still a big chunk of meat and bone floating in it, as well as a big, soft carrot that I devour, savoring its umami flavors. Moistened with a little broth, the green plantains lose their fibrous dryness to become melt-in-your-mouth comfort food; the bits of tocino provide an occasional kick of salt.
I send a mental thank-you to Carmen's arm for providing this food. I hope it was worth the work.
Photo credit: Andrew Nawrocki, Groupon