Maps & Atlases' Dave Davison Only Wears Shirts Out of the Garbage If They Speak to Him
BY: Scott Hirsch |
Jan 21, 2014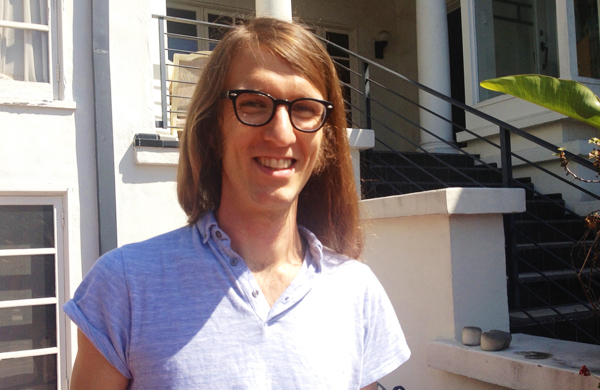 The frontman for the local rockers on his relationship with vintage clothing, his penchant for misprinted T-shirts, and the best song ever written about damaged raingear.
The shopping habits of Dave Davison, the lead vocalist and guitar player for
Maps & Atlases
, can perhaps best be described as "serendipitous." He usually acquires his favorite articles of clothing by stumbling on them in thrift shops and at garage sales. But that doesn't mean Dave treats his style as an afterthought. For one thing, the singer cuts a distinctive profile: his long blonde hair, his bushy, Whitman-esque beard (which he recently shaved on camera for a
music video
), his big black-frame glasses, and his secondhand clothes suggest a Civil War soldier who stumbled into a shoegaze show in Brooklyn. For another, he's decidedly philosophical about his wardrobe. He says the clothes we wear become a part of our "personal collage," and, especially in the case of vintage or found-wear, they can act like totems imbued with memories of people and places. Dave told me about some of these memories, as well as his trust-your-gut approach to shopping, his urge to wear armor on stage, and how singing in a rock band has made him dress more conservatively.
GROUPON: What about vintage or secondhand clothing appeals to you?
DAVE DAVISON: A lot of times there's a story behind articles of clothing that becomes a part of the collage of your experience, and there's something poetic about having that relationship with pieces of clothing. [Fashion] can work as practical poetry. Clothes serve as artifacts of your experience. Or [in the case of vintage clothing], even an imagined experience—if you find some really old jacket, it's fun to to figure out what the story is behind it. And, it's just fun to find old, strange, unique stuff.
G: Any particular articles of clothing you can think of that are a part of the Dave Davison "personal collage"?
DD: When we first went on tour in England, I don't know why, I didn't think to bring a coat that was warm enough. I was freezing for the first five days. My friend Paul, we were in Liverpool, and he was like, "I just found this coat," and it was this really nice coat. I still have it, and I wore it through like five Chicago winters. So when I wear it, it makes me think about being in England, and my nice friend who gave me a coat when I really needed it. I have a collection of weird shirts. This printing company sometimes gives me their misprints. There's one, it's of a local brewery mixed with a local restaurant printed on an LCD Soundsystem shirt with crazy bits of paint all over it, and a bunch of logos inside the shirt. They may have used it as a test shirt or something. They're totally one-of-a-kind items. I like that stuff.
G: When you do buy clothes, where in Chicago do you go?
DD: I used to live by
Village Discount Outlet
on Milwaukee, and they always have really good stuff. I don't really have specific places I always hit up. I take a totally intuitive approach to making clothing decisions. I'll go in and if something looks immediately like something I would want to wear, I'll get it. I feel like I'm probably the fastest clothes shopper—when I see it, I know. It's all or nothing. I was walking by
Brooklyn Industries
and I saw something in the window, and I thought "that's it." There was a shirt that was like a sweater that looks like it's made out of felt. It looked like a jacket a figurine would wear, and I bought that and wear it all the time. Another time, there was a box of stuff in an alley with all these cool shirts on top of a garbage can. They worked their way into the regular rotation.
G: What neighborhoods do you get most of your clothes from?
DD: Logan Square is cool, but it's still pretty spread out. Wicker Park is a good spot. You don't have to go out with the intention of shopping; you can just grab a cup of coffee, hang out with friends, and stumble upon something.
G: How does being in the spotlight influence the way you dress?
DD: I can't think of an instance of wearing something on stage that I didn't wear on the streets multiple times. I would like to have a wacky stage outfit. Putting on a costume can allow you to act as an outlet that you can take on and then walk away from; to say, "When I'm performing, I'm this person. When I'm not, I'm myself." But I think I dress more conservatively onstage, because I don't want to go up there self consciously trying something out.
G: What type of wacky outfit would you like to wear?
DD: It would be cool to wear like a suit of armor or something onstage. Or, when I was a kid I was obsessed with the Civil War and I got multiple uniforms. The one jacket I have is a Union soldier jacket, and I wear that out in the winter as a wool jacket, and I feel like I could wear that kind of outfit. Maybe that would be my alter-ago. I think [Civil War–era clothing] is a good look. It's sort of trying to be really dapper, but at the same time there's a ragamuffin quality that's appealing to me.
G: Any favorite clothing-themed songs?
DD: One that definitely sticks out is "Famous Blue Raincoat" by Leonard Cohen. Not only is it a great song, but the image of the the torn blue raincoat, and the idea of someone famously wearing a torn blue raincoat, sticks with me when I think of the song. It reminds me of my relationship with weird clothing. I feel like I could definitely have a famous blue raincoat.
Photo courtesy of Dave Davison
BY: Scott Hirsch
Scott Hirsch is a published poet, an amateur boxer, and a devout reader and writer of fiction. He dedicates his accomplishments to the memory of his mother and attributes his many failures to colorblindness.