Maracaibo Especial Is a Beer That Pairs With Beers
BY: Shannon Jewitt |
Mar 14, 2014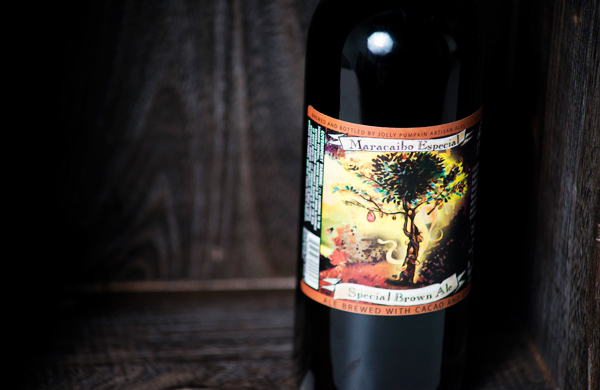 There are almost 3,000 craft breweries in the United States. In this edition of Beer Stalker, we investigate Jolly Pumpkin Artisan Ales' Maracaibo Especial, beer and beer pairings, and birthday gifts for microbreweries.
The beer:
Jolly Pumpkin Artisan Ales
' Maracaibo Especial
Malts:
Pilsner malt, Munich 20, Crystal 150
Style:
Sour brown ale accented by chocolate, sweet-orange peel, and cinnamon
Hops:
Styrian Golding, US Perle, Vanguard
Color:
The ruby-brown hue of a vaguely embarrassed mahogany armoire
What inspired Maracaibo Especial?
Maracaibo Especial
was "triggered by chocolate and the origins of chocolate and production and agriculture and exotic locales," said Ron Jeffries, Jolly Pumpkin Artisan Ales' founder, owner, and brewer. He was reading a book about chocolate production in Venezuela, near Maracaibo, when he came up with the idea for the brew.
What food pairs well with this beer?
The beer, released in November each year, goes well with holiday dishes, Jeffries said. He also thought that a winter-green salad with grapefruit would accent the beer's tartness and that a squash soup would contrast nicely with it.
What beer pairs well with this beer?
"I don't pair food with beer anymore. I pair beer with beer," Jeffries said. He would build on Maracaibo's citrus notes with the brewery's Yuzu Gose, a tart and refreshing wheat beer brewed with coriander salt. It would be nice to have after Maracaibo because it's complementary and palate cleansing, Jeffries said. You could also go the opposite route with a richer flavor and try the brewery's Madrugada Obscura, a Belgian-style sour stout with a milk-chocolate taste that would amplify some of Maracaibo's flavors and cleanse the palate.
What other good sour brown ales are out there?
Russian River Brewing Company
makes really great sour beer, Jeffries said, and a couple brown, darker ales, including Consecration and Supplication, are among them. Another California brewery,
The Bruery
, makes Tart of Darkness, a tasty sour stout.
The Lost Abbey
also produces a sour brown ale, Cuvee de Tomme, and
New Belgium Brewing Company
makes La Folie, a red-brown ale, both of which Jeffries recommended. He also suggested Jolly Pumpkin's Biere de Mars, which is more sour than Maracaibo.
What birthday gift would 10-year-old Jolly Pumpkin want?
Jolly Pumpkin began brewing in early 2004, so 2014 marks its 10th birthday. For a birthday present, Jeffries had two suggestions. In terms of practical gifts, Jolly Pumpkin could use a dissolved oxygen meter and a really accurate magnetic flow meter. However, "if all of our friends in the brewing industry could send us really good beer that we could drink, that'd be pretty cool," he said.
Where you can find it around Chicago:
SmallBar
 Division (Wicker Park | 2049 W. Division St.)
Puerto Rico Food & Liquors
(Humboldt Park | 2559 W. Augusta Blvd.) La Primera Food, Spirits, & Craft Beer (Andersonville | 5014 N. Clark St.)
Photo credit: Timothy Burkhart, Groupon
BY: Shannon Jewitt
Resident Beer Stalker Shannon has an insatiable thirst for craft beer. Despite being a vegetarian, she always makes an exception for fries cooked in duck fat.
Breweries, Wineries & Distilleries Deals in Chicago