Maria Pinto Hopes to Make a Comeback on Kickstarter
BY: Michelle Schuman |
Oct 8, 2013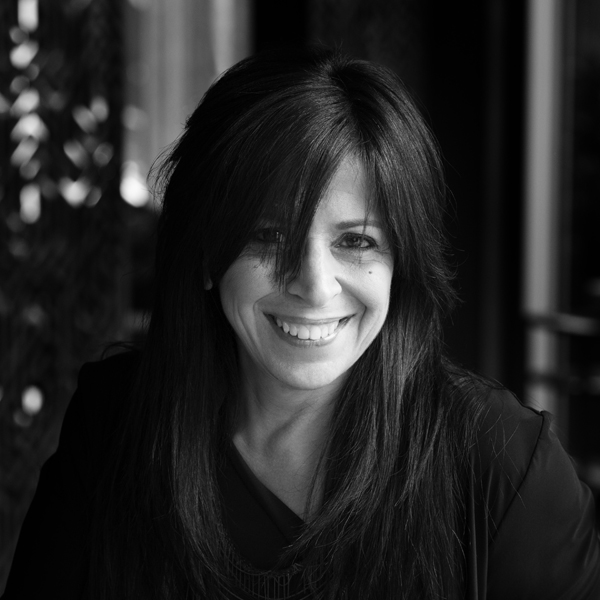 UPDATE: Pinto was able to exceed her goal before the Kickstarter campaign even officially came to a close. With her project fully funded, she'll now begin producing all garments bought during the campaign and aims to get her new line in stores by March 2014.
Chicago fashion designer Maria Pinto is on the verge of a comeback. Well, probably. It's hard to say for sure because she isn't just opening a new boutique or hosting a fashion show. As has been widely reported by everyone from Women's Wear Daily to the New York Times, the Chicago fashion designer is plotting her return with one of the riskiest strategies in modern entrepreneurialism: a Kickstarter campaign. And yes, those publications will tell you that she's excited, but they may not tell you that she's humming with energy. When I got her on the phone, I could practically hear it on the other end. Despite the gamble she's taking on trying to crowdfund the $250,000 necessary to create her new line, it turns out she isn't nervous at all—she's over the moon about it.
Pinto—who famously dressed First Lady Michelle Obama when her husband clinched the Democratic presidential nomination in 2008—has managed to stay busy despite her boutique falling victim to the recession in 2010. Since then, she's served as the creative director of beloved local boutique Mark Shale (until it, too, shuttered in 2012), and also worked alongside Field Museum curator Alaka Wali to create an exhibit that included both Maria's own designs and pieces from the museum's anthropology collection.
With that exhibit, she wanted to show that being provocative and sexy is not always about being uncovered. She recalls a saucy little sequin number—one of hers—displayed next to a conservative Mongolian dress. The pairing was designed to make visitors question how femininity is defined. Of this exhibit and its message, she said, "We need to be able to honor all sides of ourselves." Bringing the conversation back to modern fashion, she elaborated: "I think people underestimate what clothing is about. We need to spend a little bit more time on ourselves...and find those pieces that make us feel amazing."
This philosophy applies to her new collection as well.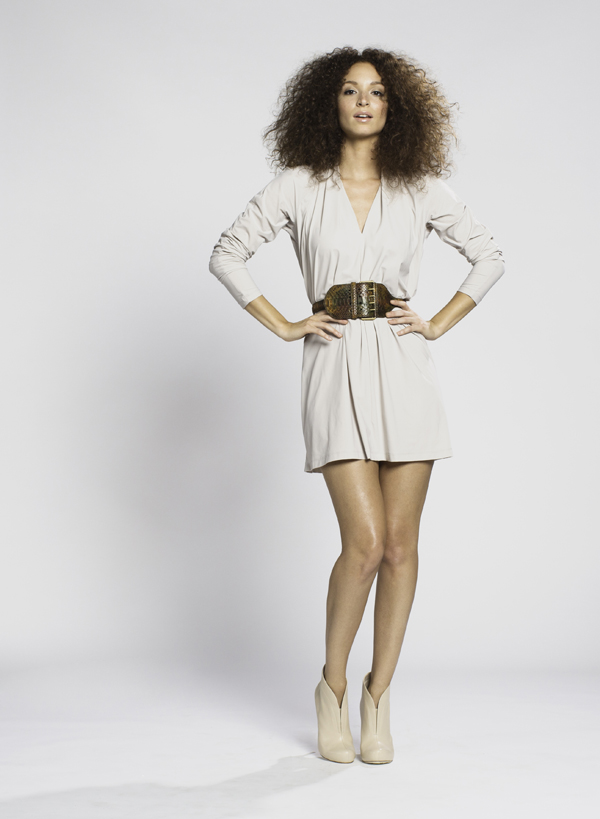 Her brand-new line, M2057—named for the year she would turn 100—is a clean break from what we've seen from Pinto in the past. Gone are the ornate, highly embellished designs of her eponymous past collections. Instead, they've been replaced by slick, minimalist dresses designed to empower women to tap into their ability to style and personalize an ensemble. Her inspiration? Architecture. She considered the uniquely curvy silhouette of River North's own Aqua Tower to be a major influence.
Despite the hecticness that ensues with a looming Kickstarter deadline (her campaign expires on October 14), we managed to catch up with the designer to explore her in-progress collection.
The following interview has been condensed and edited.
GROUPON: Let's start with the basics. Other than marking your 100th birthday, what was the inspiration behind the name?
MARIA PINTO: I was diligent about making this brand a clear identity. I was trying to merge fashion and technology, and the idea of numbers really resonated with me.
G: It's well-known that you're also inspired by architecture. How do you translate the typically hard, geometric elements of building construction into such soft, draped garments?
MP: For me, inspiration has to be more subliminal, more of an internal idea that informs everything in an interesting way. What I like about this collection—this is a capsule. I had to get really tight with myself in editing. I had to think, "How will this broader audience understand this collection?" The idea of these dresses being a blank canvas—they can be uptown or downtown. You style it and make it your own. As I can expand and not be limited to seven dresses, I may play with it more and open it up to more embellishment.
G: It seems like versatility is a big theme in the new collection. What inspired you to break from your high-fashion roots?
MP: I don't feel like I've broken away. I've taken all of what Maria Pinto is about and made it more accessible…It's a natural progression, and I'm really energized by it. I feel like I've actually gone in a positive trajectory into something that is more relevant to a broader range of women. Everyone I know is time-starved…It's really about honoring women and empowering women. What I love about this is that…it's more reachable than a $912 dress.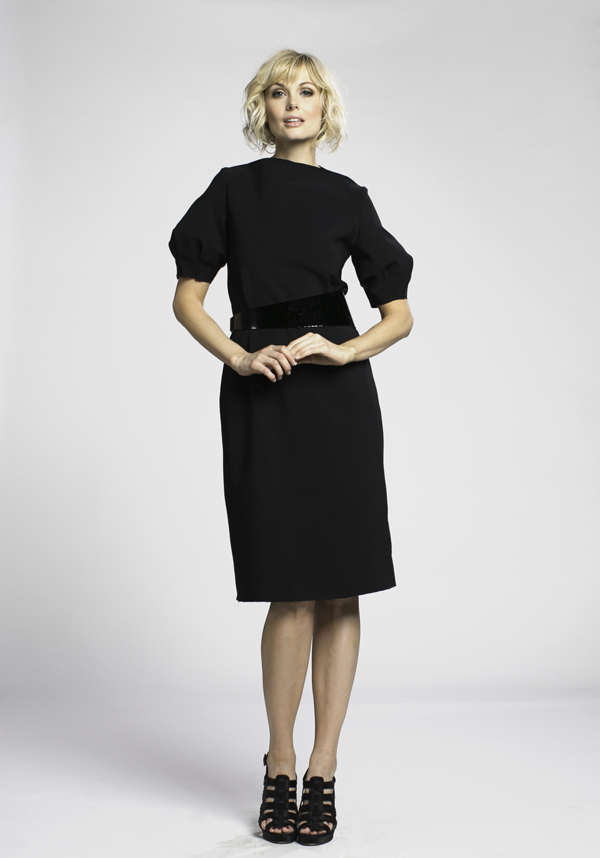 G: Okay, one random question: the Tippie jacket does resemble the one Tippi Hedren wears in Hitchcock's The Birds. Is that a coincidence?
MP: Exactly! You got it! You know what happened? I designed the jacket, and I said, "This is the Tippie jacket!" The idea of this jacket was, I wanted these pieces to look good on a size 2 and a size 14. I wanted these pieces to be styled by the wearer. When I was thinking about that—how do I make these pieces for a variety of body types—it was just like a connect-the-dots.
The Greta is inspired by a friend that the jacket reminded me of. That's how I name my pieces—it creates identity for [them].
G: Have you found your customers naturally following you to Kickstarter, or do you foresee your target customer changing as a result of Kickstarter?
MP: I think we're expanding our clientele for sure. They know how crazy I am and fanatical about maintaining what's important in my design work and quality. It's a win-win situation.
G: So it looks like your campaign is going well, but $250,000 seems pretty ambitious. What made you choose such a high number?
MP: It's going to launch getting the first phase up and running: transitioning the website. It'll get me all of those [ordered] pieces coming together, it'll get me the e-commerce site next. Getting the samples to retailers.
G: What are your next steps if your Kickstarter isn't fully funded?
MP: I believe in manifestation. I don't think about anything [like that], I am confident that we're going to get it. There's always a plan B, but I don't think we're going to need it.
G: So what can we look forward to for the next M2057 collection?
MP: Laser-cut cotton, more jerseys, leather. I love leather. More than just dresses.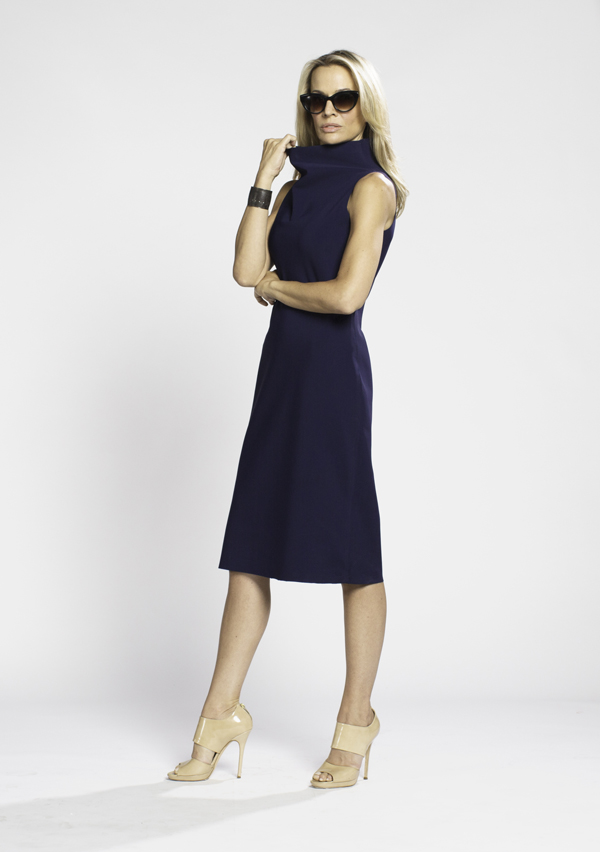 G: What has made you choose to stay in Chicago all these years, instead of moving to, say, New York?
MP: Family...so many things, but at this stage in my career, it doesn't make sense to change. It's not necessary, and I'm always up for a challenge. A friend told me, "If you go to New York, the fashion world will really take you seriously." Yeah, it's a challenge to stay in Chicago, but these are microscopic challenges to get around. Chicago, I'd call it my incubator. And yeah, I have to get on a plane a little more often, but I'm interested in Chicago's transplants and I have great friends here. If I was a new designer, I might consider [moving to New York]. But for me, [Chicago's] working.
Photo courtesy of M2057 by Maria Pinto
BY: Michelle Schuman
Michelle is a freelance fashion designer and dancer from Detroit. She has traveled the US extensively (and loves it!), but her biggest goal is to travel abroad.