Meet MasterChef's Elise Mayfield Before Everyone Else Does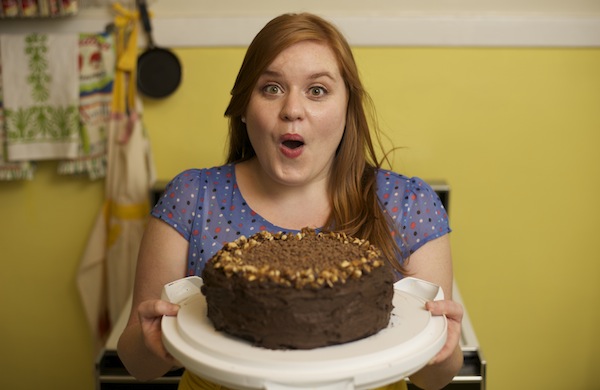 When Elise Mayfield hops on the phone, she's between chores. The Alabama native has been prepping her Chicago apartment for her parents' arrival—"They're very, very excited. They're even bringing the dog"—and the effort has the added bonus of easing some nervousness. "I've actually found that mopping the floor is quite meditative. It's good for calming the nerves." A few butterflies are understandable when you're about to be all over television. Memorial Day marks the premiere of the fifth season of FOX's
MasterChef
, in which Gordon Ramsay, Joe Bastianich, and Graham Elliot search for America's best home cook. This season, 30 competitors step into the kitchen, and one of them spent the last week ridding her home of dust bunnies and preparing for her world to get a whole lot stranger. We spoke with Elise in advance of her big debut, and it won't be the last time: the The Guide will be following her as she watches the season and has the mind-bending experience of seeing herself as a character on TV. Check back on Tuesday for our first post-episode report.
GROUPON: What made you decide to audition for MasterChef?
ELISE MAYFIELD: I found out [about the auditions] the day before the open casting call…I just [thought], "Why not? There's no harm done if you go and you cook something. It doesn't necessarily mean anything is gonna happen…" [laughs] It really was a fluke decision with not a whole lot of thought behind it other than "I like cooking!" and "Hey, this thing's happening tomorrow!"
G: What was it like to keep a secret that big for all those months?
EM: Not being able to tell people that this was going on in my life was one of the most difficult things I've ever had to do. I didn't want to…get everybody's hopes up and get my hopes up by talking about it.
G: What was it like to finally tell everybody?
EM: Oh, man…[FOX] invited me to come [to LA] for the very final audition, and I managed to keep it together while I was on the phone, then hung up and immediately started ugly-crying in my apartment by myself. I'm sure if someone was listening they would have thought that something horrible had happened…I immediately called my parents and my mom started crying, so we know where I get it from. I could hear them jumping up and down in the kitchen in Birmingham, and the dog was barking. They were so excited.
G: What's the best meal you've cooked since you've been back?
EM: I did an all-American meal with a roast chicken with thyme and lemon, parmesan mashed potatoes, and green beans with bacon. And I made an apple pie.
[Ed. note: see below for Elise's apple pie recipe. We can objectively report that it is delicious.]
G: You've been in some of the promos. What's that like?
EM: It's so weird. For so long now, this experience I had in the
MasterChef
kitchen…It was something that only [the
MasterChef
contestants] really knew about. Seeing it on TV is kind of like déjà vu because it immediately brings me back to what it was like in there. What the kitchen smelled like, what the lights looked like. But it is also truly bizarre to see yourself on television. I don't really know if I can actually describe it…"Oh, look at that person on TV," and then realizing that person on TV is you.
G: If you were to sum up what we can expect to see on the premiere in one word, what would it be?
EM: I think the first episode is all about the excitement of being there. So if I had to pick one word, it would be excitement. MasterChef
premieres on FOX on Monday, May 26, at 8 p.m./7 p.m. CST. Check back every week for a recap of the previous episode, some more insights from Elise, a recipe or two, and a plethora of hashtags.
Elise's Apple Pie Recipe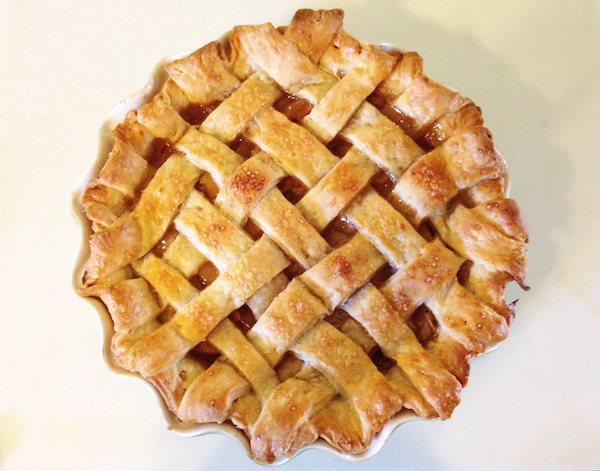 Pastry Dough
2 1/2 c. all-purpose flour 2 sticks cold unsalted butter 1 tsp. salt 1/4 c. sour cream 1/3 c. water 2 tsp. lemon juice 1 egg 2 tbsp. turbinado sugar Sift together flour and salt. Cut butter into cubes, then cut it into the flour with a pastry blender. (You could use your hands, but I prefer a pastry blender so the butter doesn't soften from the heat of your hands. Cold butter = flaky pie crust.) Once the flour and butter are combined into the texture of wet sand, make a well in the center. In a separate bowl, combine the sour cream, water, and lemon juice. Pour half of the sour cream mixture into the well in the flour, and mix together. When incorporated, make another well and pour in the other half. If the pie dough still appears dry, add water a tablespoon at a time until the dough just comes together. Wrap the dough in plastic wrap and chill for at least one hour. In the meantime, make your apple filling…
Apple Pie Filling
8 apples of mixed variety (I prefer 4 granny smiths and 4 of the pink/red variety) Juice of 1/2 a lemon 2/3 cup sugar 1 stick of unsalted butter 1/4 tsp. cinnamon 1/8 tsp. ginger 1/8 tsp. mace 1/8 tsp. allspice 1/8 tsp. nutmeg Squeeze lemon juice into a bowl. Peel, core, and thinly slice the apples, then toss them in the lemon juice. Add sugar and toss again to coat. In a large skillet, melt the butter, then add your apples. Cover and cook on low heat until softened, about 8–10 minutes. Strain the apples in a colander over a mixing bowl to catch the liquid. Put your apples aside, and return the liquid back to the skillet to reduce and caramelize for another 10 minutes. Once reduced, combine the caramelized apple juice with the apples and stir in the spices. Cool the filling completely. Pre-heat oven to 375 degrees, and make sure one of the racks is on the bottom rung. Cut your chilled pastry dough in two. Wrap one half back in the plastic wrap and return it to the fridge. Roll out the other half in a circle until it can fill a 9-inch pie tin, and trim the sides until there's only a little hanging over the sides. Brush the pastry crust with egg wash (1 egg + 1 tbsp. water) to keep the bottom crust flaky. Pour in the cooled apple mixture. Roll out the second half of your dough, cut out strips, drape over apples, and make a lattice-top crust. Tuck the edges from the lattice top under the bottom crust and flute the edges. Brush the top of the pie with egg wash, and sprinkle with turbinado sugar. Bake on the bottom rack of the oven for 50–60 minutes or until golden brown and bubbling. Cool on a cooling rack for at least 3 hours at room temperature, or 1 hour in the refrigerator.
Portrait of Elise Mayfield: Andrew Nawrocki. Portrait of Apple Pie: Elise Mayfield.