Meet the Athletic Nerd at 3 Sheeps Brewing Company
BY: Shannon Jewitt |
May 12, 2014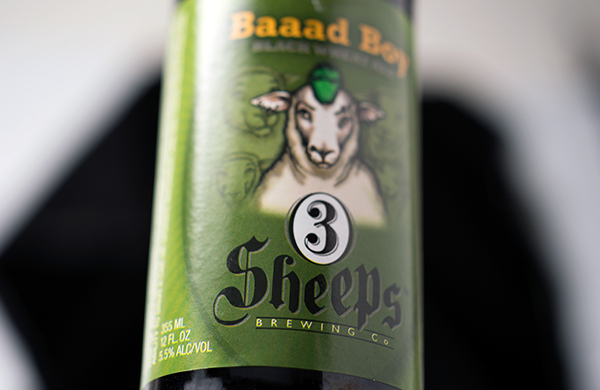 There are almost 3,000 craft breweries in the United States. In this edition of Beer Stalker, we investigate 3 Sheeps Brewing Company's Baaad Boy and what it has in common with dunkelweiss beers, British breweries, and athletic nerds.
The beer:
3 Sheeps Brewing Company
's Baaad Boy
Malts:
Midnight wheat, white wheat, barley
Style:
Black wheat beer
Hops:
Columbus
Color:
The brown-black of a well-worn metal-band T-shirt
Is brewing in 3 Sheeps' blood?
Absolutely. "My family used to own and run the Kingsbury Brewery out of Wisconsin," said Grant Pauly, 3 Sheeps' founder and brewmaster. So he grew up hearing stories of his father going the brewery with his grandfather. "It made the idea of doing a brewery not as far-fetched," he said.
What makes this a black wheat beer?
The blackened wheat malt. The midnight wheat makes the beer dark and adds chocolatey, roasty flavors, Pauly said. Sometimes Baaad Boy is classified as a german dunkelweiss, but dunkelweiss beers use black barley, which can create astringent flavors. Baaad Boy uses wheat instead.
Has this beer ever been in legal trouble?
Sort of. Baaad Boy was one of the brewery's first four beers. Before distribution began, 3 Sheeps announced the beer on its website with the name Black Sheep, which resulted in an injunction letter from
Black Sheep Brewery
in the UK. Pauly didn't know what to do. His assistant brewer, Dave Coulter, instantly turned to him and said "Baaad Boy." "It was just perfect," Pauly said.
What was the inspiration for Baaad Boy?
Pauly likes to create unconventional styles of beers. "We don't have a porter or stout, but I knew I needed a dark beer for those who enjoy that style, and we love our wheat beer. So I wanted to fuse those two together and come up with something that's a little bit different," he said. "People that don't like wheats still seem to like it, and people who say they don't like dark beers seem to enjoy it."
Where should you drink this beer?
"I think this is a great food beer," Pauly said. Baaad Boy pairs well with meats, especially those with a higher fat content, because the wheat's astringency cuts through it. Pauly also recommends drinking it with gravy dishes. "In my household, gravy season kind of runs from August through May," he said. "So we drink a lot of Baaad Boy with our gravy dishes."
It sounds like Baaad Boy has trouble fitting in. If this beer were part of a high-school clique, what would it be?
Pauly likes Baaad Boy because it breaks the mold of a few styles. So, naturally, the beer wouldn't fit into one clique. "I think it'd probably be the athletic nerd," he said. "It can play well on a lot of different fields, so I guess that's where the athletic comes in for me. He knows who he is. He's not trying to date the high-school cheerleader. But he's content to just kind of go his own road and be himself while still having talent."
Does Baaad Boy have any relatives?
Yes. Baaad Boy's older brother,
Hello, My Name Is Joe
, was recently released. The seasonal offering is an imperial version of Baaad Boy with up to 8% ABV and coffee added.
Photo by Andrew Nawrocki, Groupon
BY: Shannon Jewitt
Resident Beer Stalker Shannon has an insatiable thirst for craft beer. Despite being a vegetarian, she always makes an exception for fries cooked in duck fat.