Miami: Food for the Seasons
BY: Kimberly Moore |
Aug 7, 2012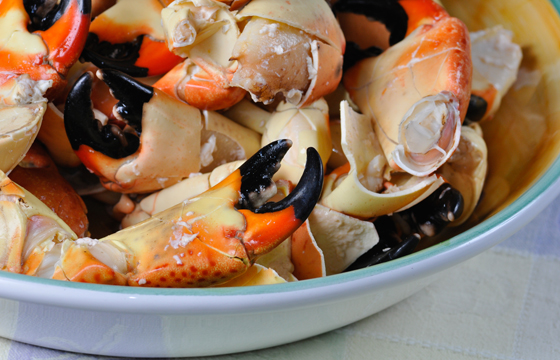 Miami is a foodie dream come true. Offerings for restaurants and markets are internationally influenced and keep palates entertained every day of the year. Food Events in Miami are national as well as international destinations and when combined with the fabulous weather - it's a match made in heaven. Here is a Save the Date Miami Food Event list that will fill your calendar and tantalize your tummy for the whole year!
Winter
Winter 2013 will be the 13th year of
The Food Network South Beach Wine & Food Festival
presented by Food & Wine. Do you love food? Are Chefs the Rock Stars of your world? Is Food Network permanently on your TV? THIS is your event of the year. It's pricey but worth fitting into your budget - I promise it will make your foodie heart beat a little faster for four whole days.
Spring
Dinner in Paradise
at Paradise Farms features the finest chefs in Miami preparing a delicious five course meal made with local organic products and paired with fine wines. This food and wine experience, served under the stars and in the lush landscape of Paradise Farms is magical.
Calle Ocho Carnaval Miami
is food, music, packed streets, celebration, color and an experience to remember. Expect musical stages at every corner and hundreds of food vendors with every kind of food that you can imagine.
Miami Food & Wine Festival
this past year boasted four nights of food and wine events at three venues and they served 4,000 happy guests and raised half a million dollars for charity. Expect more Craft Beer Tastings, Fine Wine Tastings, interactive dinners with Top Chefs and Celebrity Chefs and opportunities to indulge in Foodie Fantasies!
Summer
Every August and September, 
Miami Spice
 hits the city with top restaurants offering lunch and dinner deals to keep the summer yummy. Three-course meals for lunch and dinner with two tiers are on offer, giving everyone a chance to search for a new favorite.
Share Our Strength's Taste of the Nation®
 celebrated their 25th Anniversary in the summer of 2012 and it was a dizzying whirlwind of stunning food and cocktails from the top Chefs and Mixologists in Miami. I recommend splurging on the VIP ticket to really experience all the tasty bites available.
Goombay Festival Coconut Grove
 is a celebration of Bahamian culture and a feast of Bahamian food and the evolution here in Miami. When you are done eating, dance the day away!
Fall
Starting in mid-October, batches of mustard sauce will be prepped throughout South Florida in anticipation of the delectable bounty from the sea - 
Stone Crab Season
 is coming soon!
Anytime
Miami Culinary Tours
makes every week a foodie event. They offer weekly year-round culinary tours of South Beach and Little Havana that are a gastronomical and cultural adventure. If you are looking for fun and great good, follow the many Miami 
Food Trucks
 for a smorgasbord of foods. The trucks always seem to be in the middle of the action! These are the events that you can plan for but don't forget to stay tuned to local Miami websites for pop up foodie events and tastings … what a way to eat the year! Don't forget to look for me, The Hungry Goddess,  I will be by the food!
BY: Kimberly Moore
I am Hungry.  I am a passionate person and I translate that passion into life … and food … and experiences … and travel!  I will always take the road less traveled and since I am always hungry, I always stop to eat. Food is a central experience in my life – I love to eat it, tweet it, write about it, experience it and discover new foods or recipes.  I have several Food sites – Foodies Unite and The Hungry Goddessand Fennel Friday.  I am the Co-Founder of the #HGEATS twitter chat (every Wednesday at 12noon eastern) and I am the Creator ofFennel Friday (#FennelFriday) which is a joint project with Pollen Ranch and Foodies Unite.