Miami Medianoche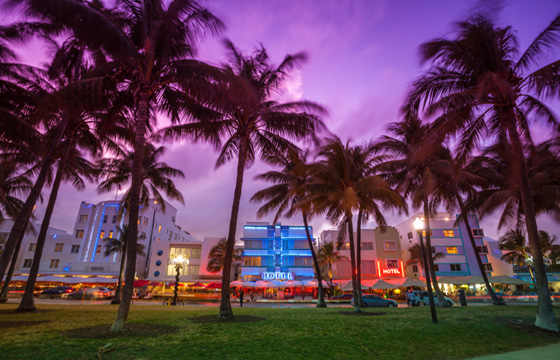 Nightly crowds with appetites fueled by drinks and dancing used to overwhelm street vendors around Havana's nightclubs in their search for hearty food, prompting cooks to invent a simple snack that combined salty, sweet, and sour flavors in each bite. Named for their popularity around midnight, medianoche sandwiches typically layer roast pork, sliced pickles, and swiss cheese between two gently toasted pieces of yellow egg bread. Although these late-night staples hail from Cuba, they've made their way to a number of much-lauded Miami-area eateries.
 Islas Canarias: The chefs incorporate some international flavors, but their faithfulness to Cuba's most iconic dishes earned it Miami New Times' award for Best Cuban Restaurant in 2011. In addition to importing sausages and other cured meats for their sandwiches, the café's chefs also carry on culinary tradition by making medianoche sandwiches until as late as 11 p.m.
Puerto Sagua: Frommer's called this venerable diner "one of the most reasonably priced places left on the beach for simple, hearty fare." Its doors remain open until 2 a.m. every night of the week, inviting passersby to stop in for a quick bite before continuing their revelry.
Versailles Restaurant: Originally founded in 1971, the restaurant prides itself on being a hotspot for Miami's Cuban community. 3 Guys from Miami describes this sense of history, saying, "the restaurant is a lot like the Cuba of old—loud, boisterous, and full of excitement, just dripping in Cuban patriotism." Golden-brown medianoche sandwiches continue emerging from the kitchen until as late as 4:30 a.m. on Saturdays.
Enriqueta's Sandwich Shop: Although its doors close long before sunset, the Zagat-rated eatery defies tradition by still featuring a medianoche sandwich. Food & Wine magazine emphasized the shop's authentic Cuban ambience in 2004, saying, "the Formica benches and loud Spanish chatter make you feel that you are, as the locals say, not far from America."