Michael Kors Is Not the Only Designer at New York Fashion Week
BY: Michelle Schuman |
Feb 14, 2014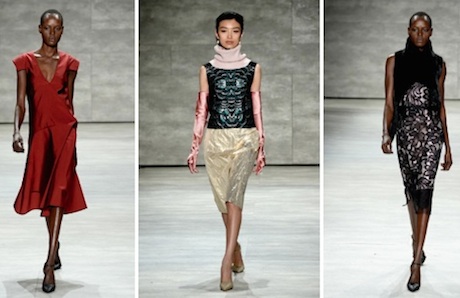 Discover your new favorite clothier amid these six NYFW designers you've maybe never heard of.
At Mercedes Benz Fashion Week, it can be hard to find a seat for the shows of iconic designers such as Zac Posen and Diane Von Furstenberg. But even in the quieter tents there's beautiful clothing not to be missed, by talented up-and-comers who may just be the
next
Zac Posen. A long list of lesser-known designers showed off their newest collections at this year's fall 2014 show. They traveled from all over the world to wow celebrities and critics with looks that ran the gamut from futuristic avant-garde to vintage-inspired gowns. Here are the best looks from six designers you may have overlooked: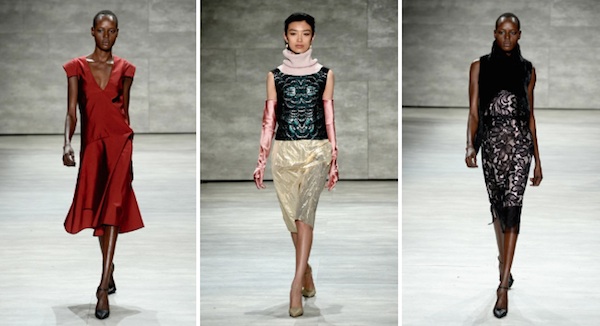 Tome
Tome designers Ryan Lobo and Ramon Martin strike an intriguing balance of sophistication and sexiness. Iranian artist Shirin Neshat inspired the more modest elements of this collection, seen in knee-length skirts and elbow gloves. But these conservative silhouettes are subtly revealing—they pair plunging necklines with longer hems, and tight waistlines with demurely covered necks. The result is a timeless, sexy collection that's refreshingly wearable, and whose appeal may span generations.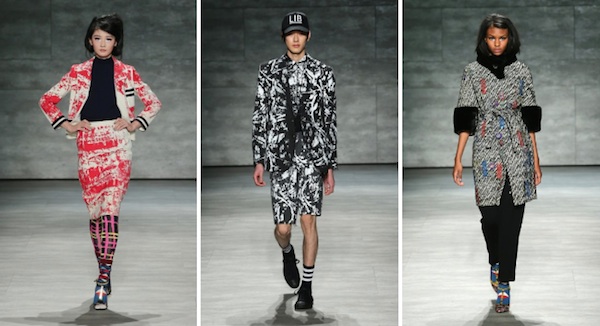 Libertine
What may seem like an exercise in excess is actually Los Angeles–based Johnson Hartig's trademark eclecticism—he's one of the few designers that can fit a half-dozen inspirations into a single runway show. This season's collection was shaped by William Butler Yeats, snow, text, and Gerhard Richter's art, among other things. Perhaps the biggest surprise, though, is that beneath an unlikely harmony of clashing patterns and colors are wonderfully elegant silhouettes.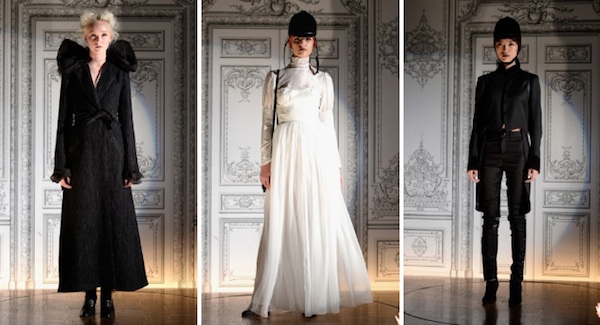 Wendy Nichol
Wendy Nichol's collection walks a fine line between vintage and punk, an aesthetic she has described as "witch." As she told Into the Gloss, "I love things that are dark, that have a mystical feeling to them." Her designs aren't modern, so the New York designer doesn't care much for trend. Case in point: this collection's ethereal fabrics and classic silhouettes might, to the untrained eye, be confused for true vintage pieces.
Ricardo Seco
A self-taught Mexican designer, Ricardo Seco is evolving mod fashion with this menswear line. With inspiration that jumped from pop art to Jackie O, Seco transformed a typically feminine color palette into an edgy, boyish aesthetic toughened up with leather. In an interview, the designer explained, "I took the A‐line silhouette that Jackie liked so much and turned it into a masculine, urban chic style that her son John‐John would have worn."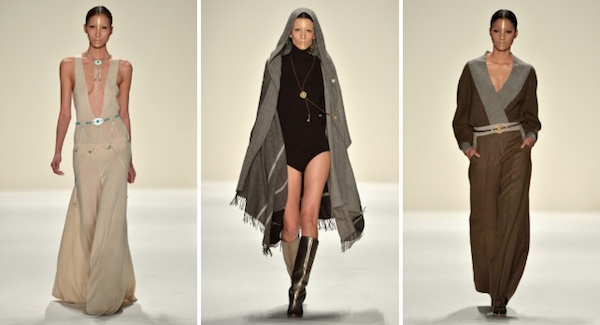 Katya Zol
Whereas excess was a welcome surprise at Libertine, minimalism was a refreshing sight at Katya Zol. Sparingly accessorized models were dressed in materials native to Mongolian designer Zolsetseg G.'s home country, including wool, cashmere, leather, and felt. She translated ancestral costumes into modern garments, a success thrown into sharp relief by the traditional garb seen on Mongolian performers who opened the show. The show's diverse lineup of models were all painted with a single gold line that bisected their faces from forehead to chin—a striking, otherworldly touch to this earthy collection.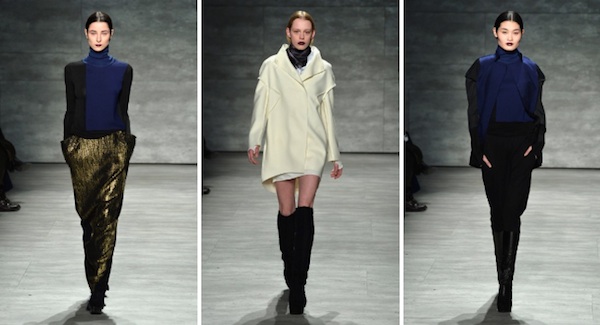 Parkchoonmoo
Choonmoo Park, a respected designer in Asia since the late '80s, developed her industrialist aesthetic thanks to a childhood spent in her parents' factory and experience as an industrial designer. The native Korean dressed up her typically neutral color palette with deep blues and textured gold, and softened her edgy, architectural inspiration with flowing trousers and floor-length skirts.
Images: http://www.mbfashionweek.com/
BY: Michelle Schuman
Michelle is a freelance fashion designer and dancer from Detroit. She has traveled the US extensively (and loves it!), but her biggest goal is to travel abroad.