Michelle Starbuck's Favorite Spots to Find Materials for DIY Jewelry
BY: Sarah Gouda |
Apr 5, 2013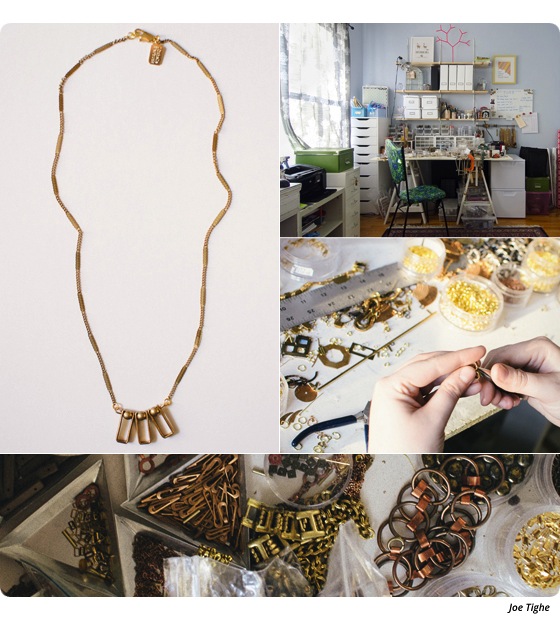 Michelle Starbuck can turn trash into treasure. The Chicago-based designer of
Michelle Starbuck Designs
 uses discarded and vintage charms as the base for much of her understated, graceful jewelry, which she began making nine years ago. It all started with a necklace she fashioned for herself out of broken bits of jewelry. At the time, she was just messing around, but after several strangers tried to buy it off her, she looked into launching her own line. Her aesthetic, which she describes as equal parts organic and geometric, is most often inspired by things she finds in Chicago's flea markets and thrift stores. If you find yourself bitten by the upcycling bug, check out some of Michelle's favorite spots to forage for jewelry and other fashionable finds.
Village Discount Outlet in Roscoe Village
This is my favorite location out of all of the
Village Discounts
in the city. It's relatively clean and organized, and it seems like the good stuff is always just waiting for me. I like to go here to look for displays, but I usually find a cool purse and some jewelry, too.
Wolff's Flea Market at Allstate Arena
Wolff's Flea Market
runs on Saturdays and Sundays from spring to late fall. There are always a few good vintage jewelry vendors to buy from. I love making a pile of necklaces and asking if they'll take $5 or $10 for it. It usually works. Wolff's isn't a cool kind of market, so it's always good to dress down when you go, otherwise you won't get any good deals.
The All Night Flea Market in Wheaton, Illinois
The
All Night Flea Market
happens once a year at the DuPage County Fairgrounds in Wheaton, Illinois. My best find at this market was a box of vintage hinge-cuff bracelets and blank cabochons. The best part is wandering around the flea market at night with flashlights. It's like digging for treasures in a secret attic.
Family Thrift in Little Village 
Until recently I lived on the west side of Pilsen, which is very different from east Pilsen—there aren't hip thrift stores popping up on every block. So when Family Thrift opened, I figured it was worth a look. I don't think I've ever found jewelry there, but I've always managed to find really cute clothes and vintage housewares. It's worth the trip if you're ever in the neighborhood.
BY: Sarah Gouda
Guide Staff Writer
Sarah is a writer and editor living in Chicago. In her free time, she teaches yoga and experiments with different hot sauces.