Middle Brow Beer Co. Crowdsources a Better Beer with Chicago Homebrewers
BY: Halley Lawrence |
Aug 1, 2013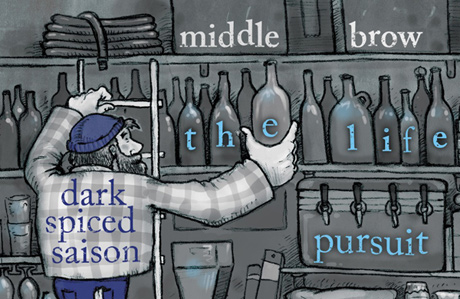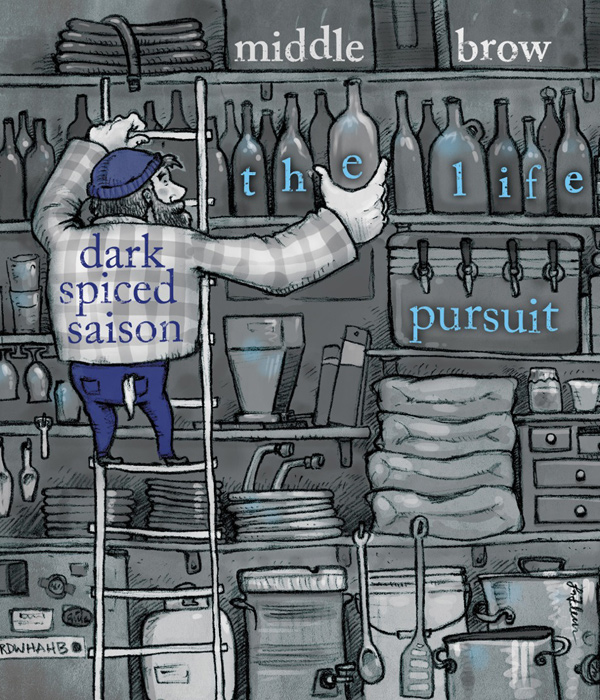 Matthew LaFleur of LaFleur Illustration designed the label for Middle Brow Beer Co.'s first beer, a dry saison ale laced with vanilla and cinnamon.
Beer was boring in the 1970s. Low-calorie, light-tasting lagers dominated shelves in shops and bars, and most Americans seemed to prefer it that way—after all, they weren't able to try much else. In the years since, the beer industry has grown more and more interesting: fads such as oak-aged beer and wine-beer hybrids have diversified the contents of bodegas' shelves (and beer aficionados' stomachs). Now, people like Bryan Grohnke and Nick Burica, founders of brewery-for-charity
Middle Brow Beer Co.
, are making things even more interesting with a new beer-industry trend: crowdsourcing. The two friends, both of whom work desk jobs and brew beer as a hobby, are tapping the Chicago homebrewing community for beer recipes. They connect with homebrewers through themed contests that offer a cash prize along with bragging rights, choosing the cream of the crop to produce on a large scale (along with their own creations). Then, they sell the beer to bars and shops around Chicago. It's a win-win situation: beer drinkers get to sip brews that they would never have otherwise tasted, and half of the proceeds go to charity. In their first contest—a January 2013 Winter Warmer challenge—engineer-by-day Matt Holley won with a dry, fruity saison ale laced with the heat of cinnamon and the sweetness of vanilla. "It's hard to know when [saison yeast beers] are done fermenting," Holley said of the creation process. "Sometimes you get overcarbonation—bottles explode. I bottled them, and four months later, I had a nice residue on the floor of my closet." Middle Brow is a gypsy brewery, meaning its founders don't own professional brewing equipment. At first, they considered opening a traditional brewery for their operation, but the high costs would have diverted proceeds to the bank rather than to charity. That's why they've partnered with contract brewery
Big Chicago Brewing Company
to produce the beers. Holley's winning saison is the first beer to go into production; he'll go along to the brewing facilities to take part in the experience. "We're going to use it as a giant learning process," Burica said. "How cool is it going to be to put on the water boots and take lessons from a professional brewer that you can apply to your own brewing? [The winners] will actually be there, learning." Although Grohnke and Burica are knowledgeable when it comes to beer, they don't choose the winners on their own. "We reach out to like-minded people in the beer scene," Grohnke said. "We've teamed up with bloggers, chefs, ... industry workers." The crew meets in unlikely locations, such as the SnapshotBids.com warehouse in Bucktown, to pass around contestants' bottles and have deep philosophical conversations about hops. Grohnke "is a [Beer Judge Certification Program]-recognized judge. I don't say I'm certified in anything, but I've tried probably 5,000 different beers," Burica said. "I know exactly what I'm looking for in a beer. Bryan is insanely technical and can tell you trace amounts of a spice, where I'm less technical." Middle Brow's first partnership is with
Cure Violence
, an organization made up of dedicated community advocates who stop violent confrontations with face-to-face guidance. "They're donating half of the profits of their first beer, which is remarkable," said Josh Gryniewicz, the organization's communication director. The majority of those funds will help Cure Violence to continue its work in Chicago, but they'll also help increase its support in cities such as Baltimore and even globally in Brazil and Colombia. "The effectiveness of violence prevention in Chicago and around the world depends on changing the conversation about violence everywhere. Cure Violence is really an innovation in public health, public safety, and violence prevention," Gryniewicz said. "Companies like Middle Brow, who are quirky and creative and have an inspired drive to be innovative, are a great fit for us. … We've been thrilled to work with them as partners. They've really helped to meet us where we're at and push things forward." The alliance between Middle Brow Beer Co. and Cure Violence probably won't end anytime soon; Grohnke and Burica plan to extend the partnership beyond this first beer. "We hope to work with Cure Violence continually," Burica said. However, they also plan to support other good causes in the community with their innovative business model. In the near future, be on the lookout for a belgian beer, an imperial stout made with
Ipsento
coffee, and other for-charity brews crafted by Burica, Grohnke, and the DIY brewers they spotlight.
To learn more about Middle Brow Beer Co. and its upcoming contests, check out its Facebook and Twitter pages. 
Middle Brow isn't the only one involved with Cure Violence. Read more about Groupon's partnership with the successful antiviolence organization.