Milwaukee Avenue Arts Festival 2013: Art, Music, and Food on Logan Square's Hopping Corridor
BY: Will Landon |
Jun 12, 2013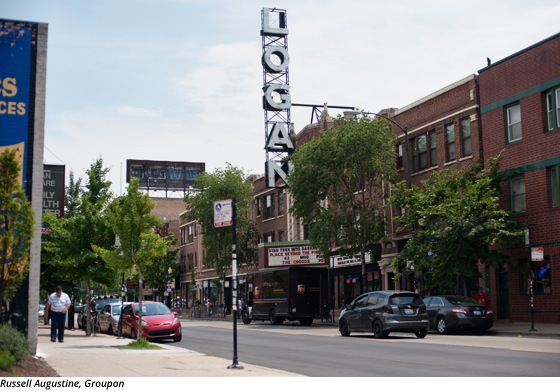 With so many summer festivals in Chicago, it can be tough to see and do everything worthwhile. To help you navigate the Milwaukee Avenue Arts Festival (MAAF), I Am Logan Square's Alison Trebe and Geary Yonker, organizers of the event, provide suggestions for the best things to see, hear, and taste at the fifth incarnation of their annual street fest, running Friday, June 28, to Sunday, June 30.
The festival "began as an art walk with a music component," Yonker explains, born out of a desire to highlight the local arts community and draw visitors toward Milwaukee Avenue's vacant storefronts. Though many of those storefronts have turned into popular restaurants and shops, Trebe says the MAAF's purpose is still "focusing on local arts and culture, first and foremost." Helping achieve this is
Land and Sea Dept.
—a multipurpose design and event-planning firm headed by art and music expert Peter Toalson, formerly of the
Empty Bottle
and
Beauty Bar
. Toalson is curating most of the music, and the firm is directing the festival's graphic design, including its sleek, modern logo. But the ultimate goal for both parties is to highlight a spectrum of the community's culture. Trebe says there's "a lot of diversity in the shops along this strip [of Milwaukee Avenue], so we want to make sure we're being thoughtful." This year, the festival's south end begins at the
Logan Square Blue Line station
and climbs three blocks northwest to the intersection of
Milwaukee and Diversey Avenues
. The layout is larger and more concentrated than previous years, both doubling the amount of space for art vendors and making the festival easier for visitors to navigate.
What to See
MAAF will host five pop-up galleries, each housing more than 50 artists and curated by one of the following three groups: the
Puerto Rican Arts Alliance
(PRAA),
South Logan Arts Coalition
(SLAC), and
Ag47
, an arts mentorship program for girls aged 11–17. PRAA will take over a storefront at
2777 N. Milwaukee Ave.
to display its vibrant works of multiethnic art, whereas Ag47 plans to occupy a smaller gallery space at
2785 N. Milwaukee Ave.
Yet another pop-up space at the north end of the festival is expected to showcase art by women in the community. Even the McDonald's at
2707 N. Milwaukee Ave.
is getting in on the action: amid the aroma of crispy fries, SLAC's director will arrange works of art from her coalition and, potentially, other creative contributors. Across the street, the art-deco cinema
Logan Theatre
will screen classic films every night of the festival. The titles are
Some Like It Hot
,
Pulp Fiction
,
The Big Lebowski
, and
A Clockwork Orange
(tickets are $7 for adults).
What to Hear 
With the aid of Toalson, about
30 musical acts
will perform on two stages: the northern
Community Stage
(just south of Kimball and Diversey Avenues, sponsored by the soon-to-open
Harding Tavern
) and the southern
Culture Stage
(just north of Kedzie Avenue). Though you could spend almost the entire weekend at either stage, some of the lineup's highlights include
Bare Mutants
(7:15 p.m. Friday on the Culture Stage),
Cave
(8 p.m. Friday on the Community Stage),
The Cairo Gang
(2 p.m. Saturday on the Community Stage), and
Tobacco
(8:45 p.m. Saturday on the Culture Stage). On Sunday, jazz-reggae outfit
Ted Sirota's Heavyweight Dub
(2 p.m.) hits the Community Stage before a performance by Chicago-based indie musician
Netherfriends
(5 p.m.). But one of the most unique and exciting moments, Yonker and Trebe divulge, will be PRAA's end to the festival: a Sunday-night performance by Puerto Rican cultural icon, musician, and artist
William Cepeda
(8 p.m. on the Community Stage). A multimedia-focused trombonist and percussionist, Cepeda blends the roots of Afro-Caribbean and African music. Yonker describes the pageantry of his live performance as "a 10-piece orchestra with singers, dancers, and stilt-walkers." He'll also lead a mask-making workshop.
What to Taste 
This year's event will be awash in the aromas of food by chefs representing 12 nearby restaurants. Trebe and Yonker are especially thrilled by the presence of
Reno
,
The Chicago Diner
,
Puffs of Doom
, and the Michelin-rated
Longman & Eagle
. For beverages, look for
Lula Cafe
to dole out its refreshing red and white sangria and
Telegraph
to bring its carefully selected wine bottles to the streets. Plan ahead by RSVPing to the semiprivate Cocktail Lot: a pop-up lounge in the parking lot adjacent to the former Pierre's Bakery at
2747 N. Milwaukee Ave.
Yonker describes the lounge as "technically a private party" where bartenders from Telegraph, 
Parson's Chicken & Fish
,
The Owl
, and a fourth as-yet-unconfirmed establishment will serve snacks and mix cocktails. Within the Cocktail Lot, you can find shade in a tent-covered seating area. Yonker says the idea for a unique outdoor lounge sprung from the desire to do something that  "people don't get at any other festival."
Who to Visit 
Yonker says the 120 local artists can essentially do whatever they want "within reason" in their 10'x10' vendor spaces. The festival gives preferential treatment and priority to Logan Square creatives, whose work ranges from paintings and ceramics to performance art and dance. With this year's focus on visual art and outdoor installments, the festival will also feature a dedicated area for children's art and activities on either side of
Sawyer Avenue
or the north side of
Spaulding Avenue
. Some established vendors you should be sure to check out are
Galerie F
and
Drug Factory Press
for apparel and art prints and
Saki
for vinyl LPs. The roster of participating vendors also includes local and sponsoring distilleries and breweries, most notably
Tito's Handmade Vodka
and the notoriously polarizing
Jeppson's Malört
.
Further Exploration
After the festival closes its gates, you can still catch neighborhood art at the recurring Logan Square Night Market. Though the market's location is yet to be determined, this nocturnal fair will showcase a handful of dedicated local musicians, artists, and food vendors each week until September. Trebe says I am Logan Square has already received a lot of interest from local musicians, and the experience should shape up to be a "farmers' market with a little bit of an evening vibe."
BY: Will Landon
Will Landon is a Chicago-based writer who sings punk rock songs with the Blue Ribbon Glee Club and occasionally works for free as an assistant stage director.