Minneapolis Indie-Folkers The Pines Are Starker Than Prince, More Mysterious Than the 'Mats
BY: Roy Ivy |
Mar 21, 2014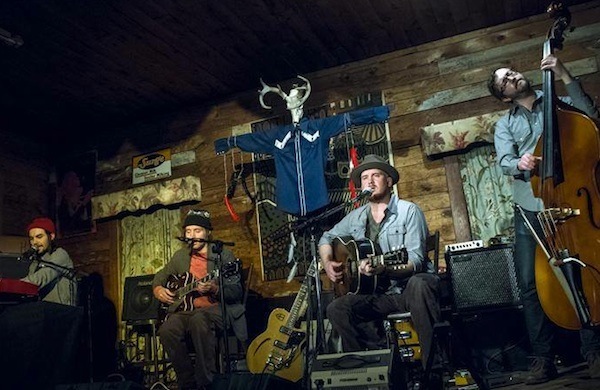 Minneapolis has birthed its share of strange and successful acts, but none quite like The Pines.
There's something in the water in Minneapolis. Sometimes it tastes funky, and you get Prince. Sometimes it tastes like beer dumped in a dirty-clothes hamper, and you get The Replacements. A sprinkle of "papa-ooh-mow-mow" spawns The Trashmen, and a few gallons of chlorophyll and concentrated sunlight gives you The Jayhawks. What's in the water that The Pines garden their sound with? Well, there's certainly some backwash of freewheelin' Bob Dylan and grownup and sober Paul Westerberg swishing around in there. But there's also the last sandy drops from the sun-stroked tremolo canteen of Giant Sand or Calexico…a drowsy surf-rock from a desert with no surf and no rocks. It's American water that breeds what you might call Americana music. But there's not much mystery to Americana music. And The Pines have mystery in spades. Ghosts seem to hover over each and every track of the band's latest album,
Dark So Gold
. Those ghosts are loaded with remorse, and they speak their minds with wincing honesty and poetry that doesn't waste a syllable. They're backed by hooks galore, delivered via the entrancing swells and tumbleweeds of guitars and keys. It's all pretty gorgeous, and practically custom-made for The Hideout's intimacy and stellar acoustics. If you've been aching to take a long, introspective road trip with no particular place to go—and if you're lacking a car—The Pines' entrancing live show is the next best thing.
The Pines play The Hideout on Saturday, April 14, at 9 p.m. King of Prussia and Case Conrad open. Tickets are $10 and can be purchased here.
Watch the official music video for "Cry Cry Crow" off the band's latest record,
Dark So Gold
.
BY: Roy Ivy
Guide Staff Writer
Roy left The Polyphonic Spree choir and his punk band The Tah-Dahs to become a balding Chicago writer and folksinger. Find him on Twitter @RoyIvy.