GROUPON GUIDE TO WASHINGTON-DC
Miss USA Shares Her Go-To Looks
BY: Mae Rice |
Aug 13, 2014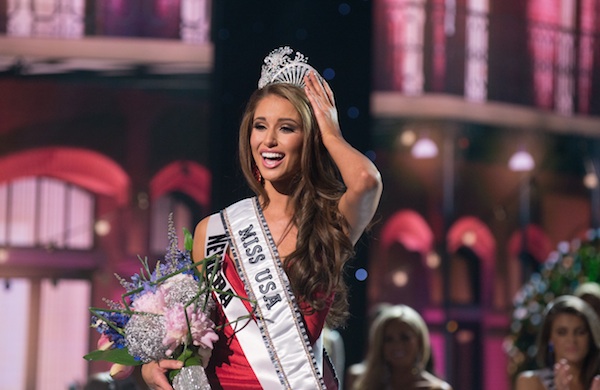 It's been two months since Nia Sanchez was crowned Miss USA for 2014, and she's cheerfully adjusting to her reigning responsibilities. All the parties, charity projects, and meet 'n' greets mean that having the title is a full-time job, "but I'm loving every second," she says. Luckily, she's also great at dressing for the occasion, whether it's the swimsuit portion of a national pageant or
tae kwon do
practice, where, she says, "I try to look as not-fly as possible." When we got her on the phone, we asked her about her favorite looks for three scenarios she encounters a lot: a night out, a long flight, and a charity appearance.
For a Night Out
Go-to outfit:
"Sparkly shorts and a cute blouse, or a romper that looks a little dressy with maybe a gold belt… and then I'll throw some pumps on." Her clothes are probably from
Zara
or
Double Zero
, the clothing company that sponsored her Miss USA outfits.
Go-to beauty product:
Fake eyelashes from
Flutter Lashes
(or Walgreens). "When I apply them, I always use the black glue, so the white stuff isn't smudged all over your eyes if you mess up." Nia says that the eyelashes are great for nighttime photo ops, where the flash might otherwise wash out your face.
Go-to spot in Las Vegas, Nia's home city:
Brooklyn Bowl
, a new venue with two floors of bowling, plus concerts and a restaurant. "It's huge! You get a variety."
For a Long Flight
Go-to outfit:
"I don't like skirts and dresses; you can't get comfortable on the plane in those." Nia prefers leggings and a chunky wraparound sweater from Double Zero, especially when she's headed somewhere chilly.
Go-to beauty product:
Face lotion from
Image Skincare
. "When I travel, my skin gets really dry, especially [when I'm] going between different climates."
Go-to carry-on item:
"A thin but big blanket. I like to fall asleep on a plane. I'm the type of person who can pull my knees up to my chest, put my arms on top of my knees, and just pass out like that."
For a Charity Appearance
Go-to outfit:
Something simple, such as jeans, a blue T-shirt ("blue is one of my favorite colors to wear"), and sneakers. Nia's especially into wedge sneakers right now.
Go-to beauty products:
Similarly simple—brown eyeliner,
mascara
, and a little lip gloss. "Some neutral tones," she says. "You don't want to look like a clown when you're up close, face-to-face with little children."
One of her go-to charities:
Project Sunshine
. Working with them, she visits hospitalized children and tries to brighten their day with fun projects, such as making maracas and other musical instruments.
Photo courtesy of Greg Harbaugh
Shop for leggings, sparkly shorts, rompers, and more on ideel.