Missouri Meets Belgium in Hereafter, a Golden Strong Ale
BY: Shannon Jewitt |
Mar 7, 2014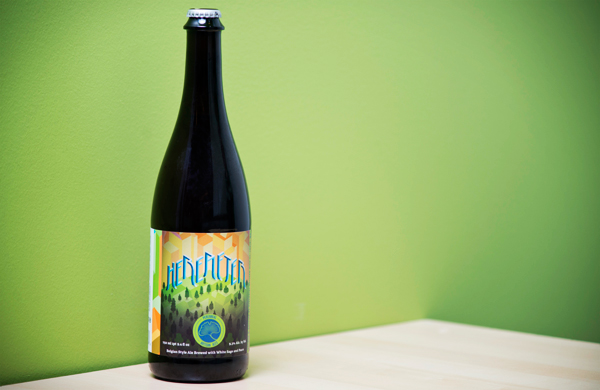 There are almost 3,000 craft breweries in the United States. In this edition of Beer Stalker, we investigate Hereafter, Perennial Artisan Ales and Penrose Brewing Company's joint effort. We also consider patio-weather drinking and why being easily distracted can be a good thing.
The beer:
Perennial Artisan Ales
and
Penrose Brewing Company
's Hereafter
Malts:
Pilsner malt, belgian candi sugar
Style:
Belgian golden strong ale that's fermented with pears and includes sage
Hops:
Nugget and Saaz
Color:
The same ruddy hue as the loyal dachshund that should be perched next to you while you drink this beer on a porch
Is this the product of a magical friendship?
Yes. Phil Wymore, one of Perennial Artisan Ales' cofounders as well as its brewmaster, previously worked for
Goose Island Beer Co.
That's where he met Tom Korder and Eric Hobbs, the founders of Geneva, Illinois's soon-to-be-open Penrose Brewing Company. The three still maintain a friendship, so they got together and and kicked around some ideas. "We specialize in a lot of Belgian-style beer, and we'd never made a belgian strong golden, which is the base beer for
Hereafter
," Wymore said. "That was the style we could kind of use as a base and play around with." And play around with it they did, fermenting the beer with Missouri- and Illinois-grown kieffer pears and adding sage.
Who should try this beer?
People who don't like beer should try the belgian golden strong ale. "I see Hereafter as a really good crossover beer for wine drinkers that aren't too sure about beer. Or people that drink ciders, and they're a little finicky when it comes to beer," Wymore said. "Fermenting on the pears gives it a cider characteristic that I think is appealing for people who enjoy cider and wine."
Where is the ideal location for drinking Hereafter?
The ale was released in October, which is "right at the end of patio weather," Wymore said. So that makes just about any outdoor space the perfect place to enjoy the beer. "It's still something that I envision drinking outside with the sun shining, but it's a little cool and crisp outside."
Is Perennial easily distracted?
"Our preference is really to make different beers all the time," Wymore said. That includes barrel-aged imperial stouts, two collaborations with
Half Acre Beer Company
(another one of Wymore's former employers), and the brewery's focus: seasonal beers. "We don't like to make the same thing all the time," he said.
Is St. Louis just where Perennial hangs its hat?
Perennial incorporates local ingredients into brews whenever possible. "I like this local Missouri flavor," Wymore said. "If you're going to get a beer from some brewery in Missouri, I think it should have some Missouri flavor to it, and not just be, oh, that's just where they're located."
Where you can find it around Chicago:
Grand & Western Liquors
(Ukrainian Village | 515 N. Western Ave.)
Warehouse Liquors
(South Loop | 634 S. Wabash Ave.)
Ardmore Station Liquors
(Villa Park | 405 N. Ardmore Ave.)
BY: Shannon Jewitt
Resident Beer Stalker Shannon has an insatiable thirst for craft beer. Despite being a vegetarian, she always makes an exception for fries cooked in duck fat.