More Than Just Objects: Inside the Epic, Odd, and Inspiring Collection at Architectural Artifacts
BY: Emily Wachowiak |
May 29, 2013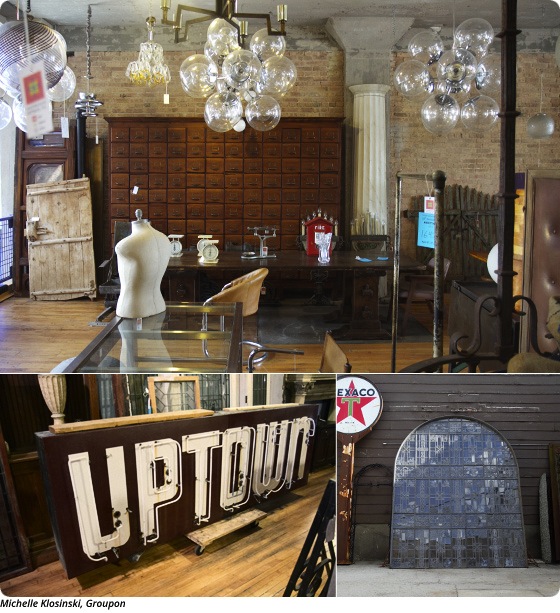 Stuart Grannen is a compulsive collector, but he doesn't hold on to any one piece of his collection for too long.
Architectural Artifacts
, his 80,000-square-foot Lakeview showroom, encompasses five levels of breathtaking miscellany: stone sculptures, industrial anvils, vintage schoolroom tables, old pieces of Navy Pier. And though each item was handpicked by Grannen himself from across the globe, he isn't sad to see any of his treasures walk out the door. "I like to own them for five minutes, that's all. I like them, I respect them, but there's always more," he says. There's no cache of antiques tucked into his houses across the country, either. "I'm very minimal. I have really good photography, a bed, and some objects, and that's it." The pieces he does have are bound to be small—in contrast to the two-story stained-glass window proudly displayed in the courtyard of Architectural Artifacts—and likely less than 70 years old. "Right now, I like [pieces from] 1940 to about 1970, sort of midcentury post-modern/industrial." Although he respects the craftsmanship of a fine Victorian armoire, he finds the whole style to be too "heavy," leaning instead toward "clean lines, clean designs."
Objects as Objects
But the trends that Grannen notices amongst his buyers—a 50/50 mix of professional designers and private customers—are not so much about eras as they are about unique objects. "We deal with fireplaces and mantles and doors and all that, which is fine, but those are kind of utilitarian. They're boring, I think. But just the objects, the stuff that nobody needs, but they want—that's what I see the trends as these days." To illustrate his point, he picks out a 3-foot-tall Native American vessel that appears to have been hollowed out of a tree stump. "It doesn't particularly have a purpose," he says, "but it's kind of what people are doing these days."
It's this passion for "objects as objects" that drives most of Grannen's work. Though he traffics in vintage light fixtures sought by Hollywood set designers and artifacts from Frank Lloyd Wright and Louis Sullivan designs (many of them on display in the onsite museum), he insists "money's never meant anything to me…My motivation is to save things. I want to be part of its life, make its life better, and continue its life. 'It' being this sign or whatever."
Going to Any Lengths
He gestures toward an unlit neon sign reading "UPTOWN," the oversize kind of sign designed to stand out like a beacon from across a city block. It's easy to imagine the 1940s fixture beckoning fedora-clad businessmen into a seedy bar—except it came off a dry cleaner's in Grand Rapids. "I'm always honest about where things come from, but Grand Rapids is just…not so romantic," Grannen admits.
Grannen was an hour out of Grand Rapids when he impulsively U-turned to go back for the Uptown sign. And that's not even the furthest he's gone for a find—he once pried an authentic Chicago Stock Exchange stencil from the wall of Prairie Avenue Bookshop with a hamburger spatula. Although he claims to never have damaged any pieces personally, he did witness his team accidently lob off the heads off a few gargoyles from a soon-to-be-demolished building on Block 37. "That was really sad," he says. "That was 20-some years ago and I still remember that."
A Conduit for the Chicago Art Scene
The Midwest offers plenty of merchandise, but Grannen's weekly travels often take him to France, Argentina, and Buenos Aires. He couldn't be happier for these regular escapes from Chicago, which he terms "a great place to leave and a great place to come back to." It's not just the weather that gets to him—although it's forced him to put AAA on speed dial for his oft-stalling vintage cars—it's Chicago's status as a second city. "Very little happens here first," he says, lamenting everything from the "forced" art culture (on the 1999 CowParade: "What the f***? That's all I have to say about that.") to the city's late adoption of food trucks. Where would Grannen rather be? "For business, Brooklyn right now…It's kind of a happening center of the universe these days."
But Grannen doesn't appear ready to pack up his stock just yet. The soaring atrium that connects his two showrooms, for example, does a tidy business hosting two to three events each week, from weddings and corporate gatherings to musical performances. Despite all the brick and concrete, Grannen says the space's acoustics are "incredible." "There's a lot of people from the symphony and orchestra that practice here. No one knows why, but it's good." On the day of our interview, stands were being assembled for a contemporary classical ensemble. Grannen had donated the space for the ensemble's use, just one of many gestures that support the local art scene. 
Indeed, Architectural Artifacts serves as a sort of conduit for artistic energy, a space that encourages everyone who walks in to reimagine everyday objects as art. Every rusted gear or hat mold is a Rorschach test onto which people project their own aesthetic visions and histories, real or imagined. Grannen's favorite find of the day was, in fact, a framed Rorschach inkblot. What does he see in it? "Naked ladies, of course." Further inspection revealed an African woman, and then a skeleton. In an uncharacteristic display of attachment, Grannen directs one of his employees to put the picture on his desk—"carefully"—to ensure it at least a temporary home in his personal collection.