More Women Should Dress Like Patrick Kane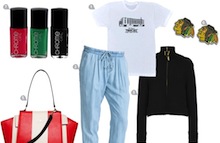 Ever since the Blackhawks drafted Patrick Kane in 2007, he's been one of the franchise's most influential players, his career currently bookended by a Rookie of the Year title and a playoff MVP trophy following last year's Stanley Cup victory. This year, despite a season-interrupting injury, he's helped get the Hawks to another promising playoff spot, battling the Los Angeles Kings in the Western Conference Finals.
But Kane's influence hasn't just been athletic: his mullet proved to be good luck during the Hawks' 2010 championship season, and it's become his trademark look. Everyone from teammate Brandon Saad to local kids have adopted the 'do, making Kane an unlikely style icon. So in honor of the Blackhawks playoff run and Kane's eccentric style, we decided to put together a game-night outfit that thinks outside the (penalty) box.
The Look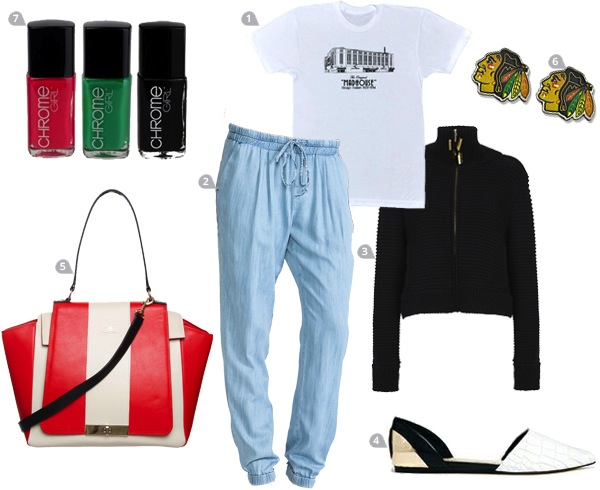 As an outfit base, wear something essential to any fan's wardrobe: a Madhouse on Madison tee. These comfy chambray slouch pants are a bit edgier than jeans, and the knit bomber keeps you warm, even when (hopefully!) another Kane hat trick gives you chills. The handbag subtly shows off team colors, and the trio of nail polishes are perfect for a striped manicure modeled after the three lines shaved in the side of Kane's mullet.
1. Madhouse on Madison T-shirt; Strange Cargo ($21)
2. Chambray slouch pants; 6pm ($110.99)
3. Knitted bomber; Sass & Bide ($490)
4. D'orsay flats; Nordstrom ($103.85)
5. Leather handbag; Profile Fashion ($757)
6. Blackhawks earrings; Clark Street Sports ($6.99)
7. Blackhawks nail-polish collection; Chrome Girl ($29.95)
Shop Goods for sporting goods that broadcast your team allegiance.