Movieside's Massacre Film Festival Brings 24 Hours of Horror to the Patio Theater
BY: Will Landon |
Oct 7, 2013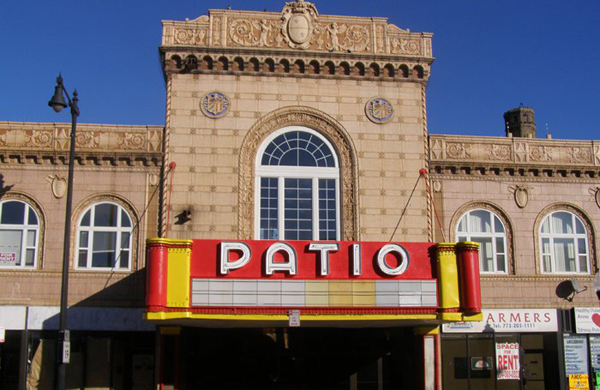 The Patio Theater
(6008 W. Irving Park Rd.) has been a fixture in Portage Park for more than 85 years, but the recently restored movie palace still has a few high-tech tricks up its sleeve. The most prominent of these is projected on the ceiling of its 1,000-seat auditorium: a simulated night sky, complete with flickering stars and wisps of cloud. Though normally a pleasant diversion, this sky is likely to seem downright sinister on Saturday, October 12, when darkness descends on the Patio and a chorus of screams announces the beginning of
The Massacre
. This 24-hour celebration of cinematic horror begins at 11:30 a.m. and doesn't let up until noon on Sunday. Though chilling, The Massacre's screenings tend to steer clear of the usual gory fare. The Patio has a reputation for welcoming families, and parents can be assured that most of the day's films are probably safe for children as young as 11. "We want people to have a good time, not throw up," says Movieside's Ben Dealy, one of the festival's organizers. Sensing that most people will need a time-out from the procession of scares, Dealy also promises that visitors with festival wristbands ($20 in advance; $24 at the door) will be able to come and go as they please. That said, he and fellow Movieside coordinator Mary Wolfe have compiled a list of five horror classics you won't want to miss.
The Screenings
Martin (3:45 p.m.)
The Massacre will host a rare screening of this 1976 film, which Dealy describes as "George Romero's ultimate masterpiece." It's a work that defied conventions when it was released, thanks to its portrayal of a classic monster in an entirely novel way.
Martin
follows the misdeeds of the titular character (played by John Amplas), a sociopath and potential vampire who terrorizes a small Puritanical town. Ben is especially excited for festival-goers to watch the film's opening sequence, set on a train. He won't give away what happens, but he will say that it's "just shattering."
Dead and Buried (5:30 p.m.)
Written by
Return of the Living Dead
director
Dan O'Bannon, this 1980s thriller follows a police officer's quest to solve the erratic murders plaguing his small town. Legendary artist Stan Winston is responsible for the film's special effects, which fuel a heart-pounding scene that Wolfe describes as "one of the greatest gore scenes ever … [involving] a nurse, a needle, a man in a cast, and an eyeball." Director Gary Sherman will host a Q&A session following the screening.
April Fool's Day (8:15. p.m.)
Wolfe and Dealy say that
April Fool's Day
marks the end the 1980s "slasher cycle," and it's a lot smarter than your typical gorefest. The film exploits its ho-hum premise—a few kids vacationing at an old house in the woods—as an avenue for brilliant satire. It's no wonder, then, that Dealy describes it as a "spiritual predecessor to
Cabin in the Woods
." Walton's post-film Q&A will be an unprecedented event, as this marks the first public screening of the film that he's actually attended.
A Nightmare on Elm Street 2 (10:15 p.m.)
This rarely screened sequel to Wes Craven's masterpiece focuses on one teenager (played by Mark Patton) who finds himself locked in a battle of wills with everyone's favorite dream murderer, Freddy Krueger. In an interesting aside, Dealy claims that many critics have noted the film's homoerotic undertones. That topic—as well as a terrifying opening sequence set on a school bus—will make for ripe conversational fodder for Patton, who will lead a Q&A after the screening.
Deep Red (3:30 a.m.)
Director Dario Argento, whom Dealy describes as Italy's Alfred Hitchcock, is renowned for his artful cinematography. Yet the first 10 minutes of this murder-mystery thriller are stolen not by graceful camera angles but by "an amazing bit of horror-film violence." Dealy adds that Movieside organized this extremely rare screening to coincide with a local performance by Italian prog-rockers Goblin, who composed the soundtrack. As part of their first-ever American tour, the band will
take the stage at the Metro
on Sunday night.
Additional Programming
The Massacre won't only screen feature-length films. Trailer Trash, a block of vintage horror-movie trailers and short films, will launch the daylong celebration at 11:30 a.m. This segment will notably feature
The Cask of Amontillado
, a short adaptation of the Edgar Allan Poe classic by local filmmaker Mark Leja. At 7:30 p.m., festival-goers can witness what Dealy describes as a new Massacre tradition: the Roger Corman B-Movie Trailer Competition. Named for the infamous low-budget director, this contest challenges filmmakers to create one-minute trailers for fictitious B movies in the vintage style of the 1950s. If you like what you see onscreen, be sure to let the filmmakers know—they'll be around to sign autographs and talk with fans throughout the day in the Patio's grand neo-Pompeian lobby.
Wristbands grant visitors unlimited in-and-out entry to the festival, as well as discounted admission to the Catacombs of St. Pascal (6143 W. Irving Park Rd.). Wristbands are $20 in advance and $24 at the door. Click here to see a full list of screenings and showtimes.
Photo courtesy of the Patio Theater (www.patiotheater.net)